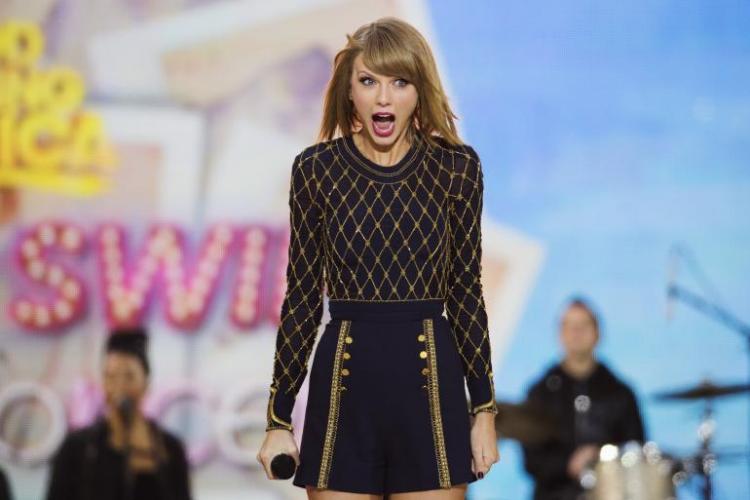 Taylor Swift made headlines last year when she pulled her entire back catalogue from music streaming service Spotify just months before holding back her latest album 1989 from Apple Music until she was promised the royalties owed to artists during a three month streaming period the company was offering customers. This year, she officially reconciled with the company when she appeared in advertisements for Apple Music's Beats 1 Radio.
Now, she's aiming for another week in the news by setting her sights on another music streaming service: YouTube.
Along with over 180 other artists - including Christina Aguilera, The Band Perry, Jennifer Hudson, Elton John, Yoko Ono Lennon, Paul McCartney and U2 - Swift has signed a letter which will appear this week in publications such as The Hill and Politico urging lawmakers to change the Digital Millennium Copyright Act (DMCA) to reflect changes in the media landscape.
The DMCA, initially passed in 1998 with the rise of the Internet, was created to protect works from infrigement, but has a "safe harbour" provision that protects ISP's and websites from copyright violations so long as such services take down content when they are notified of the existence of copyrighted works. This was put in place to protect social media websites like YouTube, which cannot reasonably be expected to trawl through the thousands of videos uploaded in search of copyrighted material.
However, according to Swift and others, the safe harbour provision has become unfeasible now that YouTube has become a go-to source for illegal music uploads. According to the letter:
Quote

 

The [DMCA] law was written and passed in an era that is technologically out-of-date compared to the era in which we live. It has allowed major tech companies to grow and generate huge profits by creating ease of use for consumers to carry almost every recorded song in history in their pocket via a smartphone, while songwriters' and artists' earnings continue to diminish.

 
Music Mogul Irving Azoff, who manages artists like Aguilera, The Eagles and Steely Dan, also signed the letter. In an article last month for Recode, Azoff said, "You have built a business that works really well for you and for Google, but it doesn't work well for artists. If you think it is just the labels and publishers who are complaining, you are wrong. The music community is traditionally a very fractured one, but on this we are united."
The musicians are hoping to catch the attention of the US Copyright Office, which is currently reviewing the DMCA. Earlier this year, music trade groups such as the Recording Industry Association of America (RIAA) and American Federation of Musicians (AFM) told the Office that the RIAA has noticed more than 175 million illegal music uploads online since 2012, and sent over 280 million infringement notices to Google. 
Christophe Muller, head of YouTube's international music partnerships, referenced the movement in April when he posted an article on The Guardian. "Music matters. Musicians and songwriters matter. They deserve to be compensated fairly," he said at the time. "We believe this deeply and have partnered with the music industry for years to ensure it happens on our platform."
In a time of unprecedented gun violence, racist and prejudiced rhetoric against Hispanic and Muslim people, and the incredibly upsetting cancellation of CBS's The Good Wife, we find it surprising that Swift is choosing to focus her celebrity on such a minuscule issue. Artists have long known how to use YouTube to their advantage - take Justin and Selena's lip sync video to 'Call Me Maybe' which sent the song up the charts, or Cody Simpson's YouTube discovery - and we'd be shocked to hear that Swift and the other celebrities listed have never searched YouTube in order to hear their favourite pop song.
Regardless of the outcome of the petition, one things for sure - the Internet has a way of getting what it wants. Whether it's Napster, Limewire, or YouTube, we have the feeling there will always be an easy and accessible way of hearing music for free online.
Thoughts?