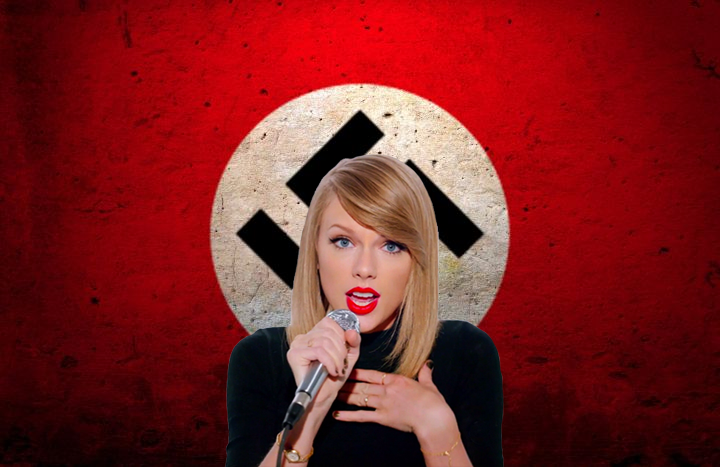 This just in: Taylor Swift's latest 'Love Story' doesn't involve one of her many, many boyfriends, but this time is a (hopefilly) one-sided romance between her and the online neo-Nazi movement.
Just months ago, feminist writer Camille Paglia dubbed the popstar an "obnoxious Nazi Barbie" who claimed to encourage girl power but instead simply used her female friends as "performance props" to promote a "silly, regressive public image". And it seems that Swift is not yet 'Out of The Woods' just yet, landing in hot water recently after reports that she has become an unofficial mascot for white supremacy amongst far-right blogs.
According to supporters, it is Swift's lack of 'Bad Blood' which was the bouncing off point for her status as Hitler's head honcho. "Firstly, Taylor Swift is a pure Aryan goddess, like something out of classical Greek poetry. Athena reborn. That's the most important thing," says white supremacist author Andre Anglin. "We are certain that as soon as Nazis saw her, they were magnetically drawn to her sculpted Aryan form and angelic demeanour."
But it's not just her 'Style' which attracts Nazis to Swift. According to Anglin, "It is also an established fact that Taylor Swift is secretly a Nazi and is simply waiting for the time when Donald Trump makes it safe for her to come out and announce her Aryan agenda to the world. Probably, she will be betrothed to Trump's son, and they will be crowned American royalty."
'This Love' allegedly stems from a series of Hitler quotes falsely attributed to Swift and spread virally through image board website Pinterest. Teenager Emily Pattinson started posting memes on her account to spoof Swift years ago, but was soon asked to take her content down by Swift's attorneys, who claimed:
Quote

The association of Ms. Swift with Adolf Hitler undisputedly is 'harmful,' 'abusive,' 'ethnically offensive,' 'humiliating to other people,' 'libelous,' and no doubt 'otherwise objectionable.' It is of no import that Ms. Swift may be a public figure or that Pinterest conveniently now argues that the Offending Material is mere satire or parody. Public figures have rights. And, there are certain historical figures, such as Adolf Hitler, Charles Manson and the like, who are universally identified in the case law and popular culture as lightning rods for emotional and negative reaction.
But oddly enough, this isn't the first time Swift has been associated with Nazism. Aside from Paglia's very public criticism of the singer, the typically squeaky 'Clean' imaged popstar was also left in a sticky situation way back in 2009 after a photo of her posing with a Swastika-adorned fan leaked online. According to Swift's representative, "Taylor took pictures with about 100 people that night… she doesn't know who this guy is and she didn't realize what was on his shirt." But this didn't stop online commentators from criticising Swift's role in the pphotograph, or from suggesting that the 'JH' on her chest stood for 'Jew Hater' (apparently it actually stood for Julianne Hough, whose party she was attending).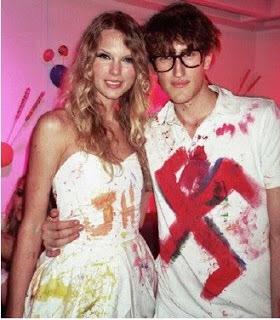 What do you think? Is Taylor the perfect candidate to bring neo-Nazism to the forefront of pop culture, or will we never see it in our 'Wildest Dreams'? Should we continue making reference to random Swift songs in all of our articles, or are you already removing us from your favourites? Let us know in the comments section below!