Newly elected President Donald Trump and new First Lady Melania Trump have been compared to their predecessors, the Obamas, almost nonstop since the former announced his intention to run. Comparisons came to a head back in July of last year when it was found that Melania had quoted almost word for word a speech that Michelle made at the 2008 Democratic Convention, in her best imitation of a high school student who uses Wikipedia for a source and changes a word here and there so as to not get noticed.
Then, earlier last week, the official POTUS Twitter account was slammed for stealing an image taken during the Obama inauguration ceremony for its cover photo, passing it off as a photo from Trump's own administration. And news broke yesterday that the inauguration cake Trump used was shamelessly stolen without permission from celebrity chef Duff Goldman, who made an identical cake in honour of President Obama for his inauguration back in 2013.
But no one expected what would happen yesterday at the inauguration, when Donald and Melania stepped out into the streets with a dramatically changed appearance. Not content with simply stealing the words and baked foodstuffs from their predecessors, the couple have now attempted to copy the Obamas skin colouring in a strange move of obsessive proportions.
In a typically shoddy Trump job, it was easy to see through their disguise. With a skin dye that was probably made in China, the duo had applied their black skin patchily; and it seems as though they had run out of tubs to cover anything below their necks. Eagle-eyed viewers could spot flecks of black dye on President Trump's white shirt.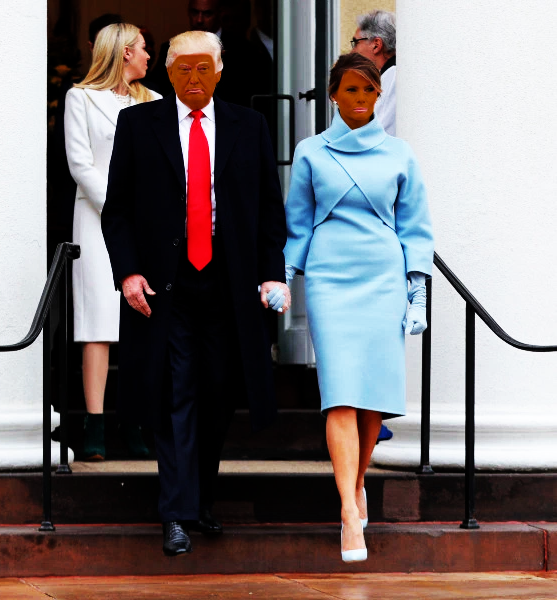 Clearly hoping that the general public were too stupid enough to notice their dramatic transformation, the couple did not reference the drastic changes during the event at all. And shockingly, mainstream media has failed to report on the shocking developments, proving once again how biased such publications are towards the myth of American exceptionalism.
Luckily, citizen journalists on Twitter were quick to point out the failed ruse. "Did @DonaldTrump trade his cheetos for hersheys? #inauguration?" noted one observant watcher. It's reassuring to know that in these uncertain political times, journalists such as pansexualhalseystan29203 and your friends at #PopHatesFlops will continue to report on the truth.