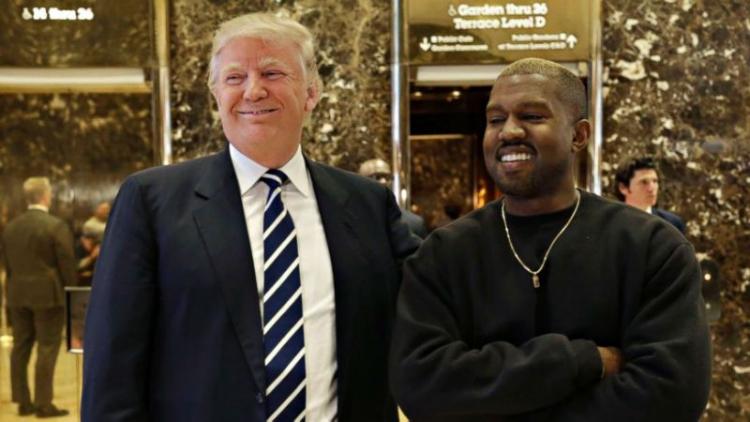 Almost a year after he deleted his Twitter account back in May of 2017, Kanye West has reactivated his account - and it's already gotten him back in the headlines, thanks to a selection of Tweets in support of US President Donald Trump.
Kanye started Tweeting again ten days ago, and his early Tweets were marked by a slew of announcements:a philosophy book, called Break the Simulation; a seven track solo album; a collaborative album with Kid Cudi called Kids See Ghost; and three albums produced by him for Pusha T, Teyana Taylor and Nas.
But it didn't take long before the Tweets took another turn, with Kanye expressing support of Trump supporters such as Fox News personality Candace Owens and cartoonist Scott Adams and discussing terms such as "fake news". And then today, after days of questions from fans, he finally addressed the orange elephant in the room.
Trump himself responded with a Tweet, thankful for the man who's probably his only black rapper supporter.
West's wife Kim Kardashian also had something to say, allegedly calling West to ask him for clarity.
For her part, Kim appears to completely disagree with Kanye's opinions, but she also defended him against the media's constant barrage of mental illness accusations.
Kanye's Tweets have set off a spree of unfollows from his once-loyal fanbase, with stars like Ariana Grande, Harry Styles, Katy Perry, Lana del Rey, Justin Bieber, Nicki Minaj and Rihanna (the last three of which have collaborated with him) all jumping ship. Possibly more significantly, Kardashian sisters Khloe, Kourtney and Kendall have also all hit the Unfollow button. While reports have stated that West lost 9 million followers in total, it seems that he has gained just as many back as his follower count has remained steady - although we'd question how many of these followers are real people.
Love them or hate them, nothing is ever boring in the Kardashian-West world. What are your thoughts of the Twitter tirade? Are Kanye's opinions justifiable, or is he officially on the same level as the alt-right? And are his Tweets just a publicity stunt, or has Kanye really lost the plot? Let us know in the comments section below!