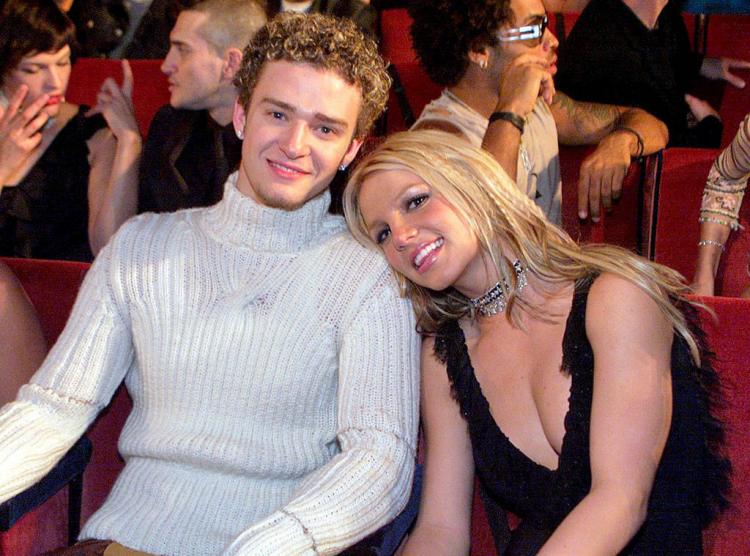 Don your double denim, hatch some Digimon and cornrow your hair - because if new reports are anything to go by, the 90s are officially back. That's right: just weeks after the release of Beauty and the Beast, Justin Timberlake and Britney Spears might be collaborating on a brand new song, which means that all your childhood dreams are coming true.
To be fair, the only evidence we have of the track are some well-timed social media interactions, but we all know how important those can be in the digital age.
Exhibit A: Timbaland likes Justin and Britney couple pics on Instagram
Frequent J.T. producer Timbaland, who's worked on songs such as 'SexyBack' and 'Suit & Tie', went on an Instagram liking spree the other day, double tapping more than 100 photos of Justin and Britney together. Most of these were on pages with names such as 'lovejustney' and 'britneyjustinn', which, as well as letting us know just how many people still stan the couple, are interesting because it's clear Timbo was deliberately trolling through tags.
Exhibit B: Timbaland was in the studio with Justin at the time
The liking spree happened on the same night as Timbo was in the studio with Justin, Pharrell, Danja and Chad Hugo. While Britney has yet to work with Timbaland (despite many rumours to the contrary), she has worked with Pharrell on songs like 'Boys' and Danja on tracks like 'Gimme More'.
Exhibit C: Justin's mum is in on it too
Justin's mum, Lynn Harless, also got in on the action, liking couple photos and following Britney, her sister Jamie Lynn, her mum Lynne, her ex-husband Kevin Federline and Brit's assistant Felicia on Instagram.
Exhibit D: Justin is acting shady on Twitter
The weirdest part of all of this is what Justin himself has been doing. He took to Twitter to repost a sub-tweet he made four years ago about Britney, and then minutes later deleted the retweet. The first tweet was originally made in 2013 after reports swirled saying that Justin had called Britney a bitch. Allegedly, he said, "Sometimes in life, you think you found the one. But then one day you find out, that she is just some bitch!" He later took to Twitter to affirm, "Ok. I see you. Wouldn't disrespect ANYONE personally. Ever. #Relax #ItsBritneyBitch I do love that saying though*with accent* #Respect". Justin today RTed this second message, before reversing it just moments later.
If true, the track wouldn't be the first the duo have worked on together. Justin wrote on Britney's 2001 song 'What It's Like To Be Me' and her unreleased gem 'She'll Never Be Me', and there's rumours the two worked with Michael Jackson and Madonna on a song called 'We Are Kings'. Following their breakup, the two also shared subliminal diss tracks towards each other, including the famous 'Cry Me A River' and 'Everytime'.
In 2007, Timbaland confirmed that he had also discussed working on a Britney song with Justin, but that while he was up for it she had turned the opportunity down. Then, last year Britney casually slipped into an interview that out of all the collaborators she could choose in the world, she would choose Justin. In a red carpet interview, Timberlake responded that he would "absolutely" be down to work with her as well.
Timberlake and Spears dated from 1999 - 2002. He's now married to actress Jessica Biel, while Britney has shacked up with 23 year old Sam Asghari, who also appeared in her 'Slumber Party' music video.
What are your thoughts? Would a Justin and Britney collab make your childhood fantasies reignite, or would it reek of desperation to see the old flames working together so long after they broke up? Let us know down below!