When Britney Spears received the MTV Video Vanguard Award in 2011, she was praised for her iconic music videos like the schoolgirl-themed '...Baby One More Time', the intergalactic 'Oops, I Did It Again...', the sweaty and sexy 'I'm A Slave 4 U' and the film noirish 'Toxic'. But what went unmentioned was the multitude of music videos that Britney has planned throughout her career that have been cancelled for one reason or another. From music videos that were entirely filmed and edited before being scrapped (such as 'Make Me...') to others which were edited heavily after their themes proved to be problematic (hello, teen pregnancy in 'Born To Make You Happy') to mere concepts that never even saw a day of filming (like 'Hot As Ice'), Britney has had at least twenty four music videos in her career that have been scrapped. In this article we'll look over everything we know about these videos so far, and explore some of the iconic moments that could have been if they'd been released.
1. ...Baby One More Time
'...Baby One More Time' is the song that propelled Britney into stardom, and it's music video is an undeniable part of it's appeal - but if it hadn't been for Britney herself, the video could have turned out very differently. Jive initially hired Joseph Khan - who would later go on to work with Britney on music videos for 'Stronger', 'Toxic', 'Womanizer' and 'Perfume - to direct, and he got to the storyboard stage with a sci-fi inspired concept involving 2D animation, monsters and Britney as part of a hero group alternately described as "Power Rangers" or "Transformers". "They had this really bizarre video idea, this animated Power Ranger-y thing," Britney explained in her first ever Rolling Stone cover story. "I said, 'This is not right. If you want me to reach four-year-olds, then OK, but if you want me to reach my age group...'"
Ultimately, Jive scrapped the projected $800 000 Khan video and opted to go with Britney's much more simple vision which featured her as a bored schoolgirl dancing with her friends, which was made for around $250 000. Even then, Britney was continually making changes, especially when it came to wardrobe. When director Nigel Dick brought in jeans and a t-shirt for her to wear, Britney instead suggested, "'Why don't we have knee-highs and tie the shirts up to give it a little attitude?' - so it wouldn't be boring and cheesy." Britney ultimately had these pieces purchased from Kmart, and her first iconic outfit was born.
2. Born To Make You Happy
Although it can't be confirmed, rumour has it that the original Billie Woodruff-directed music video for 'Born To Make You Happy' was to feature a sleeping Britney dreaming about her ex-lover, with whom she was secretly pregnant. Allegedly, once the idea was leaked to the press and received a negative reception, Jive cancelled the idea and instead went with the dance-heavy version of the video we ultimately received. Interestingly, reviewers have pointed out that the scenes that frame the beginning and end of the video feature a sleeping Britney who appears to be heavily pregnant in at least one shot. It's possible that these scenes, and others involving the same bedroom set and Britney and her lover having a pillow fight, were leftovers from the original music video.
3. When Your Eyes Say It
'When Your Eyes Say It' was originally considered as the fourth single from Oops!... I Did It Again, to the extent that a music video was shot for the song in January 2001. The video was shot by directors Jonathan Dayton and Valerie Faris, who would later go on to direct films such as Little Miss Sunshine and Battle of the Sexes. Ultimately, 'Don't Let Me Be The Last To Know' was instead chosen to be the album's last single, and no elements of 'When Your Eyes Say It' have been seen by the public since it's filming.
4. Don't Let Me Be The Last To Know
After 'When Your Eyes Say It' was scrapped, a music video for 'Don't Let Me Be The Last To Know' was filmed in early 2001. Britney was inspired to choose American photographer Herb Ritts as the director following his work on Janet Jackson's 'Love Will Never Do (Without You)'. In February of 2001, however, MTV.co.uk posted a story claiming that, "Britney Spears will re-shoot the video for her next single, 'Don't Let Me Be The Last To Know' because she is unhappy with the final edit." Ultimately, it appears as if the video was not reshot, as the MTV article explicitly states that the original video was shot on a Miami Beach with Ritts in the last week of January and featured a French model - all of which is also true for the released version.
Despite this, cuts were made to the music video to remove some of the raunchier scenes. Amidst reports that her boyfriend at the time Justin Timberlake was bothered by her kissing scenes in the music video, The Philadelphia Enquirer reported that Britney's mother Lynne asked for certain shots to be removed from the video to avoid some of the more explicitly sexual content, to which Britney agreed.
5. I Love Rock N Roll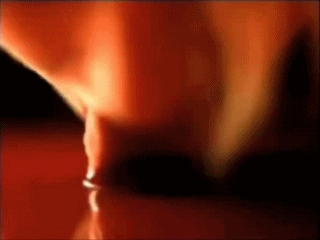 'I Love Rock N Roll' was recorded for the Crossroads film in which Britney stars, before making the tracklisting for her third album Britney as the album's fourth single. Directed by Chris Applebaum, the music video was shot in New York and was one of Britney's raunchiest yet. The raunch factor was pushed to the next level in a director's cut of the video that leaked online which featured Britney licking a puddle of oil from the floor, amongst other unseen shots. These scenes was not featured in the original video, or in the alternate cut that appeared on the Greatest Hits: My Prerogative home release, but can still be found online.
6. Me Against The Music (Feat. Madonna)
It's possible that 'Me Against The Music' was originally meant to be directed by Madonna's filmmaker husband Guy Ritchie, known for directing films such as Sherlock Holmes and Aladdin. After People.com first announced his involvement, IMDB confirmed this saying that Madonna will play a "kinky leather-clad dominatrix" and "scary nightclub owner with a string of luscious ladies on leashes" who "lures innocent scantily-clad Britney into a private room filled with other beauties". However, when asked about these rumours at an Italian press conference, Britney stated, "No, that isn't true"; and Madonna's representative Liz Rosenberg explicitly stated, "Guy Ritchie is not directing".
Even so, MTV confirmed that there are at least some deleted scenes from 'Me Against The Music'. Describing their first look at the music video, MTV described specifics about it's plot while mentioning "cool kids, flaunting pink and purple hair while taking whiffs from an oxygen tank". While most of the scenes MTV described were present in the finished product, the oxygen tank scenes are nowhere to be found.
7. Everytime
Like 'Born To Make You Happy' before it, 'Everytime' originally had a much darker video concept which was altered after it was leaked to the press and received a negative reaction. In March of 2004, MTV reported an exclusive first look at the video concept, which explicitly described Britney dying due to an overdose before being reincarnated in some form, as well as a mysterious final shot.
Quote

Directed by David LaChapelle, the video will use "saturated, but low and naturalistic lighting" to give a cinematic feel, taking a cue from the 1995 Nicolas Cage film Leaving Las Vegas. According to the clip's treatment, Spears arrives at the supposedly secret but paparazzi-swarmed back alley of an exclusive hotel, boyfriend in tow. Though it's common for the singer to be mobbed by the press, this time, people go to extremes, exaggerating the chaos as her bodyguards try to protect her and fights break out.

The camera cuts back and forth from the action to find Spears in an extreme close-up, performing directly to the camera as the story unfolds around her. She and her date are shuttled into the hotel, having been roughed up a bit, and exchange a look expressing that what was supposed to be a vacation is no fun for either of them. They end up in the high-rollers suite, but it doesn't help calm them down. Spears tries to put her angry boyfriend at ease, pouring two glasses of wine from the gift basket, but he lashes out, smashing the bottle at her feet.

Spears then gets quiet and walks away, heading to the bathroom, where the camera angles start to add a bit of mystery. A hand lays down a glass of red wine, water trickles around the cracks of tile, the bathtub overflows, and on the ledge stands a bottle of pills, the cap removed. Spears' head slips under water, and only then does her boyfriend, who had been watching television, start to notice. As he tries to revive her, the camera tracks a new Britney, alive and unharmed, walking past him, out of the room and out of the hotel. The paparazzi, still swarming at the back entrance, don't seem to register this Britney, and she disappears into the night.

Ambiguity is all that remains — is Britney alive? Dead? A ghost? Did she kill herself off before the tabloids could? Did she kill herself so that she could be reborn? The final shot — which shouldn't be revealed here so as not to spoil the surprise — doesn't answer any of these questions, but should give fans plenty to talk about.
Director David LaChapelle, who had previously shot Britney for Rolling Stone, confirmed later in 2019 that the death theme had been Britney's own idea, saying, "For the video 'ever time' [sic] the only direction Britney gave me for the video was that she wanted to die, that she wanted to die in the video." After the press picked up on the video and the suicide concept began to receive negative attention, Britney's team released a statement stating that there was never any intent for her character's overdose to be viewed as intentional and that she had changed the music video to make this apparent. "Britney Spears was uncomfortable with these treatments due to the potential for a fictional accidental occurrence to be misinterpreted as a suicide," said Jive representatives. "Ms. Spears revised the treatment to ensure the video for 'Everytime' will not have a scene in it that could in any way be perceived as a reference to a suicide."
Ultimately, the final version of 'Everytime' plays out relatively similiar to its original treatment for it's first half, although the scene in which Britney pours wine from the gift basket was cut. In the final version, however, Britney's brush with death comes from a head trauma presumably caused by her violent interactions with the paparazzi, and all hints towards a drug overdose are removed. Furthermore, Britney walks through a hospital and witnesses a child being born in the final cut of the video, instead of walking past her boyfriend trying to revive her. The final version of 'Everytime' ends with Britney emerging from the bathtub with a smile on her face, as if her death was simply a fantasy; it is unknown if this was the final scene that was planned to appear in the original video.
8. Outrageous
Possibly the most infamous of all of Britney's unreleased music videos, 'Outrageous' entered production with full storyboard, plot and choreography planned out with the assistance of director Dave Meyers, who would also direct videos for 'Lucky', 'Boys' and 'Radar' as well as the 'Curious' fragrance commercial. Reports state that filming began on June 8, 2004 and the video was scheduled to be ready for air by June 28 when it would premiere on MTV. Along with making a cameo in the music video, rapper Snoop Dogg was also intended to be featured on a remixed version of the song that would be serviced to radio stations. The song was also intended to be featured as the main theme song for the Halle Berry-fronted Catwoman film.
Sadly, after one day of shooting the entire production was abruptly cancelled due to a knee injury sustained by Britney on set. Fans did see some of the scenes, however: a makeshift promotional video was spliced together from the footage that had been shot pre-injury for the Greatest Hits: My Prerogative video tape release, which included Britney walking the streets of New York in a black trench coat, performing choreography alongside her back-up dancers on a wet city street, and playing basketball with Snoop Dogg. Rumour has it that there were at least two other scenes that were initially planned for the music video, although it is unknown if either of them ever progressed past the initial planning stage. One report stated that Meyers wanted Britney to "don a replica Catwoman outfit" for the video, which Britney refused; while another said that the video was to follow Britney "being mugged in New York and Catwoman comes to the rescue". Sadly, with the video's cancellation the song also lost its status as theme song for Catwoman and Britney cancelled all remaining dates on her The Onyx Hotel Tour, marking the beginning of the downward spiral that would occur in years to come.
9. Gimme More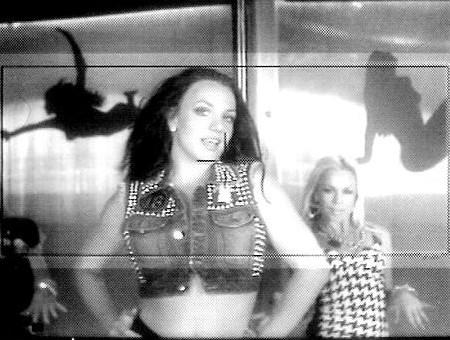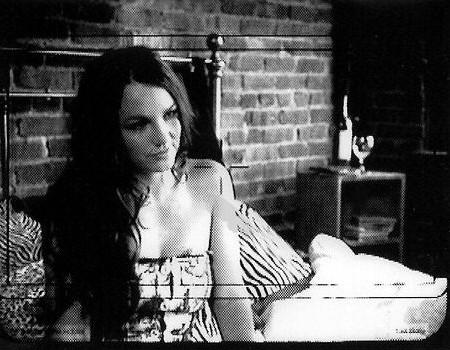 Although the final version of the Jake Sarfaty-directed 'Gimme More' is relatively simplistic, featuring a blonde-haired Britney voyeuristically watching a brunette-haired Britney as she pole-dances in a nightclub, the music video was actually in the works for several months and shot over multiple days before being "tweaked with input from her advisers" for it's final release. Notably, the "rebirth" and "vintage"-themed video was said to have been "choreographed entirely by Britney herself," with Brit also being involved "as early as the storyboard process, all the way through to casting and production design, with Sarafty being "handpicked by Britney". Britney was also alleged by OK Magazine to have spent $30 000 of her own money on the music video, with extras being asked to volunteer their time for free so as to save on budget.
Amongst the deleted scenes include shots of Britney walking down a street wearing funeral garb - some of these shots were leaked in 2011 alongside an alternate cut of the video, although yet others which feature her entering or exiting a limo in this outfit have yet to be seen outside of a leaked behind the scenes photo. Continuing the funeral theme is another behind the scenes photo that allegedly shows a casket in the middle of the nightclub. Another shot in the alternate cut of the video features Britney sitting in a bed alongside a cat - a still posted by Sarfaty on his official website following the video release confirms that there was another outfit change that was shot for this scene. Similarly, yet another still posted by Sarfaty shows Britney pole-dancing in a denim outfit that was not featured in the final cut. There are also stills online that feature Britney completely shirtless, with a rose-like design similar to the pattern on her arm (alongside the snake on her forearm) tattooed over her nipples. A star-like design was also featured on the wall on-set, although it didn't end up making an appearance in the video. Instead, the background featuring silhouettes of James Bond-esque women (who also appeared in the VMAs performance and the 'Piece of Me' video) are references to the logo of fashion brand Lisa Kline.
Although it has been mostly erased in the final video, the original vision for 'Gimme More' was also meant to feature a strong Elvis Presley influence, which explains Britney's short rendition of Presley's 'Trouble' at the VMAs in the month before the video's release. Britney hired Slim K, a dancer and noted Elvis impersonator, to appear in the music video, and matching drawings of Elvis and Britney were featured on the wall. Following his removal from the video, Slim K stated on MySpace, "Britney took a direction I'm not part of.. and quite frankly got NO idea where she's heading.. not my cup of tea though ... the video is dissapointing in my opinion .."
10. Piece of Me
'Piece of Me' was filmed on November 27th and 28th, 2007 and directed by Wayne Isham, who had previously worked with Britney on 'I'm Not a Girl, Not Yet a Woman'. Before the music video was shot, actor Billy Orson (who was cast as a paparazzo in the clip) described a scene to the Spanish-language Jaleouse Magazine in which Britney walks the red carpet. "While passing on a red carpet, she walks with her dancers, poses, and suddenly begins to dance in front of us," the translation reads. "The paparazzi begin to move forward, to push her and at some point she takes out a grenade, which ends up being only a sphere of water. Her and her laughing dancers go into a building, where the video continues." It's possible that this scene was cut due to Britney's fourteen hour lateness to the set, which was confirmed by Isham in 2009.
In the same 2009 interview, Isham also confirmed that the choreography Britney performs in the bathroom during the song's breakdown was a last minute addition by Spears herself. "She choreographed that last dance at the very end," he confirmed. "She did that on her own and said, 'Let's go for it.'" Additional scenes from 'Piece of Me' can also be found in the international version of the music video, which substitutes many of the opening shots with scenes of Britney wearing a short bob wig and stripping off her jacket. The improved transitions in this version between Britney dancing and the newspapers covering her suggest that this was the original cut made by Isham.
11. Hot As Ice
In early 2008, several news outlets with personal connections to Britney began to report that she was planning a music video for 'Hot As Ice' and that she'd been working intensely on the choreography. On January 21st, X17Online reported that several of their photographers had been invited to a party at Britney's house and that she'd voiced her displeasure with the 'Piece of Me' music video, saying, "I don't like the 'Piece of Me' video. The stuff they show of me on TV looks old," - a sentiment she would echo later in the year in a radio interview with Z100. As a result, Britney stated that she'd be taking control of her next music video which would be "something new, something really cool", which the publication confirmed to be 'Hot As Ice'. On the same day, People Magazine reported that Britney had been seen at Millennium Dance Complex, with the dance studio's owner Robert Baker confirming "She is working on the choreography for her song 'Hot as Ice'. She rehearsed an amazing routine with a chair."
While Britney's rehearsals were briefly paused by her hospitalisation on January 31st, People reported that she returned to Millennium on February 8th and 9th to continue working on the choreography for 'Hot As Ice'. The last confirmation we have of Britney rehearsing 'Hot As Ice' was by People on February 12th, who reported that she had spent around 90 minutes working on a routine for the song after teaching an hour-long dance class to six children at Millennium earlier in the day. 
Despite her hard work, Britney's efforts to create a music video for 'Hot As Ice' were proven to be in vain when Jive announced that they would be launching a poll on Britney's official website to decide on which single would be the third from Blackout, with 'Break The Ice' receiving 39% of the votes. It's possible that Britney's displeasure over this decision is what led to her refusal to appear in the 'Break The Ice' music video, with Jive being forced to use an animated version of the star instead. Britney's original concept for 'Hot As Ice' was never revealed, and her chair choreography for the song hasn't been seen on any tour since.
12. Radar
Due to contractual obligations with producers Bloodshy & Avant, a single release and music video for 'Radar' was always planned from the time of it's original inclusion on the Blackout album, with songwriting group The Clutch suggesting that it was at one point meant to be the album's third single. Following strong digital downloads for the song that led to it peaking at #52 on the Billboard Hot Digital Songs Chart and #7 on the Billboard Bubbling Under Hot 100 chart, Sony confirmed 'Radar' as the fourth single from Blackout and sent out CD singles to certain countries in July of 2008, including Sweden (where it peaked at #8) and New Zealand (where it peaked at #32).
To supplement the song's release as a single, Britney's manager Larry Rudolph confirmed in June of 2008 that she would be filming a music video that month in England. "The theme is her and her girlfriends are going to be looking all around London trying to find a boy who she met in a club," he told the New York Post. "Every time they think they have him, it's someone else." Following reports that Britney would be directing the music video, Rudolph further clarified that she would be co-directing, saying "She will be behind the camera as much as possible; she wants to make sure it's exactly right."
Despite Rolling Stone seemingly confirming that the video was in fact shot later that month, nothing more was heard from Britney's team regarding it and the 'Radar' single release was scrapped when Britney began recording Circus sooner than expected and Sony wanted to move on from the controversies surrounding the Blackout era. Ultimately, the song was remixed and added to Circus as a bonus track and a new music video was shot in May of 2009 with Dave Meyers in order to fulfil Britney's contract with Bloodshy & Avant, and no more details about the original music video have ever been released. 
13. When I Grow Up
Following the news that she at one point conceptualised a whole diss album about them, fans were surprised when it was announced that Britney was set to make a cameo appearance in the music video for The Pussycat Dolls' comeback single 'When I Grow Up', directed by frequent Britney collaborator Joseph Khan. "In the scene shot [Wednesday], Britney is driving in a car. They all wave at each other as they are passing in traffic — that is it," a source told Us Magazine. "Of course, Britney looks hot and blonde."
Ultimately, the scene didn't make the music video's finished version, with lead Pussycat Dolls singer Nicole Scherzinger confirming that the cut was due to a continuity error. When asked about the deleted scene in a radio interview with Ryan Seacrest, Scherzinger stated, "We were on a seperate location, so we didn't even get to shoot together, so like, her eye line and our eye line were like, staring at each other's boobs and foreheads, and it just didn't, it just didn't work out."
14. Circus
The 'Circus' music video, directed by Francis Lawrence, has many alternate cuts, some of which can be seen in the version of the video used in All Star Saturday Night promos. However, the most significant deleted scenes involve Britney walking a tightrope with a miniature umbrella while wearing a pink bustier and a multi-coloured skirt. While these scenes have never been officially released in HD, fans quickly spotted behind the scenes footage of her filming them in the 'Circus: Making The Video' featurette.
15. If U Seek Amy
'If U Seek Amy' was always going to make for a controversial music video, but the version that fans received in October of 2009 is actually toned down compared to the initial video concept conceptualised by 'My Prerogative' director Jake Nava.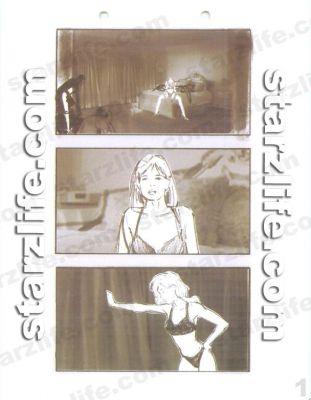 In February 2009, the video concept and storyboard stills for the song leaked were leaked by StarzLife, and detailed a party in which Britney goes from "wearing a super sexy pair of black leather underwear and dancing around provocatively with "all of the boys and all of the girls", to putting on a new face and looking like a primp and proper conservative upper class housewife". The leak described the apple pie scene in detail, before claiming that the video was meant to end with Britney winking into the camera. While the final version of the video loosely follows this setup, Britney was more covered up throughout the opening half of the final version, and her transformation into Stepford Wife-ney was sudden rather than gradual. Furthermore, the Fox News-esque scenes which bookmarked the beginning and end of the finished product went unmentioned, suggesting that these were later additions.
In a more minor change, X17Online reported that the front door of the house that Britney emerges from at the end of the video allegedly originally displayed a red heart reading "I Love You" in large letters. It is unknown why this was removed from the final cut.
16. 3
Following the release of the directors cut of '3', Rolling Stone writer Daniel Kreps commented that the original version "was essentially filmed and edited in the matter of days to coincide with The Singles Collection release", and that the directors cut "seems to find a better cadence with the music". It's possible that the rushed nature of the original video is the reason for several deleted scenes featuring Britney with her hair in a bun and alternating between two all black outfits which were not shown in the original video. These scenes were restored in the director's cut version of the music video.
17. Hold It Against Me
'Hold It Against Me' was directed by Jonas Åkerlund in early January 2011, and features at least one deleted scene. In teasers released before the video's February 17 premiere, eagle-eyed fans can spot a shot of Britney wearing a white shirt with black and red hot pants surrounded by backup dancers. While some scenes from this set-up do appear in the final music video, they are displayed only in extremely quick cuts and only in black and white. It's unknown why the majority of these scenes were cut from the final version.
Prior to the video's release, choreographer Brian Friedman also teased several details from the music video in an interview with MTV which did not make the video's final cut. Along with confirming that the music video was initially meant to feature ten male backup dancers (the finished product featured only six), Friedman also simply stated "I love nudity," when asked what his favourite part of the video was. Ultimately, there was no nudity from either Britney or her dancers in the final cut of the video.
18. TBA (David LaChapelle Directed)
David LaChapelle, who had previously worked with Britney for 'Everytime', mentioned in an interview in January 2011 that he wanted to work on the music video for the second single from Femme Fatale and that he planned to use designs from Heidi.com as outfits. While Heidi.com designers were excited about this prospect, it was also specifically mentioned that, "There's still a lot of administrative stuff to be done," and that "David LaChapelle has to send his concept for the video to Britney's managers."
19. I Wanna Go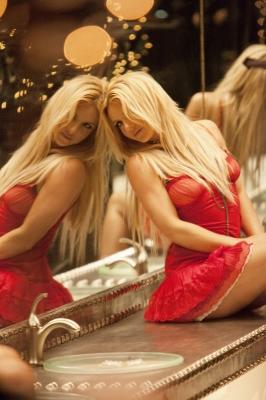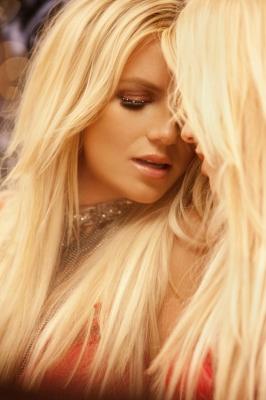 The music video for 'I Wanna Go' was filmed in LA and directed by Chris Marrs Piliero. Several hours ahead of the music video's premiere, Britney posted two images of her in a red dress on her Facebook page, along with the caption, "So excited for you all to see the music video for 'I Wanna Go' tonight at 12am PST!" Ultimately, the scenes involving the red dress were not included in the final music video, despite Britney's official website confirming that they were stills from the shoot. It's unknown why these scenes were scrapped.
20. Work Bitch
Like 'Don't Let Me Be The Last To Know', the Ben Mor-fronted 'Work Bitch' originally had a raunchier cut that was scrapped in favour of a less mature version. This time, however, it was Britney herself who was pushing for a more tame video. "Oh my god, we showed way more skin and did way more stuff for the video then what is actually there," Britney stated in an interview with The TJ Show. "Like, I cut out half the video because I am a mother and because, you know, I have children, and it's just hard to play sexy mom while you're being a pop star as well. I just have to be true to myself and you know, feel it out when I do stuff."
While a raunchier cut of 'Work Bitch' would be more than welcome, it was later confirmed that the sexier scenes that were cut from the final music video didn't actually involve Britney at all. In an interview with MTV, Mor stated that anything that Britney found too racy didn't involve her or her costuming, and said that "It was easy to make a racier cut only because of the extras and the cutaways".
21. Perfume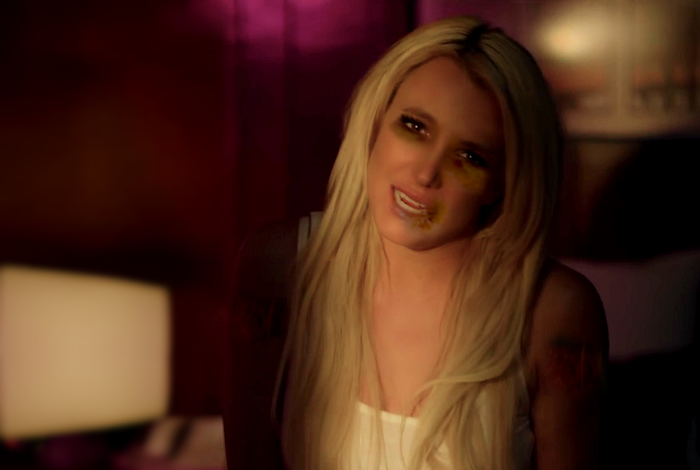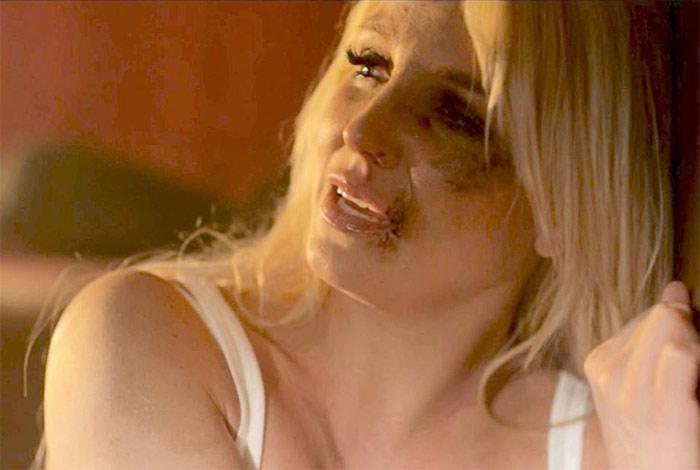 The 'Perfume' music video was directed by Britney mainstay Joseph Kahn and filmed over three days from November 19th to 21st in 2013 in the California desert. It depicts Britney as one of two women vying for the attention of their lover, played by Alexander Kjellevik. Prior to it's release on December 10, Kahn Tweeted that the released video was "extremely different" from his original edit, further stating that Britney's performance in it was "unbelievable". He would later say that the original cut was a minute longer, and that it featured a "shocking" ending.
Following several months of pressure from fans to release the original 'Perfume' music video, including an online petition addressed to RCA, the music video's original concept was leaked in July of 2014 on Britney fan-site Exhale.
Quote

Britney meets a guy with whom she falls instantly in love. It's made clear to the audience that Britney is an assassin/hitman as we see her kill a group of people in a car (hence the gun pictures that were leaked to the media). She is given her next assignment who turns out to be the guy she fell in love with at the beginning of the video. The go to meet in their favorite spot, but Britney is not there. She is across the street with a rifle with her target set on him. She looks through the scope and sees her man holding a ring her made for her. She leaves and aborts the mission to kill him.

She leaves town because she knows her is not safe around her. Doing this, she knows she will be killed for abandoning her mission to kill this guy. She hides out in a hotel and is taken by other assassins and beaten, tied to a chair, etc. She has sacrificed herself for this man. We see time pass as she dates a new girl, gets married, has a baby, etc. We see him looking out a window thinking about Britney, his true love that disappeared. Then, we see Britney on the floor of her hotel room, barely alive, as her body slowly turns to ash. The last shot of Britney is the hotel room is her smiling as their eyes seem to meet. Her body then disintegrates. The final shot of the video is Britney and her lover kissing in the sunset.
Kahn himself would later confirm the validity of this concept, but remarked that he changed the shots of Britney disintegrating towards the end during filming to keep the music video "more grounded". It is currently unknown what the "shocking" ending Kahn alluded to would have entailed. He further confirmed that the song would have stopped playing at the moment Britney realises that she is being asked to kill her lover, most likely accounting for the one minute of additional runtime that Kahn's cut would have had.
While it can't be confirmed, it's probable that the wire ring described in the original concept is the same one Britney gave to her partner in the final cut. The released version of the video also features a shot of Britney in the bathroom reacting to a phone (implied to be her lovers) as it receives a message from someone named Cindy. It's likely that the original context of this shot was Britney learning about her next assassination, and that the contents of the message were changed in post-production.
Although RCA never gave a reason for their cancellation of the music video, Kahn speculated that it had to do with Britney's upcoming Vegas residency and her label's desire to shy away from the dark subject matter. The source which leaked the video's original concept further stated that the label was worried mostly about the killing scenes, possibly due to the negative reaction that 'Criminal' received internationally for it's gun violence. While there are no announced plans to release the director's cut anytime soon, fans did receive some leaked stills which feature a battered and bruised Britney from towards the end of the video in mid-2016.
22. Alien
During her I Am Britney Jean documentary, Britney confirmed that she planned for 'Alien' to be released as an upcoming single from the album, but this never came to fruition. It's unknown if a music video was ever conceptualised for the track. Similarly, 'It Should Be Easy' and 'Tik Tik Boom' both serviced official remixes and were serviced to nightclubs, but it was later confirmed that neither were considered as singles from the album; it is unknown if they ever were or if music videos were envisioned.
23. TBA (Chris Applebaum Directed)
Following their discussion of the original concept for 'Perfume', the same source also mentioned that Britney was planning to release a new "big budget" music video in "late summer/early fall" of 2014. The music video was intended to be directed by Chris Applebaum, who also worked on film clips for 'Overprotected' and 'I Love Rock N Roll'. Ultimately, no other music video ever eventuated in 2014, with Britney's next music video for 'Pretty Girls' in 2015 being directed by Cameron Duddy.
24. Make Me... (Feat. G-Eazy)
On June 2nd of 2016, E! News reported that Britney was in the midst of filming the music video for her comeback single 'Make Me...' and that it was set to be directed by former 'Everytime' collaborator David Lachapelle. Britney also posted behind the scenes photos of her making the video on her Twitter, including a shot of her with guest rapper G-Eazy, a photo set of her with an unidentified male model, and a final photo of her surrounded by sixteen half-naked male backup dancers. A low-quality minute long clip of the music video would also go on to leak in mid-July, featuring Britney and her dancers performing choreography in a warehouse-like scene and shots of Britney in a cage covered in sparkly red body paint.
Despite this, when Britney spoke of the music video to Australian radio station 104.1 2DayFM later that month, she described a video that seemed to be entirely different from the one teased to fans. "The video that I just shot is me and all my girls. We're making guys audition for us," she stated. "The whole theme is us basically playing with them. It's really kind of fun and it's interesting." When the video was finally released in early August, almost all traces of the original David LaChapelle concept were nowhere to be seen and the new director was confirmed to be Randee St. Nicholas.
While there was never any official confirmation, multiple fan theories exist as to why the LaChapelle version of the video was scrapped. Early reports simply stated that Britney thought the video was "too sexy"; while Britney's manager Larry Rudolph responded to a fan petition to release the music video by saying "The video just didn't work", a sentiment echoed by LaChapelle in 2019 when he commented, "The video/song wasn't released because Britney didn't like it." Some fans have suggested that the music video was scrapped due to a disagreement between Britney and LaChapelle, due to a behind the scenes video from the set of his cut that featured Britney calling the director an "asshole" and saying "I don't like it" (although it's impossible to tell whether or not this was in jest).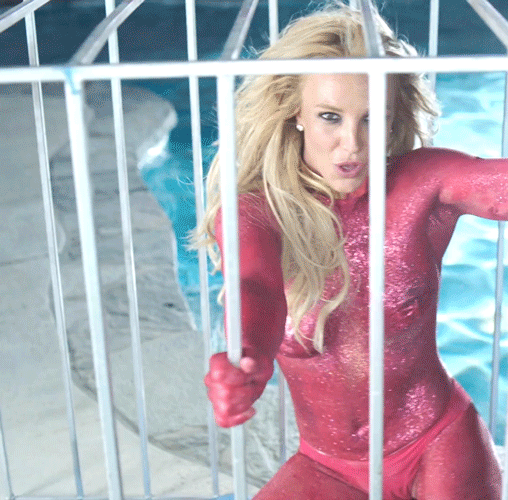 Still, allegations of Britney being unhappy with the video's concept or raunchiness seem strange given how involved she was in the concept. In particular, Britney specifically requested that LaChapelle shoot her in the cage to create one of the video's most explicit moments, a possible nod to her ongoing conservatorship. "The only direction Britney ever gave me for this video is for me to film her in the cage," LaChapelle stated when discussing his support for the #FreeBritney movement. "At the time I didn't understand why would you want to be filmed in a cage? At first I envisioned to film her as a tigress, but she wanted to be filmed more timid, like a kitten. For everyone on my team, at least, we could tell something was off."
A version of the music video containing scenes shot by LaChapelle leaked in 2019 and extensively featured this scene. The video also featured a loosely biblical plot which followed Britney and her lover leaving a music video shoot to drive through the desert and arrive at their home, only to find an eviction notice on the door from "Eden Jurisdiction #1" for "Adam" and "Eve". After resuscitating her lover after a near-death experience, he and Britney demolish the house using a crane.
Despite the fact that it utilised the scenes he shot with Britney, however, LaChapelle would later confirm that this leaked version of the video was not the full extent of his original concept, but a cut created by RCA. "This is some of my footage, this is not my edit," he stated, before insinuating that her record label had released the leak as something of a distraction for fans. "I find it very suspect that the video was 'leaked' while Britney was 'away.'" LaChapelle's statement adds credence to the idea that the video was scrapped after relationships between himself and RCA broke down, an idea first suggested by fans when they noticed that he had refused to give the label his footage with G-Eazy, forcing them to use watermarked copies in the official video.
Fans have further speculated that the original cut of the video was over ten minutes long and featured scenes that still have yet to leak. In their exclusive behind the scenes look at the LaChapelle version of 'Make Me...', E! also posted a video interview with Britney in which she wore black boots and a nude leotard with black detailing, which was not depicted in the leak. The next day, a video leaked from the set which depicted Britney in the crane with backup dancers on top of it, another scene which didn't appear; and the Lachapelle-shot single cover, which features Britney wearing white in the desert, is also rumoured to be taken from a scene in the video. Given the tense relationships between all parties involved, it's unlikely that LaChapelle's original length cut will ever be seen.
Which scrapped music video would you most like to see from Britney? Let us know in the comments section down below!