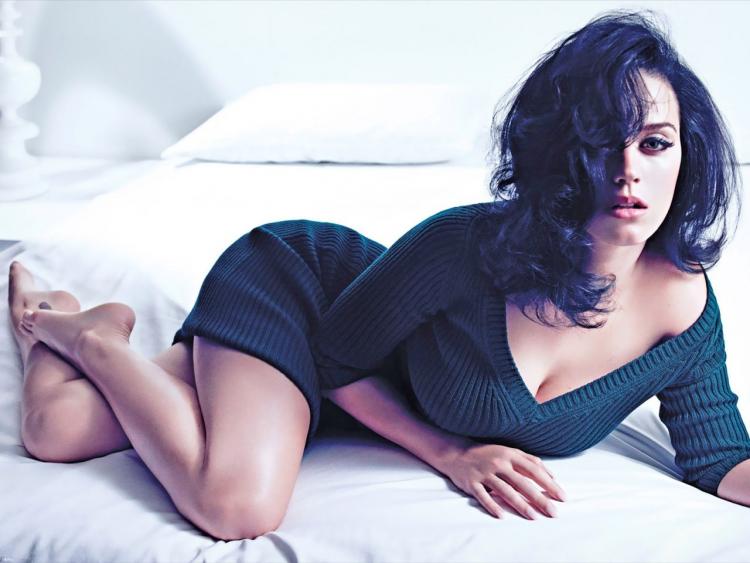 Watch the video version of this article here!
Although her star has faded a little in recent years, Katy Perry remains one of the biggest and most bankable popstars of all time, having sold more than 40 million albums and 100 million records over her ten year career. With hits ranging from debut single 'I Kissed A Girl' to 'Teenage Dream' and 'Chained to the Rhythm', Perry has until recently been a fixture of the charts, with every single she releases becoming not just a hit but an entire cultural happening.
But with so many hits it seems impossible to avoid comparison with other artists, and Katy has had a handful of songs which have been noted for their striking similarities to other artist's tracks. Some of these tracks have just a passing resemblance, but others - #3, particularly - are almost note for note identical copies of other songs, and the public has definitely noticed. In this list, we'll be looking at five of the most obvious comparisons, as well as the original artist's reactions - and not all of them are pretty. Read on to find out more!
---
Katy Perry - California Gurls (Feat. Snoop Dogg)
Sounds Exactly Like...
Ke$ha - TiK ToK
'California Gurls' has to be the most famous of all of Katy's "familiar" songs, and it's resemblance to the artist formerly known as Ke$ha's song 'TiK ToK' was remarked upon almost as soon as it was released. In this case, though, there's a pretty clear reason for the similarities: namely, the fact that both songs have exactly the same producers. 'TiK ToK', written by Kesha but produced by Dr. Luke and Benny Blanco, was the biggest hit of 2009 and went on to be the fifth best selling single of all time, so it makes total sense that Luke and Blanco would attempt to recreate it's success in 2010 with Perry as the chosen artist and Snoop Dogg stepping into Diddy's shoes. While most of the songs on the list have just one or two similar elements to other tracks, 'California Gurls' is notable for being quite literally identical to 'Tik Tok', excluding the lyrics and the bridge. Not that that stopped it from being a hit: 'California Gurls' had no trouble at all hitting #1, a year after 'TiK ToK' did the same.
---
Katy Perry - Bigger Than Me
Sounds Exactly Like...
Ania Wyszkoni - Lampa i sofa
If you're just a casual fan of Katy's, you probably won't have heard 'Bigger Than Me', an album cut from last year's Witness; and similarly, if you live outside of Poland, chances are you won't have heard Ania Wyszkoni's 'Lampa i sofa', which literally translates to 'Lamp and Sofa'. Thankfully, it seems as though there's at least one Katy Cat who's also a Polish resident, because it wasn't long after 'Bigger Than Me' was heard for the first time that people pointed out it's essentially a note for note recreation of Wyzkoni's song with English lyrics added. To be fair to Katy, it's slightly far-fetched that this song really is plagiarised - even though 'Lampa i sofa' was a pretty big hit in Poland, hitting #2 on the charts there, it's unlikely that either Perry or her co-writers Sarah Hudson and the members of Purity Ring would have ever heard the track before. But those similarities in the chorus are just undeniable...
---
Katy Perry - Roar
Sounds Exactly Like...
Sara Bareilles - Brave
It took about two seconds after 'Roar' was released in 2013 for people to start comparing it to Sara Bareilles's 'Brave', which had been released four months prior as the lead single off her fourth album The Blessed Unrest. This time there was no getting around the similarities in melody and self-empowerment lyrics: Katy definitely knew about 'Brave', given that she'd Tweeted about it shortly after it was released to express her admiration. While their fans were duelling it out online though, Perry and Bareilles were apparently all good behind the scenes. Bareilles stated in an interview with ABC News Radio that she and Perry had been friends for a "long time", and that she had given her blessing to 'Roar' before it's release. "If I'm not mad I don't know why anybody else is upset," she mused. The two even performed 'Roar' together at a showcase, alongside Tegan and Sara and Ellie Goulding. And in the long run, the controversy was actually great publicity for Bareilles's theretofore unknown song: it prompted her record label to release 'Brave' to contemporary radio, giving it a much needed boost in promotion.
---
Katy Perry - Dark Horse (Feat. Juicy J)
Sounds Exactly Like...
Flame - Joyful Noise
Let's be honest: if you're anyone outside of the very exclusive "Christian hip hop" community, you won't have heard of Flame, the rapper who's released such monumental works as Our World: Fallen and Our World: Redeemed. That's why we find it a little hard to believe that Katy Perry and producer Dr. Luke stole the beat from his 2009 song 'Joyful Noise', as was alleged in a lawsuit he brought against her back in 2014. Flame's accusations were based on the idea that if you slow down 'Joyful Noise' by ten beats per minute and change the pitch an octave, the beats in each song are almost identical - although in our view, that's a lot of work to do to make the songs appear similar. He further alleged that the song's reputation was "irreparably tarnished by its association with the witchcraft, paganism, black magic and Illuminati imagery evoked by the same music in 'Dark Horse'" - a pretty big claim given the song's lack of reputation in the first place. Thankfully, the lawsuit was thrown out in 2015, but we're sure Flame will get his royalties when Jesus returns to walk the earth.
---
Katy Perry - E.T. (Feat. Kanye West)
Sounds Exactly Like...
t.A.T.u. - All The Things She Said
We're sure that the similarities between these songs are entirely coincidental, but it's fun to listen back to them for a little nostalgia flash anyway. Katy's 'E.T.' was released back in 2011, with the single version featuring a few verses by Kanye West, and it's weirdly familiar to anyone who turned on the radio back in 2002. Listen back to fake lesbians t.A.T.u's biggest hit 'All The Things She Said' and you'll notice that the choruses of each song have the exact same chord progression and beat. No wonder anyone born in the 90s likes 'E.T.' so much.
---
Which song are you most surprised to hear is "inspired" by another artist? Are there any obvious rip offs we're totally missing? Let us know your thoughts in the comments section down below!