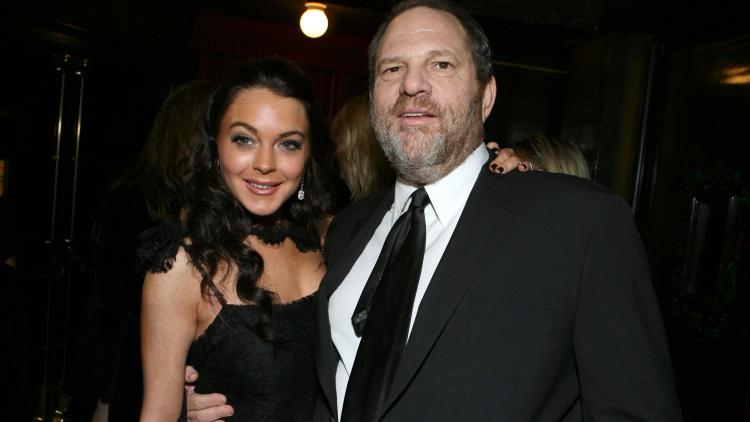 Lindsay Lohan is finally trending on Twitter: but probably not in the way she'd hope.
The 31 year old onetime child star is back in the headlines after taking to her Instagram story earlier today to defend Harvey Weinstein. You know, the ex-Hollywood executive accused of sexually harassing and/or assaulting dozens of women.
She started off her speech innocently enough. "Hi, this is Lindsay Lohan. I'm in Dubai. I'm home," she begins, speaking in her infamously stilted accent. "I feel very bad for Harvey Weinstein right now. I don't think it's right what's going on."
"He's never harmed me or did anything to me. We've done several movies together," she continued, referring to the Weinstein productions Bobby and Scary Movie 5, both of which she appeared in. "I think everyone needs to stop. I think it's wrong. So, stand up."
If you happened to have been living under a rock for the past week or so: allegations about Weinstein were first published in The New York Times by Jodi Kantor and Megan Twohey. According to the two authors, Weinstein had been sexually harassing, and subsequently paying settlements, to a multitude of women over the past three decades.
Since then, accusations about Weinstein have been overflowing out of Hollywood, the sign of many years of pent up secrets. Over thirty women of varying reputation and status have come forward to voice their experiences, including Angelina Jolie, Gwyneth Paltrow, Rose McGowan and Cara Delevigne.
As a result, Weinstein has been fired from the board of his production company, The Weinstein Company, by his own brother; has been divorced by his wife of ten years, Georgina Chapman; has been suspended from the BAFTA organisation; and has been shamed by Hillary Clinton and Barrack Obama, both of whom he has donated money to.
Lohan is the first celebrity to publicly defend Weinstein, although Donald Trump has stated that he is "not surprised" about the allegations.
Your thoughts?