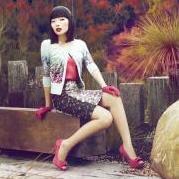 why Samantha Jade didn't happen? (The x factor winner)
---
Similar Content

By

DockDock

Dami Im was in Nashville recording new music and this image now are around internet , she didn't say anything yet! she just comeback from the U.S to Australia but seems like her new album  release next year in April? her past tour for the C.C Album started in 2016 till 2017- so now this kinda tour with new material ,they say. , looks like she is going to release really soon this album. "new material from her upcoming album" i just want to leave really behind the classic carpenters cover album when she was on Eurovision , Sony's fault.- GOLD album at least . i need originalsss

Please login or register to see this attachment.

Please login or register to see this attachment.

Please login or register to see this attachment.


By

DockDock

i found some time ago that Dami Im register some new songs under her name as performer and co-write..these songs still register yet but she perform only this song when she was in Korea doing stuff idk why i mean, she had not a single at that time in August.. but she was doing a lot of radio , and press stuff in Korea... as i fan i know this song it's really her i mean is what she think" i am not a puppet" "i am not that stupid , don't need you advise" " i know what i  want i know who i am " " i have a vision and i know the price " "if i have to battle i fight to the end"  etc... Since x factor the "church" fans tell her to not sing pop and not  use some outfit bc wast too sexy or short etc, and the non church fans wanted her to be a queen and do pop... and everyone tell her in comments what to do in her career, i think she is done of that! ,also when Eurovision end ppl and press where like she has to release something now , bc there is not going to be a momment like this again ,and she went to Africa to meet the kids that she supports ,instead of release the new single , then she come back and some time latter she release FFL (Fighting For Love) and did flop. too late.
Sadly Dami believe in Destiny and not in  "don't keep waiting for an open door ,break the lock and get something more" as her first single Alive... she just want to sing and don't care the charts and sales,"she is happy to sing and even get a small bounch of people on her concert," she Said that on an interview. So far dami it's getting a new original album , she  has some songs already as this one but i really don't like as a Sony artist single or even as dami im single you know. anyway i don't think this is going to be on her New album i hope so.. she already posted pics on instagram  in Nashville + her piano soooo.... maybe next year new album thanks to SOS & CC  Success.... i think is not going to be pop this time, 
 
Please login or register to see this code.