"I don't know her."
It was the throwaway sentence - delivered with seeming sincerity, a simpering smile and an innocent nod of the head that was either sarcastic or supportive depending on interpretation - that went on to become one of the Internet's first real memes. Mariah Carey's simple proclamation, in response to an interviewer's question about Jennifer Lopez, is one of the finest textbook definitions of shade that anyone could ever ask for.
And yet, behind those four words is a world of pain, heartbreak and jealousy that most people know nothing about. It's a world that reads like something straight out of a telenovela, populated by characters like a long-suffering wife, a controlling patriarch, and a young ingenue who tears them apart. This is the real story behind the infamous Mariah Carey and Jennifer Lopez feud.
Our story starts with an 18 year old Mariah Carey, who with her classically trained operatic voice and long tousled curls had big dreams of being a superstar. In 1988, Carey found her way into a record label executive's gala, where she handed her Ben Margulies-produced demo tape over to the head of Sony Records Tommy Mottola. Carey and Margulies would later go on to have a meeting with Mottola, who, believing that Margulies was Carey's boyfriend, made it his mission to push him out of the picture as he signed her to a $350 000 recording deal for ten albums.
Mottola quickly took a large hand in Carey's career, to the extent that it was said that the two were barely ever seen without each other. Later in life, Mottola would admit that he was "obsessive" when it came to Carey, but with the caveat that "that was the reason for her success". Rumours of a romance began to fly about the 39 year old married man and his 18 year old muse, and it wasn't long before they were proven to be true; Mottola proposed Carey in 1992, two years after her first album release and only shortly after the dissolution of his nineteen year marriage.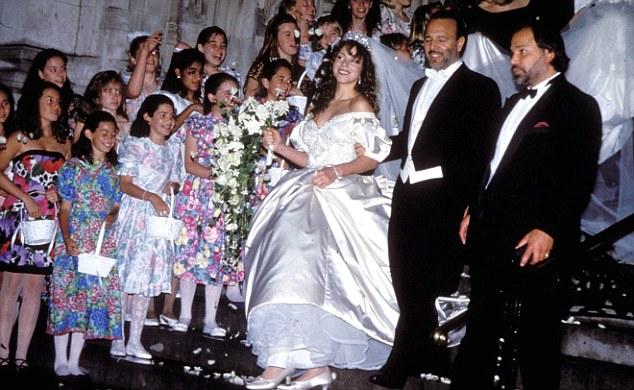 Carey and Mottola at their $500 000 wedding ceremony in 2003
Sadly, the marriage was not to be a happy one. Carey suffered from non-stop reports of favouritism, with more than one reporter suggesting that she had married Mottola only for his connections. Even more troubling was the fact that Carey, who had never been in a serious relationship prior to Mottola, was facing emotional abuse almost daily by her husband that left her "miserable, crying, and alone" and dreaming that someone would "kidnap" her. Carey would later recount that she was forced to remain "sequestered" from the outside world by Mottola, and that she had to "get permission to leave" the house. "He didn't even know why I always had my bag with me," she would say years later. "But in my mind I thought, 'If something jumps off...I'm ready.'"
Although Carey finally managed to escape her marriage to Mottola in 1997, that wouldn't be the end of their relationship. After all, Mottola was head of Sony Records, and still wielded great power over her career. After some conflict over the direction Carey's career would take, Butterfly was released in late 1997, introducing the sexy image and breathy vocals that would become her signature in later years. But by the time Rainbow - the last album Carey would record for Sony - was released in 1999, her relationship with the label had completely deteriorated. The label wanted a big pop song to be released as the third single to heat up the lukewarm radio play for the album, but fittingly Mariah wanted 'Can't Take That Away (Mariah's Theme)' - a ballad about finding your inner strength based on her seperation from Mottola - to be released instead. She told her fans about the dispute and instructed they request the song on radio to force Sony into an official release, which they eventually did only half heartedly and with a limited promotional budget.
Carey would soon sign a record-breaking $100 million contract with EMI, but money couldn't buy her happiness. By 2001, Carey had begun work on a semi-autobiographical film called Glitter, and the film and it's accompanying soundtrack had created a workload that she couldn't sustain. After breaking up with her boyfriend of three years Luis Miguel, Carey began posting disturbing voice messages on her official website announcing that she would quit music. An erratic appearance on Total Request Live in which Carey handed out ice cream and performed a striptease for Carson Daly did nothing to help her public image. And meanwhile, Mottola back at Sony was doing everything he could to destroy her.
Mottola had first discovered Jennifer Lopez in 1997, when she was fresh off the heels of her star turn in Selena and sending Spanish-language demos to various record labels. By this point, Mottola had recently separated from Carey, and it seemed his self-proclaimed "obsession" with her had been transferred to Lopez. Mottola sent J. Lo to the top of the charts with On the 6 and the international smash hit 'Waiting for Tonight', but he wasn't done yet.
Lopez's sophomore album J. Lo was released in 2001, and it featured a song entitled 'I'm Real'. The song sampled Yellow Magic Orchestra's 'Firecracker' - a song which strangely hadn't been requested for sample at all up until three weeks before it's recording, when Mariah Carey had requested to use it for her song 'Loverboy'.
This was a deliberate ploy by Tommy Mottola to sabotage Carey's 'Loverboy' release, which was already scheduled to be the first single from the Glitter soundtrack and an instrumental part of the film itself. Unable to reshoot the scenes containing 'Loverboy', Mariah scrambled to find a new sample to base it on, settling on Cameo's 'Candy'. However, she would go on to release a single remix of 'Loverboy' with Da Brat which utilised 'Firecracker' in the melody, with Da Brat rapping, "Hate on me much as you want to/You can't do what the fuck I do/Bitches be emulating me daily."
This wasn't the only way in which Mottola undercut Mariah's Glitter campaign. Mariah had recorded a track called 'If We' for the project with Ja Rule, which was his first foray into R&B. Irv Gotti would later recall that shortly after the record was finished, he was contacted by Mottola "obscenely early" in the morning and instructed to make a collaboration for Jennifer and Ja Rule "in the same style" of 'If We'.
"He calls me because he found out that me and [Ja] Rule cut a record with Mariah Carey," Gotti would later say. "And at the time he hated Mariah Carey. So he was pumping Jennifer Lopez to compete." Mottola even loaned Gotti the company jet to ensure that Ja Rule, who was on tour at the time, would be able to film scenes for the music video for this collaboration. Gotti worked with Ashanti and Ja Rule to craft 'I'm Real (Murder Remix)', which was released shortly after to huge success and which sounded more than a little similar to 'If We'.
While J. Lo topped charts, Mariah began a downward spiral which started with the lukewarm reception to 'Loverboy' and only continued when the Glitter soundtrack was released on September 11th, 2001 (yes, that September 11). Matters only got worse when her father, who she had had little contact with since childhood, died of cancer, and she was bought out of her contract with EMI for $50 million.
Despite this, Carey didn't speak about the situation between her, Mottola and Lopez publicly until some time later. Speaking to MTV about the 'Firecracker' fiasco in 2002, Carey stated "Let's just say they did me a favor. And they know who they are. And thank you, sweetie. And your friend who did it with you!" The infamous "I don't know her" remark wasn't uttered until an interview on the shoot of 'Bringin' on the Heartbreak' in 2003, when Carey had clearly moved from sadness onto pettiness; and since then it's been reiterated many times in many different ways.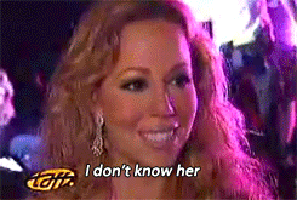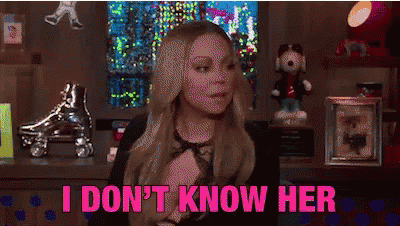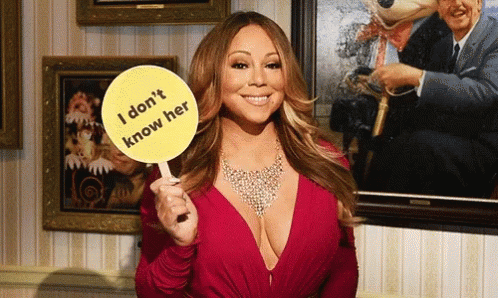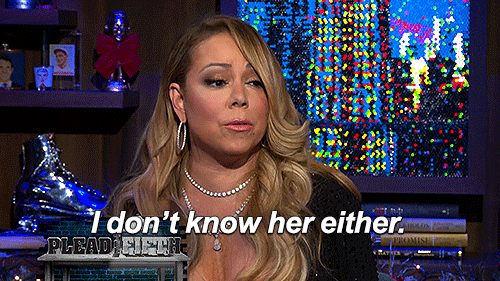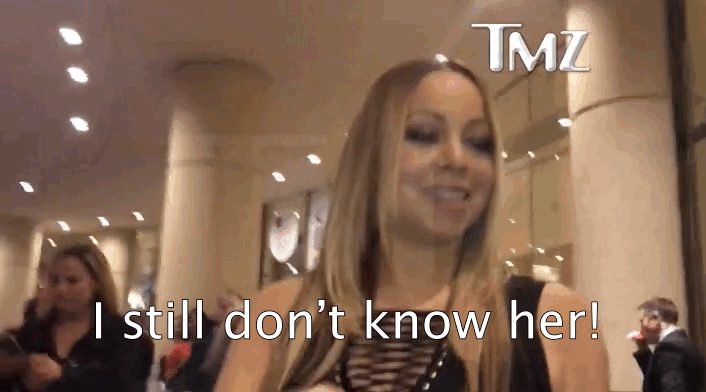 Which leaves us wondering: will this story ever have a happy ending for Carey and Lopez? Carey's annoyance towards her manipulative ex-husband's new plaything was understandable at the time, but this many years on it seems obvious that Lopez was only a pawn in Mottola's game, and that he was the only one to blame for her career downfall. Lopez, who for her part has alternated between supportive and shady when asked about Mariah, is still on top years later, and we're sure that Mariah could use some girl power to help her image recover from that New Year's Eve fiasco. Here's hoping that in the age of #MeToo and #TimesUp, the two will someday put this feud to rest and come out with an anti-Mottola duet of their own. 'I Never Knew Him', perhaps?