Watch the video version of this article here!
With a voice like Mariah Carey's, one might wonder why she or her label bothers with any kind of imagery at all. It would have been easy to go down the Susan Boyle route and focus exclusively on Mariah's famously breathtaking vocals, to the exclusion of how she looks; and indeed, it may be that very line of reasoning that accounts for the live performances that double as official music videos for tracks like 'I'll Be There', 'Open Eyes' and 'If It's Over'.
Luckily for us, Mariah for the most part has gone a different route, appearing to spend as much time on her film clips as she has on the songs themselves. More than showing off her acting chops or developing complex storylines within her music videos, Mariah's clips instead tend to act as a showcase for her image, visually communicating the things that she may have been unable to open up about in interviews. Through her music videos, Mariah has transitioned from an innocent girl next door with wild curly hair in 'Vision of Love' to a chic city girl in 'Anytime You Need A Friend' to a sun-kissed Malibu goddess in 'Honey' and then to an opulent Vegas showgirl in 'Infinity'; and each of these image makeovers has coalesced with pivotal moments in Mariah's life, from her difficult childhood to her abusive marriage to Tommy Mottola to her ultimate escape into adult independence to her childbirth and beyond.
With such an emphasis on her image, it's understandable why Mariah and her various labels have displayed a level of perfectionism when it comes to her music video output. From video treatments that got to the final stages of planning before being called off to music videos that were completely filmed and edited before being unceremoniously scrapped, Mariah has had at least thirteen different film clips over the years that have been scrapped. In this list, we'll look at all we know about these videos so far, and just what our chances are of seeing them in the future.
1. Vision of Love
Mariah's first music video is ingrained in the minds of many who grew up during her prime - which is why it may be shocking to find out that it wasn't in fact her first. According to Rolling Stone, 'Vision of Love' was first filmed in early 1990 on a budget of $200 000, but after the first take failed to impress record label executives it was scrapped. Columbia Records then spent a further $250 000 on a second music video for the song directed by Bojan Bazelli with a brand new plot and imagery, which was released to huge success and became the classic we all know today.
This major amount of overspending on a totally unknown artist didn't go over well internally, however. One Columbia employee called favouritism, stating that, "The special treatment really upset me" - probably not an unjustified claim given the burgeoning relationship between Mariah and Columbia top dog Tommy Mottola. To this day, no information about the original music video has leaked to the public.
2. I Don't Wanna Cry
'I Don't Wanna Cry' was directed by Larry Jordan in 1991 and features Mariah living out her full Tennessee Williams fantasy, exploring a midwestern ranch and running through fields of maize while she broods over her partner. Initially, the video featured several takes in which Mariah's dress creeps dangerously up her thigh, as well as multiple shots of a shirtless male posing seductively in a bed. However, following feedback from the label - who wished to continue to market Mariah as family friendly and innocent - a majority of these scenes were cut, only to be replaced with a sepia-toned setup of Mariah singing in a white dress. Record label interference such as this would later be an instrumental part of Mariah's ultimate divorce from Tommy Mottola and departure from Columbia. The original video went unreleased until eight years later with the release of Mariah's DVD #1's, where it was labelled as the 'Director's Cut'. Mariah herself has expressed her preference for this version, stating in 2015 that the original "really wasn't good" but that "the director's cut is actually a really good video".
On the home video release The First Vision, which was released just a day after the single's official release, a shorter alternate video was featured. Despite having a similiar sepia tone to the reshot scenes, this video features all new footage of Mariah singing the song while wearing a black top in a recording studio, and features only a 1:40 portion of the full song.
 

 

3. Anytime You Need A Friend

Like 'Vision of Love' before it, 'Anytime You Need A Friend' is notable for having two completely different music videos: one which was shot and then scrapped, and another which was reshot and released due to Mariah's teams displeasure with the original. The first music video for 'Anytime You Need A Friend' was directed by Diane Martel, who had previously directed the music video for 'Dreamlover' the year before. Like the released music video, it featured Mariah singing in solo scenes and with a choir; but unlike the finished product, this version features a strong medieval theme, with Mariah wearing a long flowing dress while she sings in front of something she debates is a "castle or a fortress". 

It is unknown why the original music video was scrapped, but fans have speculated that it may be due to Mariah or Columbia Records displeasure with her image in the clip. On the one hand, Mariah's dress in the original music video is quite revealing, with a low bust and a large slit, something that surely would have piqued Tommy Mottola's interest; but on the other hand, the released version is famous for being the first music video in which Mariah appears with straightened hair, in a subtle step away from her "girl next door" persona (and a behind the scenes look at the original video did feature Mariah joking about her "hideous" curly hair). With this video yet to see the light of day twenty-six years later, we wouldn't be surprised if we never got to see it at all.
4. Underneath the Stars
'Underneath the Stars' was released as the sixth and final single from the Daydream album in 1996, but it's lack of a music video remained a mystery until 2012. In February of that year, Mariah revealed that she had shot an official video for the track in Europe that went unreleased, with no mention of the video's concept or why it had been scrapped.
The reasoning behind why Columbia chose not to release the 'Underneath the Stars' music video is unknown, but it's possibly related to a disagreement between the label and Mariah over the single's release at all. This would also explain why the single only received a limited amount of pressings compared to the album's previous five releases. Daydream was Mariah's first album on which she had a modicum of creative control, but the label was still famously reluctant to let her choose her single releases. Controversy over the song would reignite two years later regarding the song's inclusion on Mariah's first greatest hits album - Mariah wanted all of her favourite songs to make an appearance including 'Underneath the Stars', but Columbia only wanted to include the hits, hence their settling on the #1's concept. Mariah would even allude to a disagreement several years later when 'Underneath the Stars' appeared on her second compilation Greatest Hits, with Mariah stating that she "always kind of fought for" the song.
5. Heartbreaker (Feat. Jay-Z)
'Heartbreaker' is one of Mariah's most iconic songs, with many fans remembering it's Brett Ratner-directed music video fondly for it's introduction of her raven-haired alter-ego Bianca. With a complete plot, dance choreography and even fight choreography, the video seems to have everything fans could want from a Mariah clip - everything, that is, except for featured rapper Jay-Z, whose verse on the song is instead accompanied by an animated sequence of Mariah acting out his lyrics.
Bizarrely, Jay did actually film a relatively elaborate scene for the music video which featured him bathing in a hot tub inside a luxury mansion while Mariah strutted around behind him. However, it was soon discovered that his part in the video would have to be cut due to a contractual agreement with Epic Records, who stipulated that he would not be allowed to appear in a music video for two weeks after shooting the clip for his track 'Girl's Best Friend'. This led Mariah and and Ratner to scramble to create the animated sequence for the video, which alluded to the drama through Mariah's animated persona holding a sign saying "Jay-Z coming in 2 weeks". This version of the video would later premiere during MTV's Making the Video, and can be found online.
6. Can't Take That Away (Mariah's Theme)
'Can't Take That Away (Mariah's Theme)' was released as the third single from Rainbow in June of 2000, with a video directed by Sanaa Hamri, who had previously worked on music videos for 'Thank God I Found You' and 'CryBaby'. In an early example of the crowdsourced music video, Mariah asked fans to send in clips of themselves discussing their hardships via her website, a handful of which were implemented into the finished product. The first half of the clip began with Carey lounging in front of her television watching her fan's videos, while the second half featured her throwing open the doors in her apartment to sing on her balcony while the rain poured down around her.
When the music video was first released, it received immediate criticism from the press. A major complaint was that the captions detailing some of her fans struggles were difficult to read due to their dark colouring against dark backgrounds. Others pointed at the continuity errors in the video's second half, which alternated back and forward between showing Mariah with dry hair and a dry top and showing Mariah with wet hair and a drenched top.
As a result of the criticism, Mariah rushed back to New York to reshoot portions of the music video with Hamri. While the majority of the footage in the first half remains the same, changes were made in editing to make the captioned text lighter and easier to read. All of the scenes involving Mariah in the rain were also completely scrapped, to be replaced by scenes in which Mariah dances in front of a closed window while the rain pours down outside. Ironically, this would lead to it's own continuity issues, as while her outfit remains the same the apartment in which Mariah dances in is completely different from the one she watched the TV in. Both versions of the video can be found online.
7. Never Too Far
'Never Too Far' was released as the second single from Mariah's ill-fated Glitter soundtrack, and continued the downward trend of disappointing releases for Mariah after it's parent album suffered from a release date of September 11, 2001. In large part due to the exhausting workload and disappointing response to the Glitter project as a whole, Mariah suffered a "physical and emotional breakdown" in August of 2001, leaving her in a rehabilitation centre for two weeks and unable to film a music video for the track or promote the project in any way.
"When I was asked about the video I said, 'I can't do it today'," she would later tell Matt Lauer. "And nobody could accept that answer. And that's when I started to get mad. I was, like, look, I am too fatigued. I'm overly-tired, I can't do it as a human being. And nobody was hearing those last two words — human being. They were used to the Mariah that always says, 'Come on, let's fight, let's go'. They just weren't used to me ever saying no. I never said no before."
While no video was filmed for 'Never Too Far' - or for the 'Never Too Far/Hero Medley' which was released as a single the month afterwards - a collection of clips from the film was compiled together to form a makeshift music video for the track. While the original treatment for the 'Never Too Far' music video is unknown, the fact that Mariah said "I can't do it today" possibly suggests that the video had a fully-fledged concept and was ready to be filmed when Mariah pulled the cord. 
8. Through The Rain
'Through The Rain' was directed by Dave Meyers and filmed in New York in September and October of 2002. One of Mariah's most personal music videos, the clip is loosely based on Mariah's own parents experiences with racism at the time of her conception. Originally, however, the music video was to have a totally different plot, which according to an interview Mariah gave to MTV was changed just days before the music video was shot.
Quote

Originally it wasn't going to have anything to do with that, but people were looking through my photo albums this year. My father and I had made some photo albums together of his relatives and different people in the family. A couple people saw [the albums] and they were like, 'This is amazing that you have this.' I guess everybody was like, 'How would you feel about this type of concept [for a video]?' So I guess I thought if someone's going to do it might as well be me.
The change to the plot was so last minute that the actress playing Mariah's mother in the video, Jamie-Lynn Sigler, was only asked to appear in the video several days before shooting. "We just got a call a few days ago and they said, 'You know Mariah would like you to play her mom in her video,'" she told MTV. "I was like, 'What? Okay!' Not a phone call you expect to get." It's currently unknown what the original music video was intended to look like, although given how late the change was made it's likely that development for the video was in close to final stages.
9. It's Like That (Feat. Fatman Scoop & Jermaine Dupri)
'It's Like That' was the fourth choice of lead single from 2005's The Emancipation of Mimi. 'Stay the Night' was Mariah's first choice, but that song was shunned in favour of Snoop Dogg and Pharrell collaboration 'Say Somethin'', which in turn was leaked online and briefly replaced by the newly-recorded 'Shake It Off'. Mariah then reverted back to her original decision of Fatman Scoop and Jermaine Dupri collab 'It's Like That', a "special" song that she had a "great feeling" about. By January of 2005 Mariah confirmed to MTV that she hadn't settled on a video treatment for the song yet, but that Paul Hunter - who had previously directed music videos for 'Honey' and 'Honey (Bad Boy Remix)' - was her first choice of director.
Ultimately, the music video that was filmed the next month was directed by 'I Still Believe', 'Heartbreaker' and 'Thank God I Found You' director Brett Ratner, who would later go on to direct X-Men: The Last Stand, where he would be accused of sexual harassment. Mariah didn't have to wait long to work with Hunter, however - he would later direct the music videos for 'Don't Forget About Us' and 'Say Somethin'' just months later.
10. Shake It Off
After being scrapped as a lead single, 'Shake It Off' was later chosen as the third single from Emancipation, to be followed by 'Say Somethin'' as the fourth. Prior to these releases, 'It's Like That' and 'We Belong Together' had been released as the first two singles from the project, notable for two interconnected music videos directed by Brett Ratner which featured a story involving Mariah's ex-lover played by Wentworth Miller. Both 'Shake It Off' and 'Say Somethin'' were originally meant to be directed by Ratner as well, suggesting that they could have originally been intended as extensions of the 'It's Like That' plot.
However, Carey later chose director Jake Nava for 'Shake It Off', coming up with a new plot for 'Shake It Off' disconnected from the Wentworth Miller saga which focused on her calling out a cheating lover. It's unknown how similiar this was to the treatment that Carey had planned to develop with Ratner, who she did not work with again until three years later on 'Touch My Body'.
11. Fly Like A Bird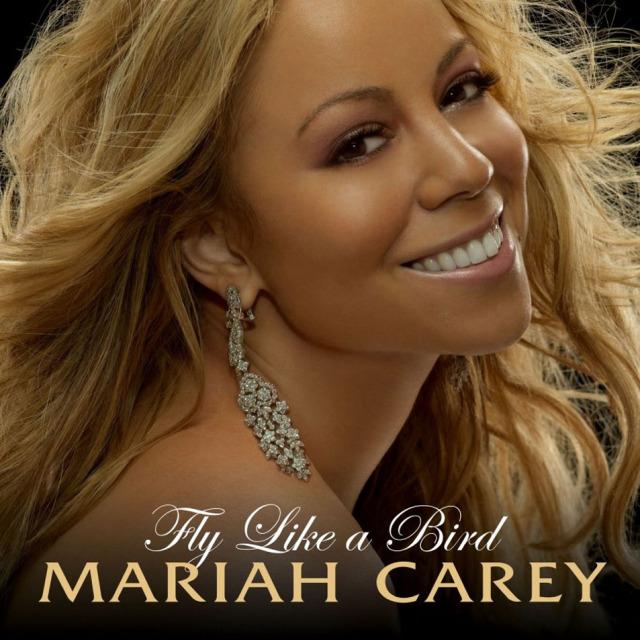 'Fly Like A Bird' was released as the sixth single from The Emancipation of Mimi in February of 2006, but it was only sent to radio in March of that year, less than twenty days before seventh single 'Say Somethin''. While 'Say Somethin'' was serviced to mainstream pop radio stations, 'Fly Like A Bird' received a more limited release and was only sent to adult contemporary and gospel stations, even with critics like Billboard's Tom Ferguson stating that the song was a "classic" and the superior track.
Despite being released as a single before it, the music video for 'Fly Like A Bird' had still not been shot by the time Mariah was in Paris to work on the clip for 'Say Somethin'' in March of 2006, although MTV confirmed that it would be shot later that month in New York. By early April, however, the video had still not been filmed, with Mariah still actively working on a concept which she was "hoping to keep basic with the main guest stars being her pastor and church choir". "We don't have a lot of time to do it," she said at the time. "It's not a big-budget thing. But it doesn't need to be. It just needs to be about the song, capturing the song and the emotion of it."
Ultimately, a music video for 'Fly Like A Bird' was never released, and there's no evidence to suggest that any footage for the clip was ever actually filmed. That didn't stop the track from becoming a fan favourite, with Mariah performing it on every concert tour up until 2019's Caution World Tour.
12. Say Somethin' (Feat. Snoop Dogg & Pharrell)
'Say Somethin'' had several false starts as a single before it was ultimately released as the album's seventh in April of 2006. At one point, the track was planned to be released in November of 2004 as the lead single from Emancipation, with planning already having begun on a music video. However, after being postponed to January of 2005, the song leaked around it's original release date of November, and ultimately the entire release was cancelled.
Later, 'Say Somethin'' was scheduled to be released as the fourth single from the album. Like 'It's Like That' and 'We Belong Together', it was meant to be shot alongside third single 'Shake It Off' as a double video directed by Brett Ratner. However, Mariah replaced Ratner with Jake Nava for 'Shake It Off' shortly after planning begun, coming up with a concept for the track which involved her leaving Voicemail messages to a cheating lover in front of futuristic, stylised visuals. A treatment for 'Say Somethin'' was also developed, with Mariah saying that the two videos included some "really technical" but "cool concepts". Before shooting began, Mariah also confirmed that like the album's first two singles, these music videos would be linked in some way; and that while she was hoping for a "cohesive narrative storyline", she predicted that the videos might end up "having a 'slight' link that only comes across on a subliminal level".
Ultimately, however, the release of 'Say Somethin'' as the fourth single was scrapped. When it was later released as the album's seventh single a year later, the music video was directed by Paul Hunter, and predominantly featured Mariah seducing duet partner Pharrell in different locations throughout Paris, before he ultimately takes her back to his room. While it's possible that this was one of the "double video" treatments Mariah developed alongside 'Shake It Off', the lack of any real "subliminal" connection between these two videos suggests that this was a new concept entirely. It's currently unknown what any of the other three 'Say Somethin'' music videos could have looked like.
13. #Beautiful (Remix) (Feat. Miguel & Young Jeezy)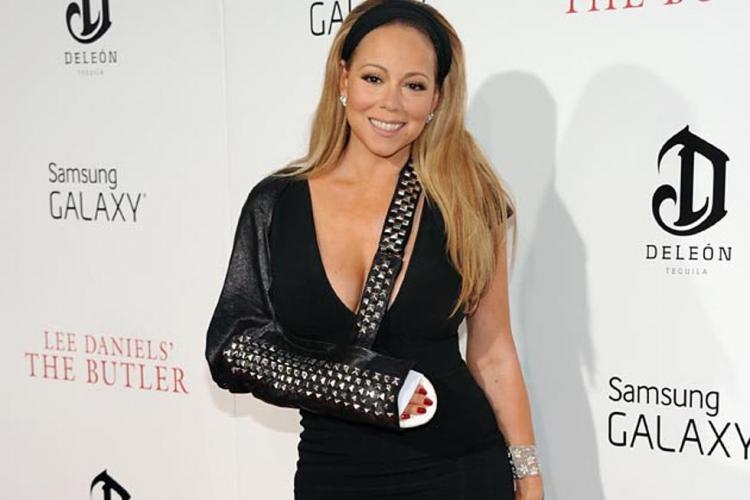 Mariah Carey wearing a cast after her rib and shoulder injury at the premiere of The Butler
While it's not uncommon for many of the videos on this list to feature two versions, '#Beautiful' is one of the rare exceptions which has three. The original and most well-known music video for the track was directed by Joseph Kahn on April 21st and 22nd, 2013, and debuted the next month on the Carey-judged American Idol. In June, a totally different music video was filmed for the Spanglish version of the song, which features Mariah and Miguel rollicking around Capri, Italy.
The third and most "elusive" of the '#Beautiful' videos was intended to be for the "urban" remix of the track featuring Young Jeezy. Again shot a month later by Carey's husband Nick Cannon, the music video was filmed at Avenue and Artichoke Pizza in Chelsea, New York. Midway through the shoot, Carey suffered an injury which put production of the clip temporarily on hold. "She was in this nice, beautiful gown, heels on and everything, and was kind of on this platform and reached and slipped and fell on her whole side," said Cannon later. "It was pretty serious. Not only did she dislocate her shoulder, she actually cracked a rib, and chipped her shoulder bone". Despite the injury, Mariah continued to shoot the music video.; and even after eventually going to hospital to have her shoulder realigned, she returned to the set early the next morning to complete filming.
Despite all the hard work and suffering that went into completing the music video, however, no clip was ever released for the '#Beautiful' remix. Mariah confirmed on the 23rd of July that editing on the video had been completed, so it's likely that a final cut does exist; but there has been no word on the video ever being released, or on why it was scrapped in the first place.
Which scrapped music video would you most like to see from Mariah? Let us know in the comments section down below!