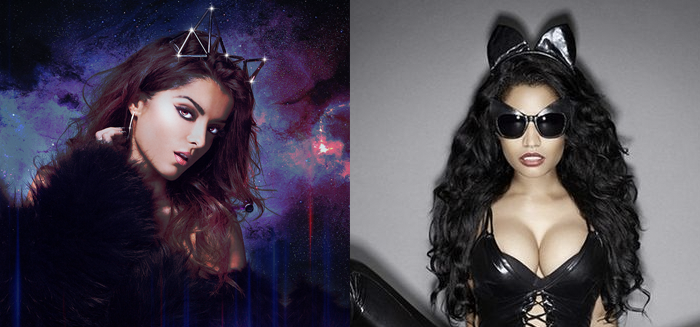 It's been a big couple of years for newcomer Bebe Rexha, who first hit our radars in 2013 as co-writer of the smash hit Eminem and Rihanna collaboration, 'The Monster'. Since then, Rexha has skyrocketed to new heights with features on G-Eazy's 'Me, Myself & I' (which peaked at #7 on the Billboard Hot 100), David Guetta and Nicki Minaj's 'Hey Mama' (which hit #8 in the US) and Cash Cash's 'Take Me Home' (#5 on the UK charts), as well as through a truly stellar EP I Don't Wanna Grow Up, released in May of last year.
Now, Rexha has teamed up with another big name for what is surely expected to be her breakthrough solo single - 'No Broken Hearts', which features go-to rap girl Nicki Minaj. First teased mid-way through last year when Rexha promised that fans could expect a "big female rapper" on her next single and Nicki tweeted a portion of the lyrics, the single has been long expected by fans of the up-and comer.
But does it live up to the expectation? Check it out below and read our thoughts after the jump!
Following the variations of dance-pop she's explored with past tracks like 'I'm Gonna Show You Crazy' and 'Pray', 'Hearts' is definitely intended to be the formal introduction of a new sound for the singer. Bebe first debuted her new R&B stylings a few months ago with the sultry slow banger 'Atmosphere', which was sneakily uploaded and swiftly deleted from her SoundCloud within hours. But 'No Broken Hearts' is a far cry from the slinky, sophisticated space-age stylings of that track, opting instead to play out like a slower version of 'Hey Mama' with it's pseudo-Caribbean snares and synths. In some ways, this is probably a smart move given the prevalence of this sound lately - check out tropical house tracks like Justin Bieber's 'Where Are Ü Now' and R&B jams like Rihanna's 'Work' for more on that - but it also makes the single feel somewhat redundant and definitely seems like a step back from Rexha's previous work.
The lyrics themselves are pretty standard for a top forty song, with Rexha repeating "No broken hearts in the club, more drinks pour it up, cos we gonna get it popping tonight" to an almost annoying extent. She's definitely done better with the bittersweet ode to alcoholism 'I Can't Stop Drinking About You' or vengeful 'Cry Wolf'. Nicki's rap itself is pretty decent and perfectly radio-appropriate, featuring what surely must be a contractually obligated reference to her 'MYX Moscado' range of mixers, but after we've experienced some of her best work on features - namely, the legendary 'Monster' - we can't help but be a little disappointed. There's little to love here apart from a reference to Minaj giving them "MILF teas - they be sweating me head bands and gym tees". Minaj does her job well, but does little to go above and beyond the call of rent-a-rapper duty.
All in all, the track's fairly decent, and we can see it being a hit in certain sections of The Bronx (no tea, no shade). But this is far from Rexha's best work, and definitely not the best way for her to introduce herself to the general public in a big way. To us, it almost seems like a waste of a Nicki Minaj feature which would have been equally as good on previous songs like 'Cry Wolf' or 'Gone'.
What do you think of Bebe's new single? Did it live up to your expectations, or should she have stuck with her previous dance-pop sound? Let us know in the comments section down below!