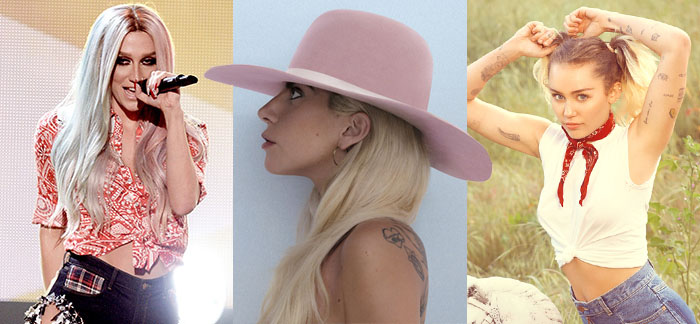 Pop music is more varied than it's ever been, and trends are coming, going and overlapping like never before. From tropical pop to Latin vibes to sparsely produced techno-inspired EDM, there's a plethora of genres available for listeners. And if releases from three of the worlds most influential female artists are anything to go by, it seems as though country may be the new waters that the pop world is set to start charting.
As tends to be the way, Lady Gaga started the trend with last year's Joanne. Although it received mixed reviews upon release, Joanne has proven to be one of Gaga's most iconic eras, and included the biggest Super Bowl half-time show performance in the history of the game, a sold out world tour, a well-received Coachella performance and some of the best visuals she's put out in years. Joanne also explored an unashamedly hillbilly vibe, from the foot-stomping rock techno fusion in lead single 'Perfect Illusion' to the soulful, heartbroken country diva we hear in the album's biggest hit, 'Million Reasons'. But for all it's successes, there was always something that seemed somewhat insincere about Joanne. Gaga has the laidback attitude and damaged pipes to pull off country music, but her transformation into a backwoods babe never seemed quite fully realised - perhaps because she was still dipping her toes into heavy metal with Metallica and releasing dance-pop bops like 'The Cure'.
On the other hand, Kesha's recent release Rainbow has to be one of the most natural progressions into country and rock we've ever seen. Kesha has long expressed an interest in returning to her Nashville roots - 2012's Warrior was originally envisioned as Spandex on the Distant Horizon, a "cock-pop" album (which was to be a fusion of country, rock and pop). But label issues and a well-publicised lawsuit in which she accused former producer Dr. Luke of rape stopped her from making the album of her dreams - until now. Rainbow excels at showing off Kesha's stellar and previously under-utilised songwriting skills, such as with lead single 'Praying' which is sure to never leave a dry eye in the house. But the spirit of the old party girl Ke$ha is still alive in the album, as we can hear in songs like the boisterous 'Woman' or the sassy 'Let 'Em Talk'. Far more than Gaga did with her somewhat pretentious notion of continuing her dead aunt's legacy through a pink hat and a guitar, Kesha has nailed a natural progression from her old pop sound to the cock pop she's long wanted to explore, and we can't wait to see where she goes next.
But Kesha and Gaga aren't the only ones to explore country in their new releases. Miley Cyrus's upcoming album Younger Now is also set to explore a countrified sound, and we can't say it's unexpected. Like Kesha, Miley started her life in Nashville surrounded by country music, but has rebelled against her upbringing with recent forays into pop and R&B. Now with new single 'Malibu', Miley has returned to country with acoustic guitar, sprawling vocals and a refreshed, transformative message to match. All we can hope is that Miley is still able to maintain the sassiness she exuded during #Bangerz into some of these new songs - a fully acoustic album would be a little too much for us.
So far the country music trend hasn't seemed to pervade the rest of the pop world outside of these three women. There's relatively few indie breakthroughs exploring it, and there don't seem to be any males making waves in pop music with this kind of sound. But with each of these women finding success with their sound, it's unlikely it will stay that way for too long.
More interesting is what exactly is causing the shift towards country. Are people searching for true old-fashioned American values in a time when many are questioning what it means to be a patriot under Donald Trump? Or maybe the stories of lone rangers in the wilderness appeal to these three hardly done by women?
Let us know your thoughts about the country revolution in the comments below!