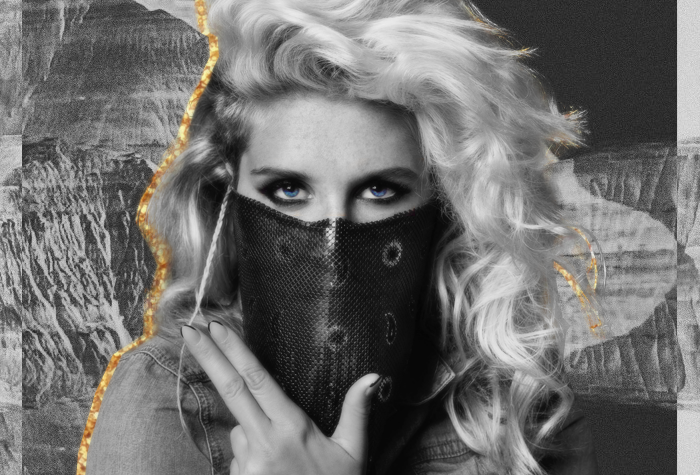 The singer born as Kesha Sebert has had many monikers over her short but prolific career. Debuting under her birth name at school talent shows at only age thirteen, the popstar moved to LA at age eighteen and ditched her mother's last name, adding a dollar sign to her first in a satirical take on how little money she was making at the time. Debuting in 2009 with her breakthrough hit 'TiK ToK', the artist became best known to most people as Ke$ha; before deciding in 2014 that she would replace the dollar sign with a boring old "s" to represent a new maturity in her sound. Now, the singer has taken on yet another new moniker: as lead singer of new band Yeast Infection.
Debuting on stage just two nights before Christmas (as one of the best presents Animals could ask for!), Yeast Infection let Kesha return to her Nashville roots when they rocked the stage at the Springwater Lounge gig. In the secret, invitation-only event (apparently there was less than one hundred people in the building), Kesha and her boys performed a selection of her past songs in psychadelic rock form including 'We R Who We R', 'Blow' and a solo rockabilly version of her Pitbull-assisted single 'Timber'. They also performed a rare cover of Led Zepellin's classic 'Whole Lotta Love'. Imagine Kesha's vocals on that track!
But we didn't have any real footage from the event until today, when Kesha posted an Instagram video of her performing 'Blow'. The other members of the band were later identified as guitarist Richie Kirkpatrick, producer Skylar Wilson, Robbie Crowell and Kesha's touring drummer Elias Mallin.
Kesha's music career has taken a back seat lately due to her extensive and prolonged legal battle with producer, manager, and labelhead Dr. Luke. While the live show must have been a triumph for the long-suffering artist, it's possible that there's an alterior motive to her sudden formation of a band. While Kesha is signed to Luke's Kenosabe label, Yeast Infection has no legal obligations to any organization, meaning it could be entirely legal for the band to release their very own album, single or mixtape in the near future with no ramifications. As such, the band could be a pretty clever guise to let Kesha's fans hear what she's been up to without breaking any laws.
Quote

HAPPY HOLLERDAYZ from Y E A S T I N F E C T I O N!!! I love all of my ANIMALS!!! Thanks for all of the support this year!!!....Don't worry NO ONE will ever shut me up.
What do you think of Kesha's new sound? Would you be up for an entire album of rock jams from her and the rest of Yeast Infection? Let us know below!