Why does Remy Ma's violence get a free pass while Casey Affleck's career is left in tatters?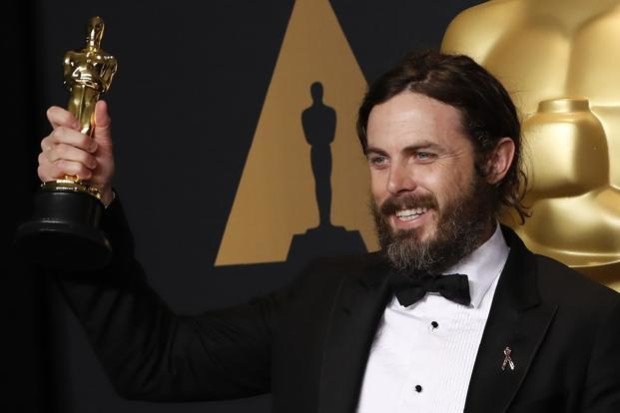 Last Sunday, actor Casey Affleck ascended to the spotlight when he won the Best Actor OSCAR for his role in last year's film Manchester by the Sea. The film, which co-stars Michelle Williams and Kyle Chandler, follows a man who looks after his teenage nephew after the boy's fathers death, and has been routinely critically acclaimed, placing highly on a multitude of critics lists for the best movies of 2016. Affleck's performance especially has been lauded as a "magnificent [...] career-best" and a "haunting face of grief and anger the viewer will never forget".
But Affleck's win has been a bittersweet one, with nary an article discussing his achievement without bringing up his "dark secret" - the sexual harassment charges that were laid against him in 2010. Most of these charges stem back to Amanda White, the producer of I'm Still Here, a Joaquin Phoenix mockumentary directed by Affleck whom she had at that point worked with for over ten years. Over the course of filming, White claimed that Affleck had ordered a crew member to show her his penis even after she objected; had referred to women as "cows"; and had asked "Isn't it about time you get pregnant?" when he learnt of her age. Most notably, she alleged that he had also attempted to manipulate her into sharing a hotel room with him; and when she objected, grabbed her threateningly and attempted to scare her into submission, before going on to send her abusive text messages from his room.
As part of her producer duties, White also renegotiated an agreement with Magdalena Gorka, the films director of photography who had previously left the project due to a similiar pattern of harassment which she called "the most traumatizing of her career". Apparently, Gorka had to face Affleck jokingly suggesting that she have sex with the camera assistant; received a "daily barrage of [...] unwelcome advances by crew members" and was berated by the director to the extent that she quit the film, twice. When the cast and crew had flown to New York to film, Gorka stated that they had not been given hotel rooms and had instead been expected to stay at Phoenix and Affleck's apartment. Phoenix had offered her his bedroom to stay in while he slept in the living room; but when she awoke in the middle of the night, she found Affleck "curled up next to her in the bed wearing only his underwear and a T-shirt. He had his arm around her, was caressing her back, his face was within inches of hers and his breath reeked of alcohol." When she ordered him out of bed, he tried to convince her to let him stay before leaving the room and slamming the door in a rage.
On the other hand, Remy Ma has been praised and adulated in the press recently thanks to her aggressive diss track against fellow female rapper Nicki Minaj. The beef started after Minaj featured on two recent singles - Jason Derulo's 'Swalla' and Gucci Mane's 'Make Love' - rapping lines which Ma interpreted as being about her. "I'm the iPhone, you the Nokia/Everybody know you jealous, bitch it's so clear./Oooohhh, oh you the qu-e-e-the queen of this here?/One platinum plaque, album flopped, bitch, where?" she rapped in the latter, allegedly referencing the fact that Ma had only platinum plaque for her Fat Joe collaboration 'All The Way Up'. Ma hit back with 'Shether', an explicit Minaj diss track in which she quite literally raps "Fuck Nicki Minaj" and "They told you your whole career I'd come home and kill you, right?"
Ma's past is a lot more colourful than Affleck's, and culminates in the night of July 13th, 2007 when she turned herself into New York City police. According to police, Ma was with a group of people outside the Pizza Bar restaurant that day at around 4 a.m when a gunshot was fired at Makeeda Barnes-Joseph, a former friend who had been accused of stealing money from Ma. Barnes-Joseph, who was 23 at the time, took the shot in the torso and sat in her car seriously wounded as Ma rifled through her purse looking for the stolen money. When she couldn't find the money, Ma jumped into a getaway car and left Barnes-Joseph bleeding out in the front seat.
In March, 2008 Ma was convicted of assault, illegal weapon possession and attempted coercion. She was also charged with witness intimidation and gang assault after ordering several of her male friends to attack a witness's boyfriend after finding that the witness was testifying against her. Barnes-Joseph underwent several surgeries, but still experiences numbness in both legs and digestive problems as a result of the damage Ma did to her.
If we're to believe the worst, then what both Affleck and Ma did are disgusting and reprehensible. Affleck's alleged crime points to a wider trend of cyclical chauvinism in the Hollywood sphere in which women are still underrepresented, while Ma's actions point to a psyche which is cruel, heartless and money-hungry. And yet what's interesting is the media's responses to each artists respective wins this week. For her part, Remy (the woman accused of attempted murder) has been able to avoid any discussion of her past, with critics ignoring her crimes to applaud the "nastiest ever diss track", a rap that "spewed venom" and a "work of notable lyrical invention". On the other hand, Affleck (whose most heinous crime was allegedly grabbing a woman's arm) had his win deemed as "gross" and a "disappointment", while award presenter Brie Larson received praise for her "silent stance".
Sadly, it's a trend that's represented not just in this situation but in countless others as well. While the white-fronted La La Land is accused of "whitewashing" it's narrative, which critics say shows a white man "saving" jazz music from the evil clasps of a black male who is attempting to destroy and commercialise it, the exclusively black Moonlight is praised for a character list which is comprised completely of drug dealers, drug addicts and physically abusive bullies. Outside of awards season, we see the same rhetoric being used against Taylor Swift, who is often criticised for what people see as an arbitrary contribution to feminism when she donates hundreds of thousands of dollars to Kesha's lawsuit attempts or Tweets support of women's rights protests; while Beyoncé is praised for stealing writing credits on an album about her cheating husband and imparting such pearls of wisdom such as "mothers are like trees", while failing to donate any money or attend any protests herself.
While you could collect this sentiment into the narrative of "hardly done white man suffers while black female soars", I'd venture to say that this would be the easy way out. For as much as this media trend belittles white males, it also reflects an underestimation of black females which is common in the media. Remy Ma's attempted murder, arrest and subsequent release are hardly remarked upon because violence is expected of her as a black woman. And Affleck's are brought up time and time again because as a white man of privilege he is somehow expected to know better. These are characterisations which do no favours to either star, and which, if media outlets such as BuzzFeed and Huffington Post are truly attempting to strive for equality through their articles, need to be avoided.