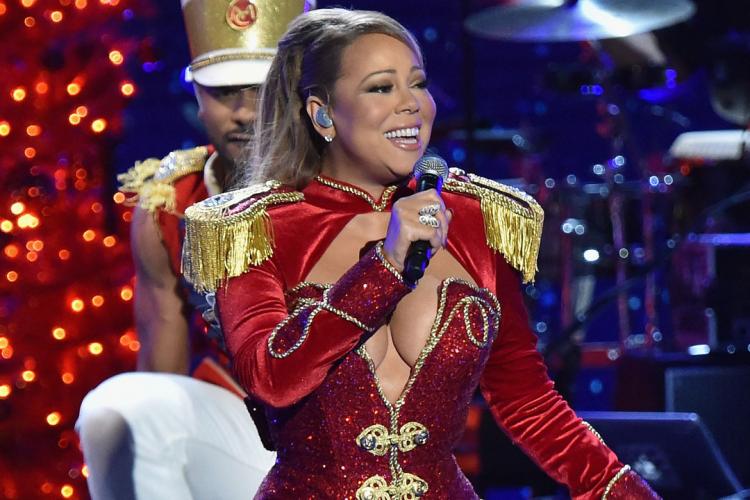 From that Christmas forward, and for every one after, God claimed one thing to be true: the holidays would not begin until Mariah Carey sang 'All I Want For Christmas Is You'. - (Corinthians, 16:2)
It wasn't her all time best performance of the classic - she was clearly struggling to hit some of the higher notes, even with a prominent backing track which she harmonised with during her infamous falsetto moment in the final chorus - but Mariah Carey's performance still achieved it's yearly goal of bringing Christmas cheer to the masses when she performed it on the VH1 special Divas: An Unsilent Night recently. 
After opening the show Mariah was happy to share the spotlight, and let some other girls do the dirty work of entertaining the crowd for her. Professional flops JoJo, Bebe Rexha and Serayah realised that they couldn't book a solo gig and so instead teamed up to perform a Motown-inspired cover of Darlene Love's 1993 'All Alone on Christmas', made famous internationally by the classic holiday film Love Actually. JoJo breezed through the track in a low-cut gown while Bebe and Serayah let their nerves get the best of them and struggled to sing their solos, only just managing to turn out for the harmonies.
Fresh off her star turn in JoJo's newest single 'FAB.', Remy Ma turned out for a brief but fun performance of Run-DMC's 'Christmas in Hollis'...
While elsewhere, Grammy-award winner Patti Labelle made a grand entrance in orange singing her festive hit 'When You've Been Blessed'.
And for a grand finale, a gothic-styled Chaka Khan performed her timeless hits 'Ain't Nobody' and 'Natural Woman', before bringing out a selection of the other ladies - Labelle, JoJo, Rexha, Taylor and more - to back up Labelle during a soulful chorus of 'I'm Every Woman'.
Sadly, Mariah had a pair of sparkly red Louboutins that needed polishing and was unable to make time for her godmother Labelle's spot. Which was your favourite Divas performance of the night? Did Mariah steal the show with her impressive direction, or did Patti upstage her with those incredible vocals? Let us know your thoughts in the comments below!