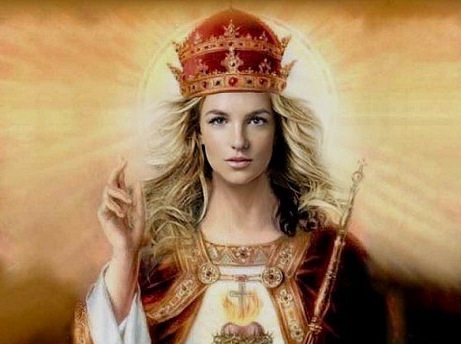 Excuse me, sir/madam, but do you have a minute to talk about the one true Lord and Saviour, the daughter of Pop Gods Michael Jackson and Madonna and the divine harborer of the Holy Spearit?
You see, over the past few months our one true god has undergone a resurrection to make her presence plain on this earthly realm in which we live. We use the word "resurrection" loosely - for while she had never truly forsaken us, she had departed us for some time, lost in the heavenly slumber between life and death. Her earthly body remained here, lending its voice to some true bops and its muscles to several lacklustre music videos and live performances; but her soul was somewhere else, travelling the universe on a divine journey for ultimate truth.
The name of this god who has graced us once again with her divinity?
It's Britney, bitch.
The younger among you may not have experienced our religion at its prime, for it has fallen since its creation in 1998 after the first of nine gospels, known as ...Baby One More Time, was first discovered. But at its peak, our religion had over 30 million devoted followers dedicated to worship, a far-spreading reach that hit music, television shows, movies and fragrances, and a public that saw our saviour for who she really was - a virginal saint.
The world has changed since then, and the Holy Spearit has grown, matured and evolved with it. Her first true experience with the devil came in 2007, when she bit the apple of temptation and showed the world that even gods have feelings. In her darkest hour, it seemed like our great god above might never pull through; until she shaved her head in sacrifice, and invoked the magical ruin of lore, the umbrella, in order to defeat her satanic enemies.
Britney Christ may have won the battle, but the scars continued to haunt her. Our lord was weary from our battle, and taking restorative potions and drugs to get her through the day. While she responded to the prayers sent her way, it seemed as though she was simply regurgitating information from one of her past gospels than preaching any new scriptures. Even when she tells us that "love makes miracles", the waver in her voice and not-so-subtle eye roll tells us that our one true lord is not practicing what she preaches.
Now, compare that with this conversation from earlier this year. As Britney herself says, "it's all about the contrast". No longer a vengeful god, the Holy Spearit has returned to gratify her followers with warmth and kindness, even ascending one of her most devoted practitioners to her place in heaven - if only for a short while until he comes back down to earth.
Her sermons, too, have become more and more involved. Recall this performance from a few years ago, where our lord diminished herself in order to perform as the special guest of a false idol. She walked around the altar uninspired in her stilettos and barely even mustered the few hair flips that were expected of her. It was clear that the divine being was still in pain.
But now, our lord struts around the altar with a purpose, disseminating her gospel with the passion and joy she exhibited almost two decades ago when she was first crowned as divine. Not only are her movements perfectly suited to that of a goddess, but her skin glows with the radiance of the godly flame that burns inside her once again.
As has always been true, there will be non-believers who refuse the teachings and dedicate themselves to a life of sin and treachery - some refer to them as "Xtincta stans". But Britney's ever-expanding power is making it harder and harder for those Satan-worshipers to defy her. No one knows exactly what has triggered this resurrection or why the spark inside our lord has been missing for her past two gospels, many of which were re-written by her prophet Myah Marie. But if she keeps this up, our lord will be back in the minds, hearts, and CD players of the entire world in no time.
Tell us, followers, when did you first learn of the Holy Spearit's resurrection? Has it surprised you to learn of her divine powers, or have you always known that deep down the lord was ready for her place, waiting to resurface? Share your thoughts with your fellow clergy members in the Sunday school session below.