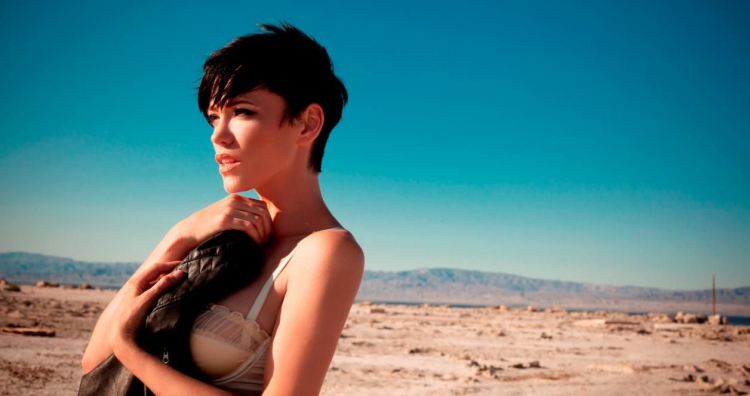 As the music industry has expanded internationally over the past decade, and the growth of the Internet and it's accompanying ability to bring together fans of niche artists has allowed musical fixations to flourish communally, it's become harder and harder to decipher the true level of an artists fame. Singers who blow up on the underground pop scene by releasing a critically acclaimed EP or co-writing a song for a star can just as easily be dropped from their record label as they can blow up to be the next big thing; and meanwhile, an relative unknown can swoop in from left of field and blow up out of nowhere.
Bouncing between B list, C list and D list is former Pussycat Doll Jessica Sutta, whose small but dedicated followings in an assortment of fields has lead to a surprisingly large amount of online hype. While most would know her from the PCD franchise (which included not only hit albums and worldwide tours but also reality TV shows, cosmetics, lingerie and, naturally, a line of dolls), others know her from her EDM hits with Dave Audé and Paul Van Dyk, or from her appearances on shows such as America's Next Top Model. But through it all, from the first note of 'Don't Cha' to the last beat of her new single 'Forever', Sutta's eyes have always remained squarely on the prize as she pushes forward in making a name for herself as a solo artist.
Unlike her fellow Dolls Nicole Scherzinger and Melody Thornton, Sutta's music career has never officially taken a true break, instead choosing to drizzle out singles sporadically as she settles on a cohesive and mainstream sound. Amidst rumours of a debut called Sutta Pop, 'I Wanna Be Bad' was released just eight months after The Pussycat Dolls officially disbanded in September 2010; and 2011 brought Sutta's biggest hit to date, 'Show Me', released under the nightmarish Disney-owned Hollywood Records. A RedOne produced single 'Make It Loud' was scrapped after Sutta left the record label, but every cloud has a silver lining; and Sutta's dismissal served to make way for 2013's EDM-tinged jams 'Again' and 'Lights Out', both of which were released under Citrusonic Records.
And that's not to mention the collaborations. Of all the ex-PCD singers, Sutta has to have had the most successful line up of features, starting with her two EDM bangers released during her time in the group - 'Make It Last' with Dave Audé and 'White Lies' with Paul Van Dyk. Later, in 2011, she featured on Erick Morillo's single 'Pin-Up Girl' and a pre-'Summertime Sadness' Cedric Gervais' track 'Where Ever U Are', both of which were underground club hits.
But it was only with her first release of 2016, 'Forever', that Sutta seemed to be ready to truly break out. Backed by what was a no doubt pricy YouTube-based marketing campaign and her catchiest hook since 'Show Me', 'Forever' is already shaping up to be her biggest hit yet, amassing over a million views on YouTube in the month since it's release - a far cry from the couple of hundred thousand views that precursors 'Feline Resurrection' and 'Let It Be Love' gained.
And judging from what Sutta's said on social media, 'Forever' is only the start. Since breaking out as a solo artist, Sutta has recorded over two albums worth of material which has been eagerly anticipated by those following her career - and her fans are about to be rewarded. Unlike most other girls in the flop-pop genre, Jessica is actually following through on the promises she's made, with two projects set to be released in the coming months. Feline Ressurection, which was originally the title of her debut album, has now been reworked as a mixtape to house all the previously released singles and the songs that don't quite make the cut for her album, and Jessica is releasing a new song every week for her fans to enjoy. So far, we've bopped too 'I Tried', a sultry R&B slow jam; 'Miracle', a Cyhi The Prince-assisted synth-pop ballad; and 'FWYH', a bolshy dose of sass in which Sutta tells haters to "fuck what you heard".
But Feline Ressurection isn't all fans have to look forward to. Later in the year, fans can expect Sutta's first ever debut album, I Say Yes, which 'Forever' serves as the lead single for. It's a genius and surprisingly generous way of giving long-time diehard fans what they want from her back catalogue while still keeping all her official releases fresh and polished.
Sutta may not have made it to the A list quite yet, and it's a stretch to say that she's quite reached the level of a household name. But her dedication to giving her fans what they want and the prolific nature of her tunes allows her to stand out in contrast against other singers who've let fans pay for a non-existent album which has been promised to be released soon for several years. In the midst of artists who simply complain about the pressures of a record label or the difficulties of going indie, Jessica is making a name for herself her own way: and from the sounds of it 2016 is definitely her year.