In a world where people are preoccupied with the rat race and days race by irretrievably, it's important to reflect on the question, "Why do we live so fast?". Do we have to take the plunge into routine and get stuck in it forever, seeing our life and its billions of opportunities pass us by? What if one day we wake up and realize that we're 50 with no personal accomplishments to include in our memoirs? This is the sad truth of our contemporary world. We are young, then there is a period of work, and we are old already. 
And what about those who are already old? Should they feel like they are running out of time? Hopeless? Senseless? Should they spend their days worrying about their bodies being transformed? I may ask a lot of questions, but I think that the majority of us can relate to the feeling.
Well, the answer is, to channel Shania Twain's song title: 'Nah!'. Instead of complaining about our lives being boring, we should do something about it. Age ain't nothing but a number and we should bear that in mind. We are as old as we feel we are so why not feel young all the time?
My recipe? Go on a walk, ride on a bike, meet with friends, find love and stream our third PHF Song of the Week!
Music legend Miley Cyrus has dropped her brand new single 'Younger Now', the title track from her upcoming album, and she has also revealed an amazing new video for the song which made me pick her as our official third PHF Song Of The Week!
In the video for 'Younger Now', Miley pays homage to her country roots and the older generations of those among us. The great message of the song is that even though Miley has gotten older, she feels younger than ever with a zest for life. She wants older people to feel the same. Despite your body getting saggy, you should appreciate the gift of life and live it to the fullest. She sings: "No one stays the same, you know what goes up must come down. Change is a thing you can count on, I feel so much younger now." This sentiment is presented with the help of elderly ladies performing circus tricks and the final dance sequence, which brings back memories of old 60s performance videos. Her fans may also think of her iconic dance sequence for 'Hoedown Throwdown' from Hannah Montana: The Movie. It's a heart warmer! Miley also channels one of her biggest musical inspirations Elvis Presley in the video, as she's dressed in a rhinestone jumpsuit while recreating his puppet show scene from the movie G.I. Blues.
Miley has also unveiled her album's artwork and tracklisting. Younger Now, released on September 29, is 11 tracks long and features one collaboration with Miley's godmother Dolly Parton.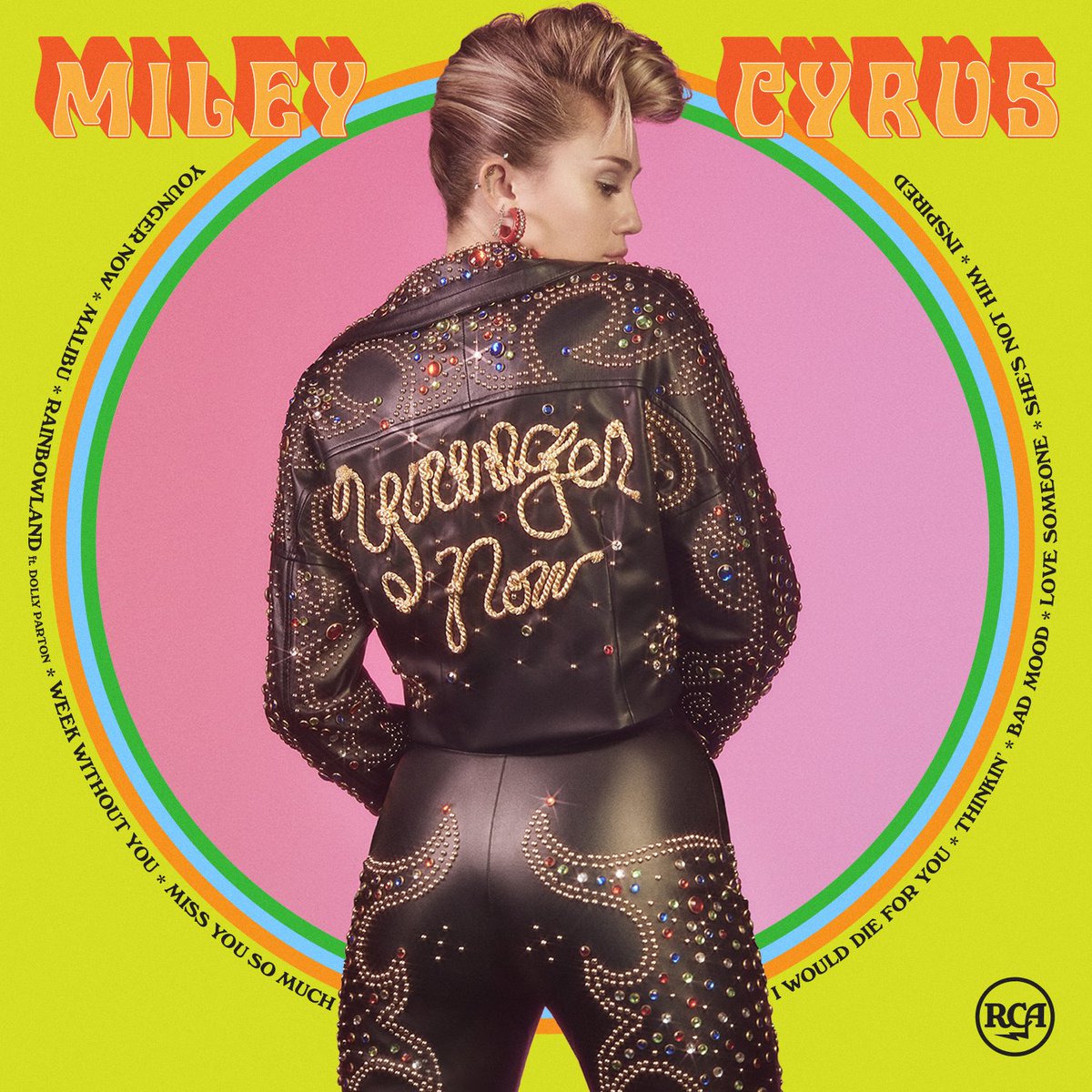 What do you think of the song? Pre-order Younger Now on iTunes and stream the song on Spotify NOW!