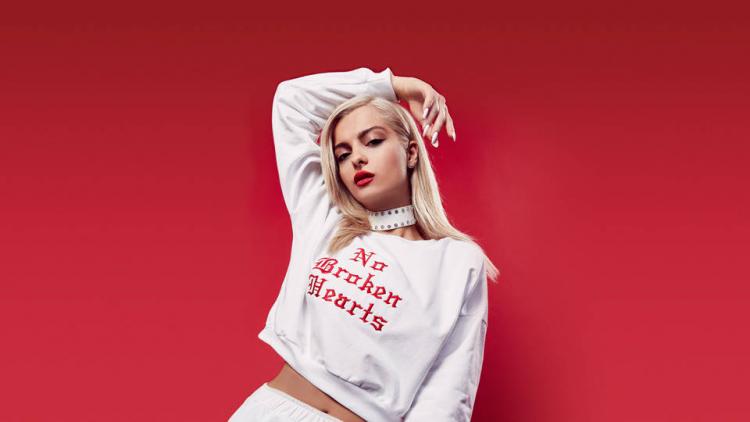 Throughout the history of pop music, archetypes have remained a constant presence even while their specific classifications evolve or disappear. Whether it's the blue eyed soul crooner, the long haired rocker or the blinged out rapper, these archetypes are used in association with genre to identify and promote new  artists and to set up expectations based on past successes. One of the newer archetypes which has only come to prominence in the last twenty years is the hook bitch, who's blown up with with the increase in hip-hop and EDM tracks pervading the charts.
2016's version of the video model, the hook bitch is defined as the female voice you hear on rap and dance tracks who creates the most catchy and memorable part of the song but who is generally credited last (if at all). Skylar Grey first epitomised the idea when she rose to prominence with her multiple features on big hip-pop tracks such as Diddy - Dirty Money's 'Coming Home', Dr. Dre's 'I Need A Doctor' and Nicki Minaj's 'Bed of Lies', but later struggled to establish a career outside of her features, even when calling in favours from her previous collaborators like Eminem and Big Sean. Although Skylar often performed the songs live, and later released solo versions on an EP called The Buried Sessions of Skylar Grey, she rarely appeared in promotional music videos, making her pretty much a non-presence for most of the general public who were singing along to her words.
Now Bebe Rexha has stepped into her shoes, becoming one of the year's most sought after hitmakers for both her writing and singing abilities while remaining a relative unknown to the listening public. After writing songs for the likes of Selena Gomez, Eminem, Rihanna and Tinashe, Bebe began with a slight head start to Skylar when she was officially credited as a "duet" partner on her biggest single yet - the collaborative 'Me, Myself & I' with G-Eazy. She appeared in the track's music video, and in the clip for 'Take Me Home', her dance collaboration with Cash Cash; but her good luck didn't last long. Despite a high profile placement on David Guetta and Nicki Minaj's 'Hey Mama', Bebe's name wasn't mentioned when the music video for that song was uploaded to YouTube, and she was a no show for both that clip and her feature on Havana Brown's 'Battle Cry'. Word on the street is that she won't appear in the music video for her upcoming feature on Martin Garrix's much-hyped 'Name of Love' either.
It's a shame, because even a cursory glance at one of Rexha's solo tracks would show she has huge potential. After collaborating with Pete Wentz on the short-lived dance-rock band The Black Cards, Rexha went solo in 2012, nabbing a record deal on the strength of her Eminem and Rihanna co-write 'The Monster'. But it wasn't until 2015 when her first EP, I Don't Wanna Grow Up, was released. Featuring a nice range of songs from the rock-tinged lead single 'I'm Gonna Show You Crazy' to the dancey 'I Can't Stop Drinking About You' and the dreampop 'Sweet Beginnings', the EP cemented Rexha as one to watch thanks to her ability to combine personal storytelling and catchy hooks. Rexha's leaked material is just as brilliant, whether it be the dance-floor ready 'Cry Wolf' (seriously, why wasn't that released as a single?) or the R&B-tinged 'Atmosphere', which sounds like the perfect joint for a crooner like Tinashe to jump on.
Now, it seems as though Rexha is making motions to leave her past as a hook bitch far behind her. With a new choppy blonde hairdo and a set of A-list collaborators, Rexha has reintroduced herself to the public with 'No Broken Hearts', a "star studded collaboration" featuring her 'Hey Mama' buddy Minaj. Building on the sound she introduced with 'Atmosphere', 'Hearts' is Bebe's most urban song to date, an obvious attempt to cash in on the success she faced with 'Me, Myself & I'; but it received a mixed single from fans and the charts alike, failing to inspire the lovers of her previous music and struggling to chart on the Billboard Hot 100. Rexha might have nabbed 75 million views for the 'Hearts' music video, but it was at the expense of alienating a vocal portion of her core fanbase and discrediting most of the work she'd been doing for the past eight years. It's a timely reminder that not every rebranding is necessary or successful, and that not every hook bitch is meant to set the charts afire, regardless of how good their actual material is.
What are your thoughts on Rexha's music? Do you prefer Black Cards-era Bebe, her foray into dance-pop or her urban reinvention? Let us know in the comments below!