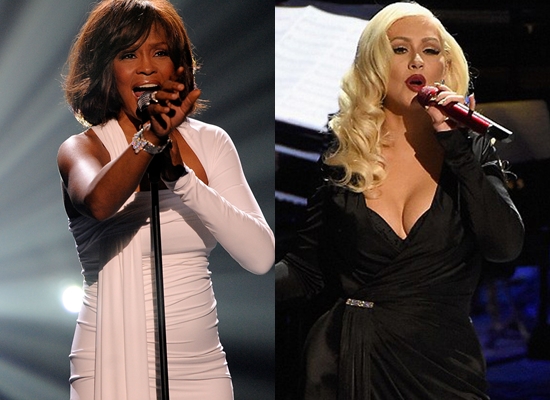 Any Whitney Houston fans who were planning on tuning into Monday's episode of The Voice will be left sorely disappointed after a planned duet between the late legend and the show's judge Christina Aguilera has been abruptly cancelled.
The duet, in which Whitney would appear from beyond the grave via hologram and Christina would appear in person, was rumoured for some time, and moments from the performance were posted on Snapchat by curious audience members, before the collaboration was confirmed by TMZ. It wasn't promoted by the network, who wanted to keep Whitney's appearance as a surprise for Monday's seson finale.
But the duet was pulled two days ago, after Whitney's estate saw the performance for the first time. Allegedly they thought that the hologram technology was not up to par and that the figure "didn't look like Whitney" - a sentiment echoed by many fans online.
Pat Houston, executor of the estate and Whitney's sister in law, said in a statement:
Quote

We are so appreciative of the opportunity for the Whitney Houston hologram to appear on NBC's The Voice with a talent pairing as extraordinary as Christina Aguilera and Whitney Houston. We were looking to deliver a ground breaking duet performance for the fans of both artists. Holograms are new technology that take time to perfect, and we believe with artists of this iconic caliber, it must be perfect. Whitney's legacy and her devoted fans deserve perfection. After closely viewing the performance, we decided the hologram was not ready to air. We have much respect and appreciation for Christina, and she was absolutely flawless.
The saddest part of the situation is that Christina served her best live vocals in years during the show - something which even the The Voice producers and Whitney's estate can agree on. Aguilera has made no secret of her admiration for the icon, and in 2001 she performed another tribute to the superstar when she performed 'Run To You' live on TV.
News of a Whitney hologram was first announced last year, when plans were made to develop a tour with the technology to tour around America. Back then, Pat  Houston stated that the hologram will be a "reinvention of one the most celebrated female artists in history" and will "continue a legacy of performances that will not be forgotten in years to come".
What do you think of the Whitney and Christina duet? Were they right to cancel it, given Whitney's somewhat dodgy appearance? Or should the performance have made it to air given XTina's vocals? Let us know your thoughts in the comments below!