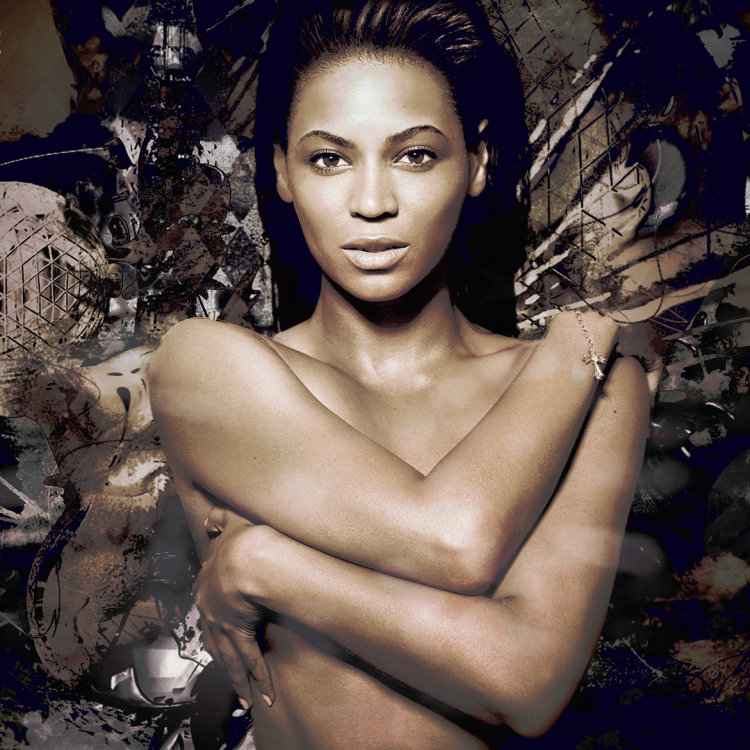 Amidst the spiderweb of immaculately styled extensions, the audience catcalls of "QUEEN BEE" and the hyper-polished, sensationalized life that she portrays to the media, it's often pretty easy to forget that Beyoncé even lives on our planet, let alone that she's even a real human being. So it's occasionally nice to be reminded that Beyoncé, despite what her fans might say, is just like us, with perhaps even more of her fair share of basic than the average person. That's why we've created a countdown of the eight times Beyoncé was the most basic bitch on the block. It's pretty much an anti-depression medication!
8. The time she got her weave caught in a fan

Remember this video?
Bey kept it cool and professional when, during one of her shows, her weave got caught in a stage fan; and later she even laughed it off like a pro with this pretty cute Instagram post. But let's be real here: what kind of basic bitch gets her weave caught in a fan in the first place? In all the times I've lip-synced to 'Halo' in my room with no one but my cat watching, not once have I gotten my extensions tangled up in an inanimate electrical appliance. How does that even happen to the average human being? #Basiconcé
7. The time she banned blogs from using unattractive photos of her SuperBowl performance

As a reminder, here's a few choice pics from the event: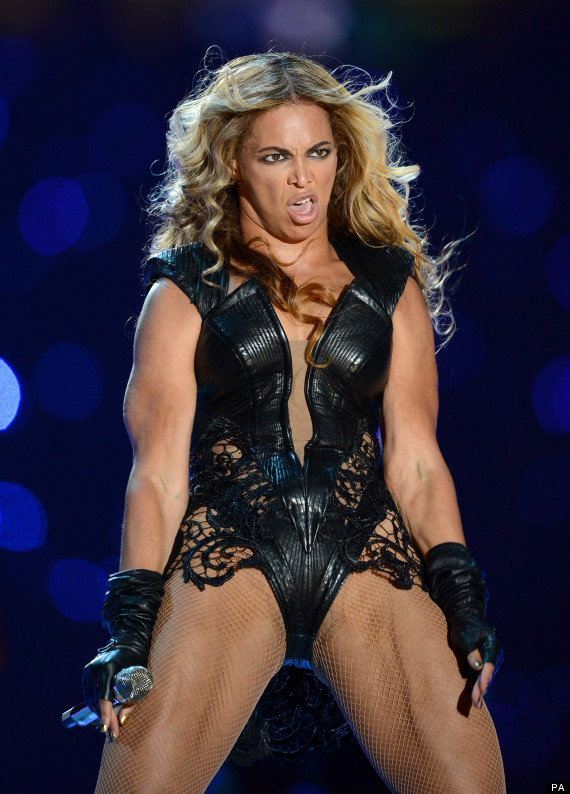 6. The time she was caught lip-syncing

Most people will remember the time when Bey was caught out lip-syncing at the inauguration of President Obama.
But it doesn't stop there. Bey's team originally stated that she only lip synced because she hadn't had time to sufficiently prepare for the inauguration, and because the presidential team asked her to. But she's also happy to lip sync at her own concerts - you know, those ones that she's supposedly spend months preparing for and which she's in complete creative control of. Mess.
5. The time she spread rumours about herself for publicity

Remember earlier this year, when all those rumours were flying around that Bey and Jay were breaking up? Allegedly, the two had had enough of each other on their sold-out On The Run Tour and taken to sleeping in separate rooms and traveling on different planes. Bey added fire to the flame when, performing an unreleased song 'Resentment' at one of the tour shows, she changed the lyrics from this:
"I'll always remember feeling like I was no good/Like I couldn't do it for you like your mistress could/Been ridin' with you for six years [...] I gotta look at her in her eyes and see she's had half of me."
To this:
"I'll always remember feeling like I was no good/Like I couldn't do it for you like that wack bitch could/Been ridin' with you for twelve years [...] I gotta look at her in her eyes and see she's had half of me. She ain't even half of me. That bitch will never be."

This sparked a whole new saga in which Jay was supposedly cheating on his wife with Myà (you remember her - the girl from 'Lady Marmalade'). But it turns out that the whole thing was just planned publicity for the tour, as revealed by Bey's father Matthew. As he said in a radio interview:

 
"You know, I know -- because we've done this, from experience -- there's a tour going on. So you have to sometimes ignite that tour. It's called a Jedi mind trick. And the Jedi mind trick fools you a lot of times. So things you see sometimes are [poof] ... All I know is the Jedi mind trick. Everybody's talking about it. Ticket sales went up."
4. The time she faked her pregnancy

Given how swiftly things are consumed and forgotten about in the Internet age, it may be hard to even remember the time that Bey was accused by many of faking the pregnancy of one Blue Ivy. Rumours started after she was seen in a TV interview sitting down, when her belly - which was, at this point, rather large, folded over unnaturally, as if there was a balloon hiding just under her dress. You can remind yourself of the video right here:


Bey did try to prove that her pregnancy is real with a few overdone shots in her documentary Life Is But A Dream - but the fact that all of the shots of her pregnant stomach were detached from her face and shot in grainy, low quality footage didn't help her case much. The jury's still out on this one, but would we really put it past the notoriously controlling Beyoncé to fake her own pregnancy?
3. The time she Photoshopped her Instagram snaps
First of all, this is a super unattractive photo to begin with, so we have no idea why Bey posted it to her official website. But take a look at the fifth stair up - something seem off? It travels along in a completely straight line (like a stair probably should), but right in between her thighs the whole thing goes wonky. It's almost like someone's done a dodgy job with the Liquify tool on Photoshop in a desperate attempt to manufacture a thigh gap. But Queen Beyoncé would never do that, right?
This photo, on the other hand, is absolutely gorgeous! At first sight, Bey looks relaxed and glowing on vacation in the middle of a sold-out worldwide tour. But look a little closer at the wine glass. Have we been drinking too much, or is the whole thing totally tilted, man? Check out her phone on the table as well. Maybe it's just the fact that Bey has one of those new iPhone's which are known to bend, but it seems more likely to us that Miss Third Ward Trill has been attempting to doctor her own photos again. #Ratchet
2. The multiple times she hijacked song-writing credits

Bey made headlines back in 2009 when she was accused of stealing her smash hit 'Halo' from OneRepublic's Ryan Tedder. The accusations came following the leaking of Tedder's original composition, which featured exactly the same lyrics and melody as Beyoncé's final version.
However, this isn't the only time Bey has been accused of hijacking songwriting credits. She was removed from the credits of her Dreamgirls soundtrack hit 'Listen' in front of an Oscars panel, leaving only the three other co-writers on the track; many ridiculed her songwriting credits on the Obsessed soundtrack song 'Smack Into You', in which the only line she had changed was "smack into you", appropriated from "smash into you"; and songs like '1+1' and 'Happiness' are remarkably similar to their original demos.
1. The time she used fur in her clothing line

All pettiness and shade aside, this was actually a pretty disgusting thing for Beyoncé to do. The singer was busted by PETA in 2006 for contributing to the violent deaths of thousands of animals when she used fur in her House of Dereon clothing line, co-run with her mother. Ambushed by a group of the admittedly over-zealous activists, Bey had little to say when questioned on her use of dead animal skin in her line. Watch here:
Bey took the situation even further, however, when in early 2013 she embarked on a strict vegan diet, and was spotted visiting a bunch of Californian vegan hotspots with husband Jay-Z. It became clear that the diet had little to do with animal activism, however, and everything to do with maintaining that 'Flawless**' body of Bey's when she was busted wearing a fur coat and suede shoes to one of the restaurants.




Apart from displaying incredibly poor taste in both choice of clothes and in her flaunting of animal corpses in a vegan restaurant, Bey also revealed her potential for extreme and violent vanity with this saga. The singer may constantly remind us how supportive of female rights she is, but it seems she has much less compassion for the animals in the audience.

What do you think Beyoncé's most basic moment has been? Do her actions here change your opinion of the singer, or can any problematic actions from her be justified given how much good work she's produced? Let us know down in the comments below!