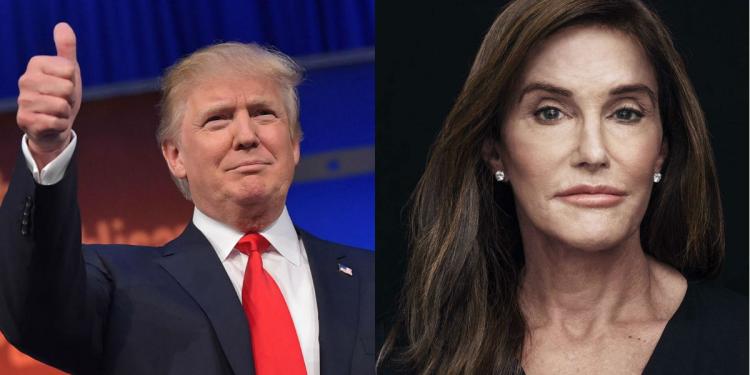 If you thought that Caitlyn Jenner's recent revelation as a transgender woman would change her political views, you'll be sadly disproven by the reality TV stars latest interview with Sports Illustrated in which she not only publicly expressed her support for Donald Trump, but also indicated that he was apparently "very much behind" both females and the LGBT community.
Jenner, who has come under enormous fire from liberal commentators regarding her staunchly Republican views, made the claim in a new article with Sports Illustrated for which she was the cover girl. Jenner began by condemning the reigning president Barack Obama for his management of the economy, a common claim among Republican naysayers; but she did say that things weren't all bad when it came to Obama's policies.
"I'm not excited with what Obama has done to the economy, to our Constitution, all that kind of stuff. But as far as the transgender community, they've actually been very good."
She went on to explain her support for Trump, suggesting that he was a positive impact for the LGBT community. "Trump seems to be very much for women," she explained. "He seems very much behind the LGBT community because of what happened in North Carolina with the bathroom issue. He backed the LGBT community." 
Earlier this year, Jenner told an Australian radio show that she would be voting for whoever the Republican candidate was chosen to be, but admitted that she had a preference for Ted Cruz as leader. After Trump was announced as the Republican candidate officially, Jenner made a somewhat bizarre video in which she entered Trump Tower just to use the ladies bathroom, a presumed comment on North Carolina's transphobic bathroom bills. In March, she stated that Trump would be "very good" for women's issues and that she doesn't "think he's out there to destroy women or takes things away or do any of that kind of stuff", apparently neglecting the fact that Trump has previously called breastfeeding "disgusting" and is pro-life when it comes to abortion.
Jenner has previously stated that she is discriminated against more because of her Republican preferences than because of her transgender identity. What do you think of her public support of Trump? Does it mean that she deserves the criticism, or should she be entitled to her opinion regardless of her gender identity?