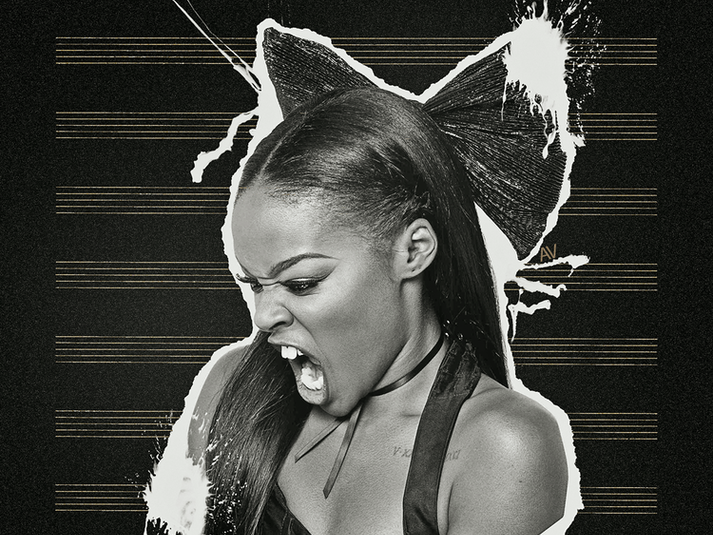 Azealia Banks, one-time star and full-time irritant, has made waves for her destructive behaviour once again after being arrested outside New York's Up&Down club last night. The incident mirrors a similiar situation which occured in September, when Banks controversially called a flight attendant a "fucking faggot" after an on-flight scuffle in which she spat in a man's face and scratched at his shirt.
According to sources, Banks was at the club for a private party which required a hand stamp to get in. When she tried to enter the downstairs party with no stamp and a guest who was not on the list, she was told to go back upstairs, which lead to an altercation breaking out with bouncers.
Allegedly, after the two bouncers failed to recognise the rapper, Banks began screaming curse words and racist slurs at them, attracting the attention of the club owner. Even after the owner gave her a stamp to let her in, Banks continued the tirade, screaming her credentials at the guards by claiming that she was featured on Rihanna's upcoming album.
When security approached to escort her from the building, Banks spat in the female bouncers face; and as they escorted her out at around 12:30 a.m., she apparently bit the same guard in the breast, breaking her shirt and, according to a police report, "causing swelling and redness".
After being removed from the club, Banks apparently started screaming, "I'm gonna call the cops!", approaching a police traffic enforcement car.  She then returned to the club with police officers in tow, bizarrely going on to punch the female bouncer in full view of them. "Why are you arresting me?", she asked the cops as she was taken to the Sixth Precinct on a misdemenaor charge of third-degree assault and held for evaluation.
For the record, Rihanna herself has never confirmed any features on ANTI, apart from presumably Paul McCartney and Kanye West on lead single 'FourFiveSeconds'. In fact, the only hint that she might even know who Azealia is comes from this Snapchat video, which appears to show them, Cara Delevigne and Travis Scott dancing at one of Scott's tour afterparties.
On the other hand, Azealia can't seem to keep RiRi's name out of her mouth. In yet another strange move, the rapper released an official press statement back in March of this year just to announce to the world that she was tired of being RiRi's understudy, and that she looked up to female musicians like Lana Del Rey, Meghan Trainor and Taylor Swift. On the other hand, in 2013 Banks referred to Rita Ora as "Rihanna's understudy" during a Twitter beef with the English singer.
That said, this isn't the first time there's been rumours of Azealia and Ri collaborating. Back in 2012, before the release of Lady Gaga's ARTPOP when she and Banks were still on good terms, there was rumours that they, along with Rihanna and Beyonce, would feature on 'Ratchet', an alleged sequel to Gaga's 'Telephone'.
Would you be here for a Azealia collaboration on the long-awaited ANTI? Or with RiRi's choice of A-list stars like Kanye or Eminem, should she be setting her sights higher? Is Azealia's behaviour a result of her infamous arrogance, or the sign of a potential mental illness? Let us know in the comments below!