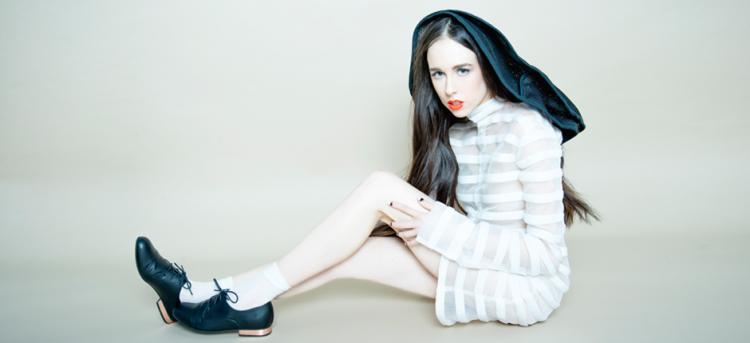 In what's possibly the most natural by-product of the Internet age, the lines between an artists personal and creative lives have been blurred and warped beyond distinction. While it used to be possible - obvious, even - to distinguish between the Cher who enacted the role of native American sex goddess on stage and the Cher who liked to have TV dinners with her husband Sonny and her daughter Chastity, musicians of the digital age tend to blend the personal and artistic together more seamlessly. The appeal of artists like Lady Gaga and Lana Del Rey is not only their admittedly catchy tunes, but the ambiguity regarding their histories. In Gaga's case, there is an obvious tension between the Italian girl Stefani who sings jazz in downtown bars and the Gaga who performs at Madison Square Garden; in Lana's case, it seems impossible to consolidate the roles of trailer trash, meth addict, cult groupie, Brooklyn baby, west coast artist and international superstar into the one person.
The latest artist to explore this dichotomy is Allie X, the Canadian-born pop singer who sits happily in the middle of hyperreal and surreal. With her signature look of poker straight hair, near-omnipresent sunglasses and sharp, geometric fashion, the singer looks more like the design of the perfect popstar than a singer herself - and her enigmatic past, which has encompassed personas such as Allie X Andra and ALX, does nothing to clarify the situation. All we know about the girl born Allie Hughes is her Canadian heritage (although she now resides in Hollywood), her art school past and the few online artefacts we've managed to excavate from before her pre-pop past (check out her dramatic performance on the Sound of Music-inspired talent show How Do You Solve A Problem Like Maria here).
But when it comes to the character of Allie X, the possibilities are almost endless. Behind those dark-rimmed sunglasses is a mind capable of crafting some of the catchiest pop melodies we've heard in a while ('Prime' still stands as one of my favourite pop songs from the past five years), as well as some of the strangest burlesque showtunes you'll ever hear (check out her piano rendition of latest single 'All The Rage' above). And if you thought that bubblegum pop and cabaret were a weird mix, just wait until you experience Allie's visuals. Her first official music video for 'Catch' plays out like a lazy-eyed trip into the schizophrenic creator of GIFMaker's secret lair; while the latest production for 'Too Much To Dream' is a washed out take on the neon lights of the Vegas strip.
'Too Much To Dream' and 'All the Rage' - along with 'Old Habits Die Hard' - are all we've heard from Collxtion II, the sequel to Allie's debut album released last year. This time around, X is planning an unconventional release style for the album which will involve her uploading a slew of final songs, demos, voice memos, remixes and piano versions to her social media pages before allowing her fans to choose which songs should be perfected in order to make the final product. To make your voice heard and decide the outcome of the album, stay tuned to Allie's official Spotify, YouTube and Twitter accounts for updates.
Past, present, and future are all X. You decide the outcome.