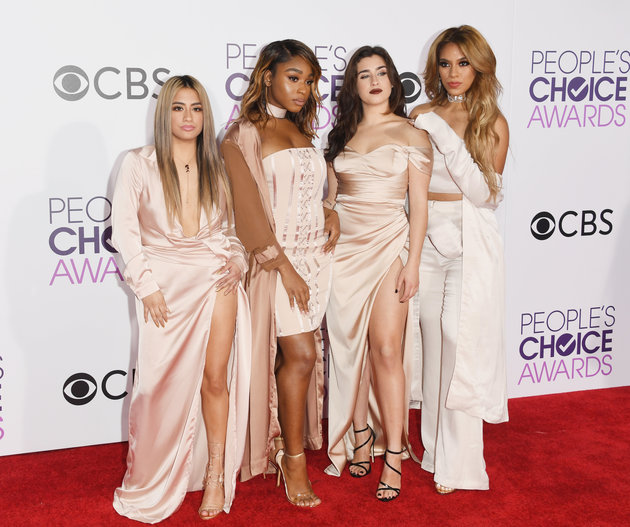 Camila Cabello is shook!
Following the announcement late last year that Camila was quitting the group to focus on solo activities and several days of back and forth between her and the remaining band members, all of the girls had pretty much gone radio silent, with the only news from their respective camps saying that both were working on individual albums.
But shots have been now fired in the classiest of ways, with the remaining members of Fifth Harmony officially debuting as a foursome in a high energy performance at the People's Choice Awards last night.
The remaining girls - Ally Brooke, Normani Kordei, Dinah Jane, Lauren Jauregui - stunned the crowd with an amped-up rendition of their hit single 'Work From Home' sans their former group member. In place of Camila's opening verse, the girls lived up to their name and harmonised with a subtle but pointed statement in the songs opening lines - "We ain't worried about nothing/We ain't worried, na nada", pausing after the line for dramatic effect. Redirecting the attention firmly to themselves, the girls displayed each of their individual names above them as they belted their way through the song. In typical 5H form, their voices were in fine form as they ad libbed their way through a remixed version of the song which focused on dance breaks for the girls to strut their stuff to.
The performance was a clear statement of intent for the group, who has been known lately more for their off-stage antics than their on-stage performances. Fifth Harmony is taking a much needed hiatus from their 7/27 Tour, which is scheduled to kick back up in North America in February before heading over to Asia later in the year. Before the departure of Cabello, they were already recording an album for release this year, although given the fact that they knew about her departure for months before it officially occurred, we're as yet unsure as to whether or not the album will be pushed back or not.
What did you think of Fifth Harmony's first performance as a foursome? Did they live up to the hype, or was the only thing of note about the performance Camila's conspicuous absence? Let us know in the comments below!