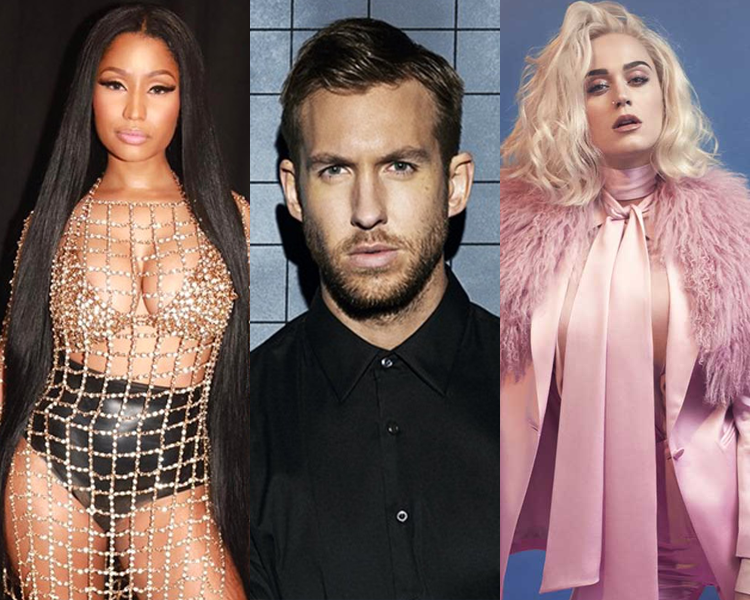 You might have thought that the era of everyone hating Taylor Swift was well and truly finished when she released her Zayn collab, 'I Don't Wanna Live Forever', late last year. Think again.
For if new reports are anything to go by, three of Swift's most infamous mortal enemies - Calvin Harris, Nicki Minaj and Katy Perry - are teaming up to release a song for the formers new album - and it would be a wasted opportunity not to have them do some dragging while they're all in the same room.
Billboard spilled the beans slyly this week when discussing 'Swish Swish', the newly released song from Perry's new album Witness which also happens to feature Minaj.
"Witness is due to drop June 9.on Capitol Records and will include the already-released tracks 'Chained To The Rhythm' and the Migos-featuring 'Bon Appétit'," they informed us, before letting on: "Perry and Minaj will team up again for the Calvin Harris tune 'Soft Lips'."
While we already knew that Perry would be featuring on Harris's new album, it's interesting news that Nicki is also involved. In case you've forgotten, each of the three artists has their own reason to seek vengeance on Swift: Harris slammed her on Twitter after she went behind his back to tell the public that she had co-written on his single with Rihanna, 'This Is What You Came For'; Perry had to face Swift's public drags after she was referenced in 'Bad Blood'; and Minaj was on trial thanks to Swift's Twitter accusations of disobedience against her.
Sadly, fellow Anti-Swift Squad members Miley Cyrus and Demi Lovato are nowhere to be found on the album, but there are some other great singers like Frank Ocean, Migos, Young Thug, Future, Khalid, Travis Scott, Kehlani, Pharrell, Big Sean, John Legend, Schooboy Q, Ariana Grande, D.R.A.M., Lil Yachty, Jessie Reyez, PARTYNEXTDOOR and Snoop Dogg joining the mix. Phew.
We're not yet sure if the song will be released as a single, but given the high profile collaborators it would be a shame not to promo the hell out of it. Either way, we won't have long to wait: Funk Wav Bounce Vol. 1 is set to drop on June 30th.