Britney Spears debut single, '...Baby One More Time', has officially had it's sixteen year anniversary! The song, first released in 1998, hit #1 in over twenty international charts, and is still performed today on Spears' Britney: Piece of Me Las Vegas residency. She honoured the song on her Twitter today, saying:
To celebrate the single's sweet sixteen, we're counting down sixteen moments that made Britney a true icon.
1998: The 'slutty schoolgirl' look takes off
Let's start at the beginning, shall we? Britney's status as a sex symbol came early with the release of the '...Baby One More Time' music video, which featured her breaking the rules in high school and triggered a huge amount of sales of low cut school shirts and mens ties.
1999: From one Rolling Stone...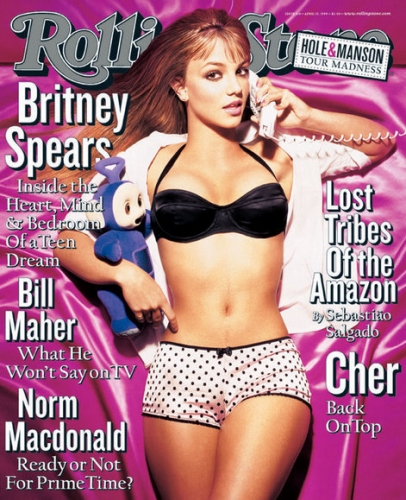 The virgin whore archetype was taken to a whole new level with the release of Britney's 1999 Rolling Stone cover, however. Set against a backdrop of pure pink, the cover showed off Spears' body like never before, and let her quip such lines as ""Kids have low self-esteem, and then the peer pressures come and they go into a wrong crowd. That's when all the bad stuff starts happening, drugs and stuff. I think if they find something that keeps them happy — writing, drawing, anything like that — then they'll have confidence." The teletubby doll she's hugging would later sell for over one hundred billion dollars.
2000: ...To another!
2000: Britney in space: 'Oops!...I Did It Again' music video released
A loving homage to one of her favourite movies, the 'Oops!...I Did It Again' marked another controversial moment for Britney. Nineteen year old Spears referenced the legendary Titanic in this legendary video as she travelled throughout space in one of the sexiest, silliest outfits ever. The real question is: can she still fit into it?
2000: Timbersnake unleashed
Britney and Justin were childhood sweethearts since they starred together on The Mickey Mouse Club, but it wasn't until 2000 when their relationship was officially confirmed. And gosh darnit, were they perfect! They had matching double denim outfits, wrote each other songs, and talked about saving their virginity until marriage for three whole years. And then, in 2003, it all ended. Justin, alleging that Britney had cheated on him, wrote 'Cry Me A River'; and Britney, in response, penned her best song ever, 'Everytime'. Where's that crying emoji?
2001: A snake of another kind
Brit's second VMA performance came in 2001 with this amazing number. Not only did she slay with some of the best dancing of her career and a new, even sexier sound, but she brought a whole zoo with her. The Garden of Eden symbolism is going on for days, huntie.
2003: The infamous threeway kiss
In her third VMA performance, Britney also enjoyed a threeway kiss with fellow icon Madonna and some other girl named Christopher or something. The struggle for Confessions on a Dancefloor promo was real, but we weren't mad at all: the moment was talked about for months and Britney's image took a huge leap forward. Britney and Christina's alleged rivalry continues to this day, but her and Madonna's flawless duet with 'Me Against The Music' entirely makes up for that.
2004: Britney goes 'Toxic'
One of the most expensive music videos ever made at the time of its release, with a budget of one million, 'Toxic' combined a flawless, unique song with some sexy dress ups and some flawless special effects. A little known fact is that the video is actually about Brit taking revenge on a cheating lover - which is what the weird brunette girl in the shower is meant to represent - meaning that the comparisons with 'Womanizer' are very, very real.
2004: A marriage shorter than Kim Kardashian's
In one of the best Vegas weddings in history, Britney married her childhood friend Jason Alexander in 2004. The marriage lasted an entire 55 hours before Spears seeked an annulment, citing the fact that she "lacked understanding of her actions". Is it weird we kinda believe that?
2004: K-Fed to Fed-Ex
Just weeks after Britney's back-up dancer Kevin Federline broke up with his then-pregnant wife Shar Jackson, he managed to woo her with that sexy goatee, seductive fedora and sleazy bad boy "rapping". The couple dated for three months before their engagement, and had quite a large output of material including a reality show, a failed single (Federline's 'Crazy' which remains hilarious to this day) and two children, which are probably the only good things that came out of the entire relationship. Kevin quit rapping, got fat for a while, lost the weight and managed to find another girl to marry (literally, how did he do that?) and still occassionally sees Britney around at their kids soccer matches. How awkward is that?
2006: Inspired by Demi Moore...
In 2006, Britney posed nude and pregnant for Harper's Bazaar, drawing comparisons with Demi Moore's famous and often replicated nude photograph for Vanity Fair. Britney looked flawless and natural on the cover, debuting a darker hair shade than she'd ever had before and bragging about her new, happy life.
2007: To make 'Gimme More'
But while we knew that Britney had always had a wild side, this was made super apparent with the 2007 release of 'Gimme More'. Even though she originally went to great lengths to film an elaborate music video for the track, complete with Elvis references, a funeral scene and a cat (?), the final version featured just Brit pole dancing with a blonde doppelganger and flashing her pasties to the camera. Although the song was, at first, critically appreciated, things took a turn when Britney performed the song at the VMA's. Her choreography was totally off; her stomach was hanging over her lingerie; her extensions were showing; and her lip syncing was a mess. And yet, this performance launched one of the most amazing albums in history, and Britney's undeniable best.
2007: The blackout begins
In one of the most controversial and crazy moments of her career, Britney shaved her head (micro extensions and all) in 2007 at a barbers shop before allegedly getting a tattoo on her bald head. While Brit continues to assure everyone that her activities here were totally normal and that "a lot of people shave their heads", rumours still hang around that the big shave had to do with her avoiding a drug test that required a sample of hair. Blackoutney had officially arrived.
2007: Britney predicts future hits
Amidst the release of Blackout, Brit later continued her crazy streak by attacking a papparazzo's car with an umbrella. Weirdly, she had previously been offered Rihanna's 'Umbrella' as a demo to record for her album, which would later go on to blow up as her breakthrough single later in 2008. it was around this time that Sam Lufti and Brit began dating, and rumours started swirling that he would routinely drug her to keep her passive; disconnect her phone so she couldn't call friends; and control her finances and schedule under the guise of manager. The two would later go to court over such allegations, although the court case would be thrown out (but only after some really shocking revelations had been leaked).
2008: Comebackney/Robotney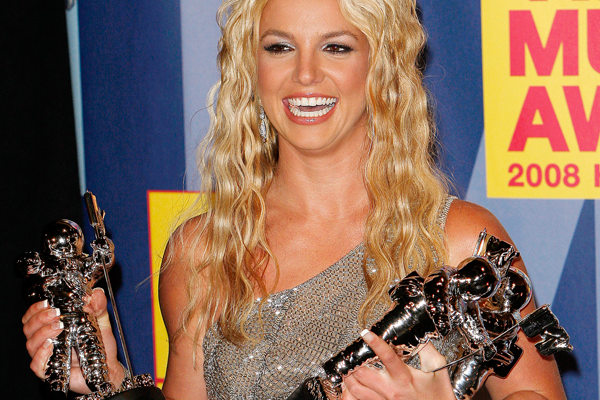 Britney's comeback officially came in late 2008 with the announcement of her single 'Womanizer' and her attendance of the 2008 VMA's. Britney looked as flawless as a wax figure here, with a spot on weave, a flawless tan and an amazing, toned body. However, with this comeback came a new problem: the arrival of Robotney. Limited by a conservatorship and controlled by her parents, Britney seems to have lost some of the spark she originally had in the past few years, relying heavily on scripted answers to questions, a highly controlled social media presence and stage theatrics to distract from her somewhat lacklustre performances.
2012: Britney reclaims her X Factor
While it's still a point of controversy among fans, Britney's short stint on the US The X Factor was generally deemed a success. She seemed less stressed and scripted than she had in years, debuted a few truly flawless looks and seemed to be really coming into herself. Sadly, Brit left the show after just one season, with creator Simon Cowell citing a lack of knowledge and a shy personality as the reason for her departure.
2013: Britney: (A Very Small) Piece of Me
Started from the bottom now we here! Since late 2013, after the release of her (pretty disappointing if we're honest) album Britney Jean, Britney's been performing five nights a week at a Las Vegas residency, joining greats such as Elvis, Cher and Celine Dion. The show's impeccably crafted, and Britney's debuted some fierce choreography and beautiful throwback costumes during her time there. Her run has already been extended into well into 2015, so there's plenty of time to catch her there in the future.
And after that? Who knows! While Britney's talked in the past about potentially retiring from music, she just signed a deal with her record label that should keep her around for another few albums at least. She recently debuted her lingerie line internationally and continues to have a successful perfume career. But whatever happens in the future, it's pretty amazing to know that Britney fans will still have sixteen years of flawless, fun and legendary moments to enjoy. Now excuse me while I break out that old private school uniform.
What's your favourite iconic Britney moment? Let us know in the comments section below!