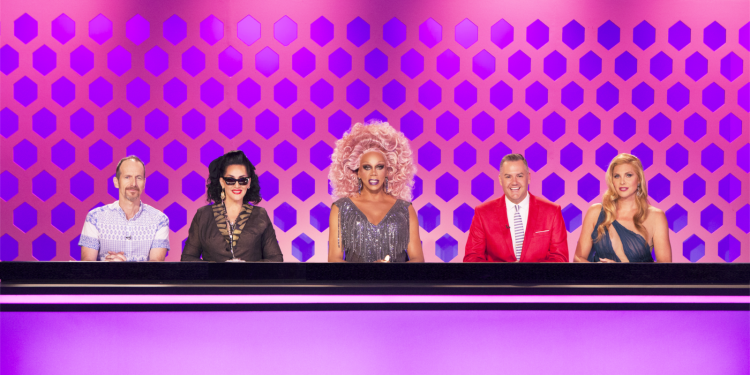 And here we are: RuPaul's Drag Race's annual impersonation extraveganza and soiree with the stars, Snatch Game. Since it's initiation in season one, Snatch Game has become an iconic part of the shows DNA and one of the few challenges to be repeated season after season. Typically falling somewhere in the middle of each cycle, the game offers a turning point in each series where producers feel we know enough about the queens themselves to allow them to impersonate others, a feat which can often turn disastrous depending on how theatrically talented each one may be. And with so much anticipation between seasons for the challenge, Snatch Game also brings with it a huge amount of pressure and expectation; something I would argue this week's Snatch Game managed to live up to.
Alexis Michelle must have been smiled on by the gods this week, as she benefited not only from the absence of Eureka O'Hara (which allowed her to step into the role of cunty fat "tell it like it is" queen) but also from having the foresight to choose a character who Ru loves: Liza. Jinx Monsoon has stunned audiences with her spot on impersonation of Liza during live versions of the Snatch Game during the Battle of the Seasons tour, but surprisingly no queen has yet attempted the icon during the televised version of the show; an opening Alexis spotted and jumped at. Like Jinx before her, Alexis nailed Liza's unique blend of camp, slapstick and complete crazy in what was nevertheless an endearing tribute, and went on to snatch the top trophy this week.
Not to be outdone, Shea put forth a stellar impression of true supermodel Naomi Campbell, while Trinity nailed the lesser-known living pop art project Amanda Lepore with her perfectly plastic personality. I've spoken before about my dislike of Valentina, but she proved she was more than just a looks queen here with her hilarious (if admittedly one note) portrayal of Miss Colombia; it was a new side of her I'd like to see more of. Sasha struggled somewhat to make the famously serious Marlene Dietrich funny, but her choice was on brand for the queen and she garnered enough laughs from the judges to keep her safe for another week. Meanwhile, Farrah struggled from a poor character choice (how does one make YouTube sensation Gigi Gorgeous funny without playing her as a dumb blonde?) and Cynthia played it a little too close to home with what should have been a spectacularly accurate portrayal of funny girl Sofia Vergara. Ultimately, it seemed as though Cynthia's inability to play anything other than, well, Cynthia, was her downfall, and she was sent home this week.
While I was sad to see Cynthia leave and will definitely miss her carefree, wise-cracking personality, I rest easy knowing that she's given pretty much everything she has to offer to the show this time around and, as far as we know, hasn't had any illness weighing her down this season. She gave it her all and if she didn't quite get as far as she wanted we at least know there's not any hidden potential in there that's being wasted - which is more than can be said for the likes of Jaymes Mansfield. Meanwhile, it's pretty clear that unless Farrah steps it up big time - and quick - she'll be the eliminated queen next week.
Come on Queen of Highlighter, we're all rooting for you!