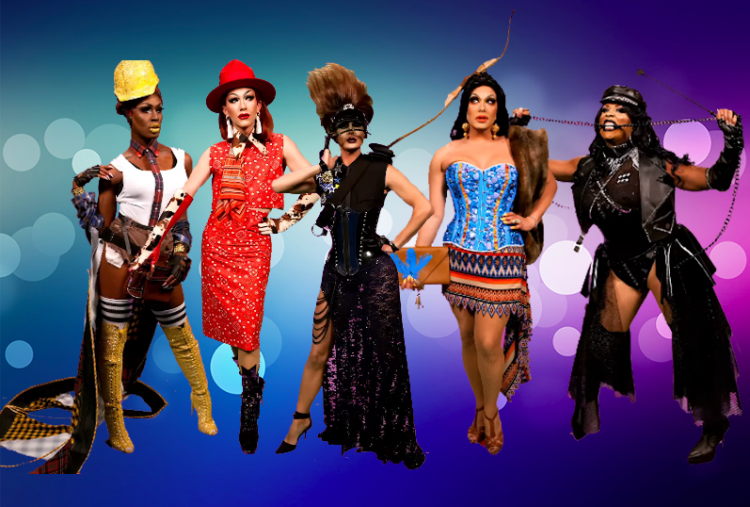 It's the fourth last episode of this season of Drag Race, and only the second last episode which will be set in our beloved work room. With the pressure mounting every week, the producers have clearly decided to give all the girls full on panic attacks by introducing a ball episode to the show. Each of the five remaining girls has to come up with three distinct looks for three different categories, as well as work out choreography for a dance number further down the line.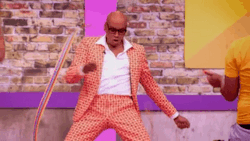 Sasha won the puppeteering mini-challenge, but this turned out to be a curse in disguise as she was then asked to choreograph the rhythmic gymnastic routine that would constitute part of the main challenge. The end product of Sasha's hard work was actually pretty good for someone who professes to be so bad at dance, but we can only imagine how hard it must be trying to tell Alexis Michelle what to do - she was practically turning green with envy.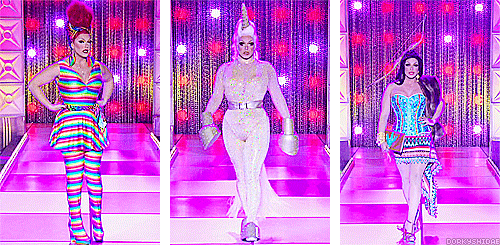 The main part of the challenge was the three categories the queens were asked to walk in - Rainbow-She-Betta-Do, Sexy Unicorn and Village People Eleganza Extravaganza. I have to say that all of the queens did an amazing job in these categories, and looked the best they ever have - bar Alexis Michelle. To be fair to Alexis, she was given the native American village people look to work with, which was always going to be the hardest to do while avoiding accusations of cultural appropriation. Seriously, why was the native American idea character in the show when the producers could have just used the G.I. Village People character instead?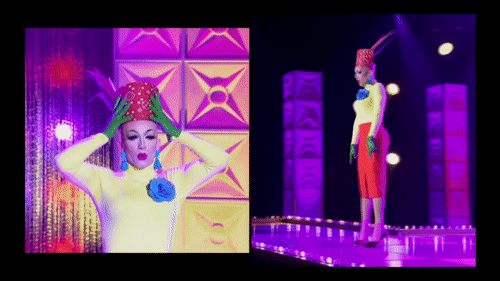 But apart from Alexis, the other four queens did an amazing job. Shea's construction worker look was inventive, sexy and high fashion, while Trinity's interpretation of a cop was super sleek. Sasha struggled a little to stick to the brief, but her outfits were consistently gorgeous and completely on brand for her drag persona; while Peppermint had some good ideas even if they were executed a little messily. The unicorn category was pretty bizarre to be honest and I can't say I loved any of the looks there, but kudos to Sasha and Shea for giving it their all anyway.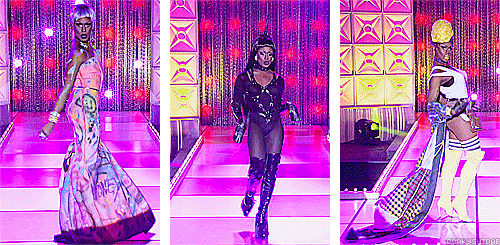 Ultimately, Shea won largely on the back of her construction worker outfit, which I'm not quite sure was a good enough reason to snatch the trophy for this week. It's hard to believe that Sasha still has yet to have a win on her own, and I would have liked to see her get some recognition for her consistency throughout the competition.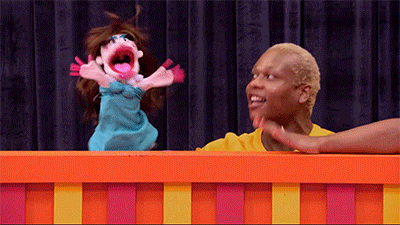 Predictably, Alexis was the one to leave this week and all I have to really say is good riddance. Alexis was really the Roxxxy Andrews of this competition: a big, theatrical queen who clearly thinks she's a lot better than anyone else does and who's kept long past her due by date just for the drama she causes. I won't be sad to see her go, but I'll love watching her walk away.