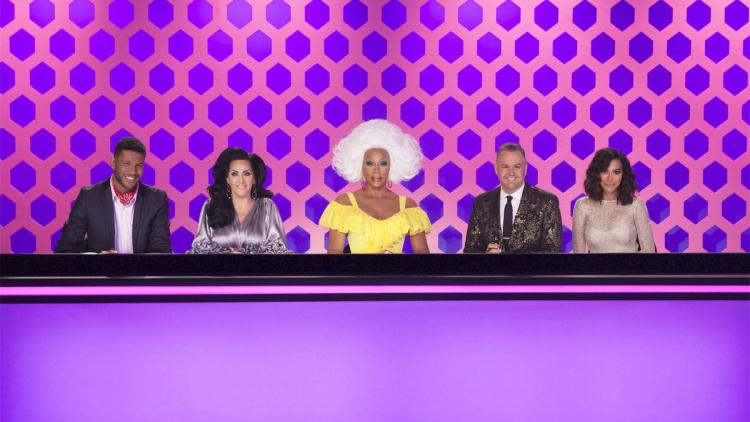 We're four weeks into our recaps of this season of RuPaul's Drag Race, and so far I have to say that I'm still not 100% sold on season nine of the show. Last week's episode seemed to be a return to form, offering the kooky, left of center humour that the show is known for; but this week's episode seemed to fall a little flat. This might have to do with the fact that the hype was so strong for this year's competition, which promised to be the biggest one yet - thanks in part to some extra special guest judges like Lady Gaga and Kesha - but I also think that the show as a whole is prioritising the wrong kinds of drama and the wrong queens overall.
This week's challenge started off promisingly enough, with the queens being split into two teams and asked to participate in a morning talk show type gig, covering current affairs, DIYs and a celebrity interview with Naya Rivera to top it all off. Team Not On Today is led by last weeks winner Trinity Taylor, while Team Good Morning Bitches is led by last week's almost loser Aja, and ends up being the most successful out of the two.
Valentina has continued to be as irksome as ever, and at this point I'm really struggling to see what it is that everyone likes about her. She turned out another gorgeous runway look, but the fact that she told Eureka and Sasha off in the workroom for arguing over eating disorders with a "I want you to focus on your work," just managed to get on any nerve I have remaining after my rib removal surgery. Just who does this ten month old queen think she is?
On the other hand, after four weeks of what I saw as nothing but hype, Miss Nina Bonina Banana Fofana Osama Bin Laden Brown is finally starting to grow on me. This is partially thanks to an impressive turnout on the runway, in which she rocked a corset which would make even Violet Chachki wince, balanced out by some crazy padding and a huge breast plate which made it hard for her to even sit up; although in my opinion, the look was somewhat ruined by a makeup look straight out of a grade school Halloween party. But Nina's overly made up face made a lot more sense to me when she showed her vulnerability on the main stage, bursting into tears at the mere mention of her name by RuPaul, and emotionally opening up on Untucked to the other girls. That said, I still think that versatility is what makes a true Drag Superstar, and Nina wasted a chance this week to strip back the crazy makeup and show us full on glamour. Let's hope she does so in the future.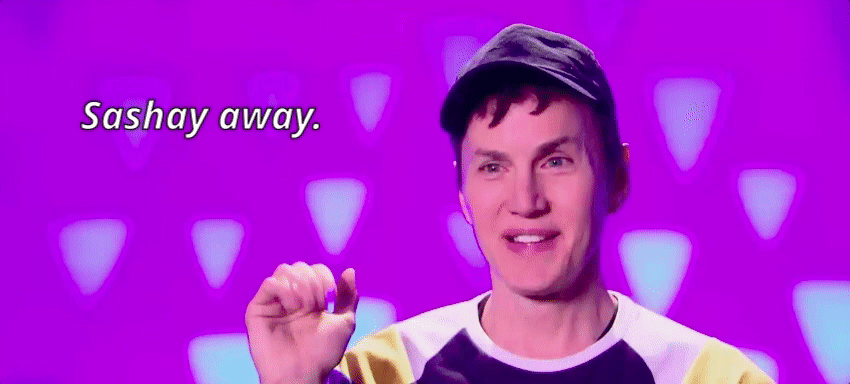 Somehow, Trinity Taylor managed to land herself in the bottom two, while Peppermint got off with barely a slap on the wrist despite constant fumbles in her acting challenge and a dismal runway look. When Trinity was announced as bottom two, it was obvious that Charlie Hides would be the eliminated queen this week; but really, we all already knew this thanks to the disproportionate amount of airtime she got this week compared to previous weeks (and the fact that she dropped her first single on the day of airing). It's a shame that Charlie was booted so early, as she mentioned that she would have made a brilliant Joan Rivers in Snatch Game and I tend to agree with her; but it's not a total surprise. Charlie is a YouTube Queen who's used to controlling everything about her projects; the lighting, camera angles, makeup, script and improvisation are all ruled over by her with little outside influence. Putting her into a challenge where she needed to work in a team, and so closely with Cynthia, was bound to be her undoing all along. That said, there's still little excuse for that lip sync, which has to go down in history as probably the worst in Drag Race herstory; when else have the other queens at the back been screaming at the performers to do more?
Overall, I can't help but feel as though Drag Race is still struggling to find it's feet this time around. Mini challenges are still M.I.A. and the runway this week was shortened by about one tenth of the usual length (although you can watch the full length version here), but there didn't seem to be much taking it's place other than the typical backstage drama. A lot of people are suggesting that the move to VH1 may have changed management and that the new producers are to blame for the awkward nature of the show, but I've gotta put at least some of the blame on the editing. Drag Race has always had a penchant for manufactured tears and drama, but there was always a bright streak of talent and oddity shining through that made it all worth it. This time around, the odder queens - like Nina and Sasha - aren't getting much screen time at all, with the focus being placed squarely on (the probable winner) Valentina and the love to hate queen of the season Eureka. It's making for a much less kooky season and one with fewer standouts to those who aren't here for the gorgeous or bitchy queens. All we can do is hope that as the queens continue to fall like dominoes, a larger screentime allowance will allow some of the lesser sung heroes of the season to rise to the top.