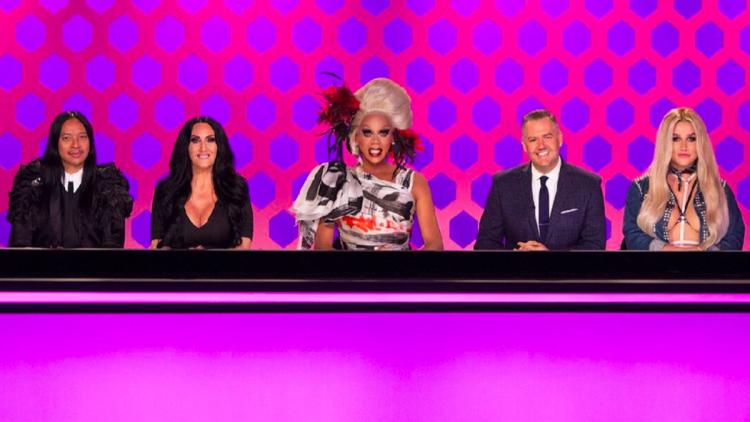 Given that last week's episode of Drag Race was undeniably the best all season, it might have been hard for this week's entry to keep up the pace; and to be honest, I don't think it quite managed to best the twist which occured in that episode. But this week's episode still put in a good showing, thanks in large part to a particularly fun maxi-challenge which found the queens performing makeovers on the crew of the show, who up until now have been a largely mysterious unseen force save some brief appearances on Untucked.
Part of the reason the crew's appearance worked so well us because of how effectively they played off the queens. For the first time all season, Valentina's elimination means that it the game is really open to be won by any one of the girls, and it seems that they have used this as the wake up call they need to believe that they're all being given an equal shot. A combination of this newfound energy alongside the camaraderie and support of the crew meant that they all, in the words of RuPaul, stepped their pussy up.
Trinity and her drag daughter Glittafa Days had by far the most family resemblance out of all of the queens, even if they didn't really offer anything new when it comes to The Tuck's looks. That said, Trinity was lucky to be working with the youngest and fishiest of all the crew memebrs, so she already had a head start. Meanwhile, Sasha and her drag daughter Donatella Velour had a look that was very on brand for Sasha and yet still somehow cooky and not too overdone. Alexis and Peppermint were both overall slammed by the judges, which is a shame because I didn't personally think either of their looks were that dreadful; Alexis's in particular was actually very polished and fun, if uninspired. Shea and Bae Couleé also both actually looked pretty good, but Bae's walk and fashion mishaps were both admittedly a little cringeworthy, not that all of that can be blamed on Shea.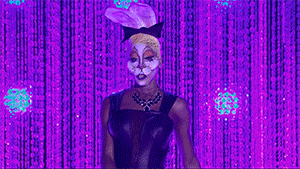 In my opinion, the only real loser of the night was Nina. She failed to really commit to her bunny rabbit makeup, which was one of the cheapest and messiest she's shown all season; and her outfits were uninspired, giving the same silhouette she has in nearly every runway so far. That combined with a Charlie-esque lipsync proved to be enough to make her leave the competition. Nina's personal narrative was one of the most interesting to watch this season, and I truly hope that she will reform her self-sabotage before any eventual appearance on All Stars that may or may not happen.
Kesha made an appearance as a guest judge, which was a bittersweet moment for longtime fans of the troubled singer. On the one hand, it was great to see her out in public again; but on the other, she seemed to have lost some of the party girl, borderline alcoholic spark that she had when she first debuted. Still, it was great to see that the show didn't edit her out entirely as it sometimes does with guest judges and that she seemed to have a fun time with Peppermint's protege Sarge, aka Winter Green. I am a little disappointed that we didn't get a lip sync to one of her songs ('Sleazy' would have been a great choice, and it's music video even starred Detox and Vicky Vox!) but it's possible that her ongoing legal issues made this impossible, and 'Cool for the Summer' was a more than adequate replacement.
This season got off to quite a slow start, and to be honest I'm still not sure the combination of queens chosen was the most interesting to watch. That said, there's been a few real highlight episodes, including the premier and the past two, so I'm hoping that things will only look up from here on out. And for once, I really have no idea who's going to be eliminated, or who's going to make it all the way. It's exciting stuff!