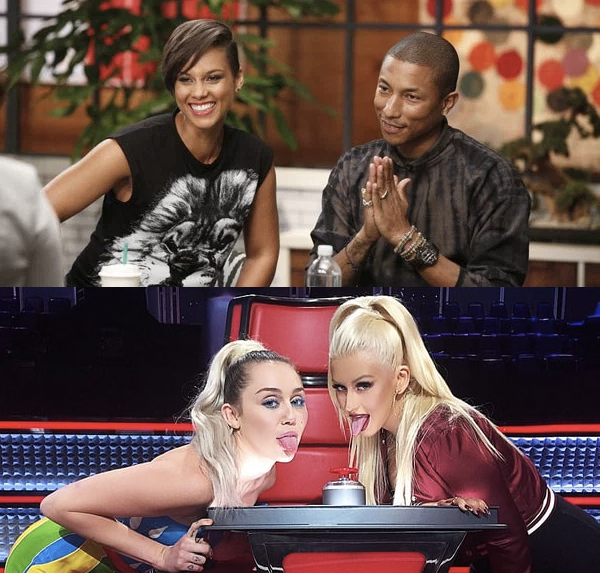 In a huge reveal for The Voice, the television show has today announced that controversial hitmaker Miley Cyrus and American sweetheart Alicia Keys will join the judging panel for the show's eleventh season later this year.
Cyrus, who has just wrapped up a gig as key adviser on the show under Team Christina, announced the new position in a typically hysterical post on her Instagram, stating:
And it wasn't long before Keys, who served as battle round advisor for former judge Pharrell back in season seven, announced her own arrival to the show through a statement released by her team to Billboard.
Keys' new partnership with The Voice is practically a match made in reality TV heaven, arriving at the perfect time for both the show and the artist. Despite releasing a lead single in 2014, 'We Are Here', and confirming an album for release in 2015, Keys has been unable to land a follow up to 2013's Girl on Fire - although whether that has more to do with label drama or her pregnancy isn't clear. The new judging gig will no doubt revitalise her career and we can't see it doing anything to hurt her amiable persona either.
On the other hand, Cyrus' addition to the panel is somewhat more unexpected. She's much younger than most of the thirty somethings on the panel, and her wild girl, stoner image is hardly consistent with the mature, laidback energies we've come to expect from the other judges. While she hasn't had huge commercial success since 2013's #Bangerz, she found critical acclaim with last year's Miley Cyrus and her Dead Petz, and her crazy antics make sure she's consistently in the news one way or another, which begs the question: why does she need the failed career rebooter that is The Voice?
This judging panel shake-up is just the latest lineup in The Voice's long list of judges, with the show having gone through ten different judges since it's first season in 2011. The constantly rotating judging panel has often been pointed to as the reason for the shows success, as well as the caliber of artists chosen as judges - singers can join the show for a quick stint of one season, and then be replaced when the next season premiers later that year (the show is also known for its dual summer and winter seasons every year). In a first for The Voice, however, this will be the first time that the judging panel has more than one female on the show.
What do you think of The Voice's new appointments? Will Miley and Alicia make good choices for the family-friendly show, or should they seek other avenues to promote their music? Is there an ulterior motive for Miley's joining of the show? Let us know in the comments down below!