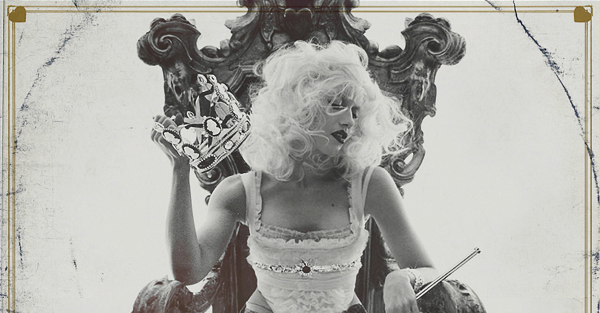 It's been a long road to the release date of Gwen Stefani's third album. While it was originally announced for release back in late 2014, the album faced major delays after singles 'Baby Don't Lie' and 'Spark The Fire' failed to land. But with the announcement earlier this week that the album had found new life under the new title This Is What The Truth Looks Like, Gwen also announced a pretty interesting concept for her second official single from the project, 'Make Me Like U'.
We first predicted that the track would debut at The Grammys after we spotted the release date of February 16th, which is one day after the awards show airs; but with Gwen notably absent from the list of performers announced, we assumed that we would be up for a surprise live performance of the new song. The fact that choreographer Tricia Miranda posted, and then deleted, a photo of her and Stefani with a group of dancers, and hashtagged it as "#gwenstefaniauditions #grammys" only seemed to support our theory.
But in true Gwen style, it seems that the singer has much more up her sleeve than we bargained for. Shortly after announcing the tracklisting for their exclusive special edition of the album, Stefani's partner Target confirmed that the singer would be breaking ground at the Grammys, combining music video and live performance in what they are dubbing as "the first music video ever created on live TV".
Interestingly, the video will actually not air as part of the official Grammys ceremony. Instead, it will be acted out, filmed and broadcast completely live during a four-minute commercial break from the awards show. There's no word yet on the specifics of how that will exactly work. Will Gwen be singing live or if she will be lip syncing as most artists do in their music videos? Will she even be in the Grammys studio to record this video, or will she be on a completely different set? No one's quite sure, but it's an intriguing premise if nothing else; and the teaser trailer for it released earlier today only sets our hopes even higher.
While 'Make Me Like You' will be the first video ever created live, there are some related videos that may have inspired the singer. In 2011, Death Cab For Cutie livestreamed their video for 'You Are A Tourist' online, which became what they described as the first scripted live music video. And back in November, Erykah Badu filmed a live music video for 'Phone Down' on video streaming website Periscope. But Gwen is the first person to take the idea to TV, in what will certainly be a nerve-wracking experience for the onetime actress.
'Make Me Like U' is written by Justin Tranter and Julia Michaels, with production handled by Mattman & Robin. Cumulatively, these four artists were responsible for Selena Gomez's 'Hands To Myself', one of the best pop songs of last year. Speaking of the track in an interview with Zane Lowe, Gwen said, "We were losing our minds. It was called 'Make Me Like You' and we couldn't believe it. Like how did we write this song? It's so good!"
What do you think of the idea of a live music video? Is it a novel concept, or simply a way for record labels to combine two different forms of promotion, and avoid having to shell out big cash for a real music video? Let us know in the comments below!