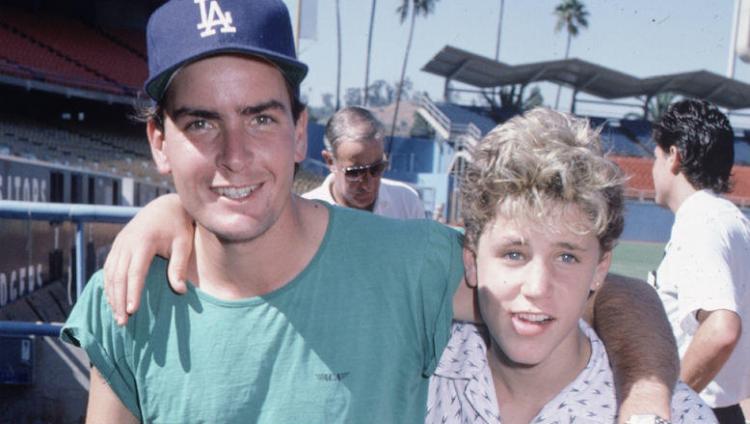 Charlie Sheen is known as Hollywood's typical party boy: partaking in long binges of alcohol and drug abuse, partying with the strippers and porn stars he knows as his "angels" and coming up with catchphrases such as "winning". It's a stereotype that he's been able to use to his advantage in projects such as the hit Two And A Half Men. But it seems that there's a dark side to this type of archetype, if recent allegations from actor Dominick Brascia are to be believed.
According to Brascia, his close friend Corey Haim had informed him before he died that Sheen had had sex with his co-star Corey Haim while on the set of the film Lucas. The issue? That Sheen was 19 at the time, while Haim was only 13.
"Haim told me he had sex with Sheen when they filmed Lucas. He told me they smoked pot and had sex. He said they had anal sex. Haim said after it happened Sheen became very cold and rejected him. When Corey wanted to fool around again, Charlie was not interested," he alleged in an interview with The National Enquirer.
According to Brascia, this was not the only time the two had paired up. Haim allegedly had sex with Sheen again, but didn't enjoy it and "was finally over Sheen".
Younger readers may not know much about Haim, but he was the quintessential child star. Famous at a young age for his teen idol status and for starring in films such as The Lost Boys and Lucas, he became known for starring in the former with friend Corey Feldman, and the two became known as The Two Coreys. Predictably, Haim's early success scarred him and he was troubled by drug addiction throughout his career, ultimately passing away in 2010 at age 38.
Feldman himself had previously alleged that both he and Haim had been sexually abused by people in the industry as child stars.
"There are people that did this to me and Corey that are still working, they're still out there, and they're some of the most rich and powerful people in this business. And they do not want what I'm saying right now. They want me dead," he said in an interview on The View.
While it's unlikely that the charges against Sheen will ever be proven either way, The Daily Beast collected a selection of Sheen's antics that are definitely worth a look. Check them out below and let us know your thoughts in the comments.
Quote

1990: His now infamous "accidental" shooting of John Travolta's now-wife and Sheen's then-fiancée Kelly Preston with a .22.

1994: An unidentified UCLA student files a lawsuit alleging Sheen hit her in the head after she refused sex. (He was married at the time to his first wife, the model Donna Peele.)

1996: Sheen is arrested for brutally beating Brittany Ashland, slamming her head into a marble floor and threatening to kill her. Ashland received seven stitches in her lip. He pleaded "no contest" and received two years of probation. Sheen, in fact, said that Ashland tried to attack him, and he was simply "trying to contain her." When reached for comment for this story, Ashland's then-lawyer, Gloria Allred, said, "No comment."

2004: After the birth of his first child with Richards, a court document filed by Richards alleges that she was concerned that Sheen was using drugs again, so she called his sponsor. "The Respondent became paranoid. Respondent began to obsess about vaccines being poisonous, about 9/11 being a conspiracy, purchasing gas masks on the Internet, and putting guns under the coffee table so that they would be within reach if someone broke into our house," read the filing. Afterward, Sheen is alleged to have sawed a large wedding picture of the two of them in half and then spray-painted over it, "Dumbest day of my life."

2006: In legal filings for a custody dispute after filing for divorce the previous year, Richards claims that Sheen threatened to murder her and watched disturbing porn. Of the porn, her filing claims, "I learned that the Respondent was accessing gay pornography sites which I found even more disturbing because I felt that the boys looked underage." (Sheen's response: "The FBI was aware of these issues. I provided them with every computer I owned. The computers were returned two weeks later. Haven't heard from them since. Period. The end.")

Other claims in the filing detail multiple alleged threats on her life: "I told the Respondent that if the Respondent proceeded with his threats to take me to Court over the children for overnight visitation, that I would have to tell the truth about what he had done. He told me that 'I Will never get to Court because I will be f--king dead!' He told me to enjoy my parents 'while they are still around.' I took this to mean that he was not only going to do me harm but also do harm to my parents. In this conversation, I also brought up an old prostitute/porn star who he saw by the name of Chloe Jones. I saw on the news that she had died from undetermined causes. When I asked him if he had anything to do with her death, he said that he had 'no comment.' He repeated 'no comment' again when I asked him again. This scared me."

To underscore Sheen's temper and abuse, her filing included transcripts of six phone messages he allegedly left her when she was pregnant. In one, he says, "You're a coward and a liar and a fucking n---er all right so fuck you." In another, he references Richards' female attorney and refers to "two pregnant cunts... plotting against the rest of us." (Sheen claimed: "I have asked that the court eliminate Ms. Richards's ability to abuse and harass us any longer. One can only imagine what we've withstood thus far.")

Richards was granted a restraining order. When Vanity Fair's Mark Seal later asked Sheen's then-manager Mark Burg about this damning document, Burg responded, "No, I honestly never saw that, and you know, it's funny how, when the divorce is over and the checks are written, all of a sudden now everybody's friends again."

2009: Sheen is arrested for felony second-degree assault and felony menacing against his then-wife Brooke Mueller, whose terrified voice can be heard in a 911 call fearing for her life and claiming that her husband had a knife to her throat. He pleaded guilty to third-degree domestic violence.

2010: Escort Capri Anderson alleges that Sheen put his hands on her neck and threatened to kill her on the night he was found naked and intoxicated in a New York hotel room. No arrest was made, and he entered a hospital voluntarily. (Sheen's lawyer called Anderson's claims "completely false.")

2011: Mueller alleges that Sheen threatened to cut her head off and "put it in a box" and mail it to her mother and texted that he wanted to murder his Jewish manager: "I must execute mark b like the stooped jew pig that he is." She filed a restraining order against him, which was granted, and the couples' twins are taken from his home. (Sheen called Mueller's claims "lies.")

When you see Comedy Central feting him with a celebratory star-studded roast that same year, it starts to become clear that our society has struck a kind of covenant with this actor: Keep being crazy, and we'll keep watching. Besides, as he told 20/20's Andrea Canning, all these women are "trolls" and their accusations are "sad lies." A lot of them are sex workers—so what does it matter, right?

As Jezebel founding editor Anna Holmes observed in her 2011 New York Times piece called "The Disposable Woman," it took then-CNN host Piers Morgan 43 minutes into his special interview with the actor to ask him, "Have you ever hit a woman?" Then, Holmes writes, "Two minutes later, with Mr. Morgan apparently satisfied with the actor's answer that no, women should be 'hugged and caressed,' that line of questioning was over." As she noted, "while his self-abuses are endlessly discussed, his abuse of women is barely broached."

2012: A police report is filed by a man who claims that Sheen threatened to shoot him to death with a semi-automatic handgun.

2013: Sheen sends a happy birthday tweet to his ex-wife Mueller, writing "why don't ya 'blow' out this candle." It is a picture of a grenade. The tweet was in response to her request for a restraining order.

2014: An L.A. dental technician sues him for assault and sexual battery, claiming that Sheen punched her during an office visit and grabbed her left breast.

2015: Sheen tweets at ex-wife Richards that she is a "heretic washed up piglet" and a "shame pile."

2015: Sheen announces that he is HIV-positive to Matt Lauer. "I have to put a stop to this onslaught, this barrage of attacks, of sub-truths, and very harmful stories that are about threatening the health of so many others, which couldn't be farther from the truth."

2016: L.A. police confirm a police investigation into Sheen regarding the legal battle between him and his ex-fiancee Scottine Ross. In a recording on RadarOnline, a voice that was believed to be Sheen said he would rather pay $20,000 to kick Ross in the head than settle her lawsuit against him. She is granted a protective order. Ross's lawsuit alleges that Sheen held an unloaded gun to her head and pulled the trigger, and that he exposed her to HIV. (Sheen's lawyer, Marty Singer, calls Ross "an extortionist… who gets paid for sex as a prostitute and a porn star.")

2017: An additional lawsuit is filed against Sheen by a Jane Doe claiming he exposed her to HIV.