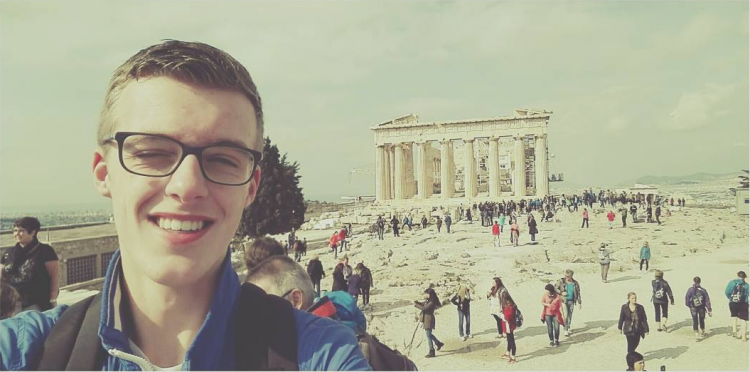 Dear Mr. Tromp,
As webmaster, administrator and content writer of #PopHatesFlops, I am awoken every morning by a flurry of e-mails related to my website which I must attend to. Generally these e-mails are simple acknowledgements of errors that have occurred on the websites; often they are updates offered by our host or system manufacturers; and sometimes they are complaints by users of abuse on the website. Most common of all the e-mails in my inbox are newsletters from various outlets promoting their latest wares; and most rare are those threatening legal action against me and my website.
I have been unlucky enough to receive half a dozen or so legal threats over the years since I first started PHF in 2012. When we posted about a Natalia Kills song 'Heart To Break' in 2013, we were sent a cease and desist letter from Ms. Kills' team asking us to take the article down as it was regarding a song that was unlawfully obtained. When the Lana Del Rey track 'Noir' was discussed in 2014 before its leak we were sent a cease and desist letter from Music Rights Australia telling us to erase any reference of the track. Earlier this year, we were admonished with fake claims of illegality from an imposter of the artist Allie X who claimed that we were trading her tracks illegally; it was later revealed that they were in fact just a crazed stan who had taken their obsession too far. And the latest legal advice we've received has been from you.
This morning I woke up to receive the following e-mail from you, hastily copy and pasted with the remnants of a long-lost formatting persisting on: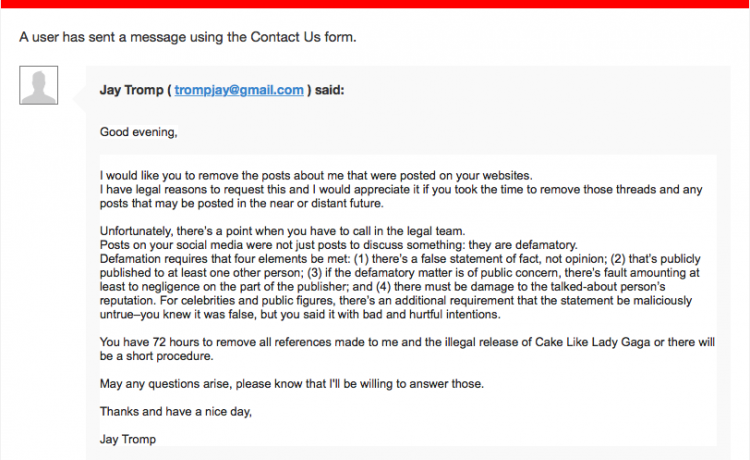 As mentioned, we have received many legal threats in the past, but this is by far the most shoddy and unprofessional one yet. From the unprofessional Gmail address to the poorly researched information on defamation which you clearly copied from an article entitled 'How To Delete Things from the Internet', your e-mail was a trainwreck from the greeting to the sign-off.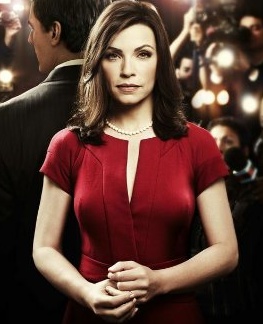 Unfortunately, Jay, unlike you I am well aware of my rights and the protections I have under the law of my home country Australia. Over the past three weeks, I have binge-watched five seasons of CBS's hit show The Good Wife (airing Sunday nights at 9pm) and thus have an understanding of the law only matched by the top district attorneys (probably). You claim that our website's lone post about you was defamatory - and yet judging by your own (plagiarised) definitions of defamation it was nothing of the sort. Firstly, you have been grossly misinformed, as we did not post about you on social media. Secondly, as stated in our Terms & Conditions, all posts on #PopHatesFlops are inherently statements of opinion belonging to the users they are made by and thus are not intended for interpretation as fact. As you yourself copy and pasted, "for celebrities and public figures [...] the statement [must] be maliciously untrue - you knew it was false". As is apparent in a quick perusal of our post, Jay, nothing that any of our members said was in fact false - you have admitted to illegally posting a song by Lady Gaga on iTunes, thus violating intellectual property laws. We did not harm your reputation - you handled that all on your own.
It's equally clear that your request for us to remove our content is simply an effort to avoid permanent evidence of your misdoings to be floating around - misdoings that you admitted in your own e-mail to be illegal, and which are thus not protected by the laws of the United States of America. You seem to now be claiming that you never posted the song at all, and that the whole thing was a dream in the over-active imagination of DJ White Shadow. Rest assured that all posts about you on any website (including your own Tumblr, which you have now deleted) have been documented for good on The Way Back Machine.
Frankly, the whole attempt at a threatening e-mail was laughable. And possibly the funniest thing about the whole situation is the fact that if you had simply asked me to remove the thread in a polite way without resorting to baseless threats I would have done so.
The current trend of threatening legal action against those who frustrate you online - whether it be someone telling the truth about you on a forum post, or a music fan who has just leaked a song you were trading just days ago - is snide, unfair and hypocritical, and must be stopped. As such, I will not follow the lead of other websites like GagaDaily who have removed every post written about you from their website; but will stand by the posts that were made on PHF with the full force of the United States and Australian legal systems at my side.
I hope you rethink your attempts at at a power play, and wish you luck restoring your besmirched name. I sympathise with you for facing legal trouble from a huge corporation such as Interscope and wish you luck in your legal battle - hopefully the judge will be lenient on you and you will not face prison time. Thank you for wishing me a nice day, and I pray you have the same.
Kind Regards,
Mo
Update:
After conversing further with Mr. Tromp over e-mail, he has publicly and privately apologised for his threats towards us on his Twitter page. In turn, we have agreed to remove the original post as a good-will gesture towards him. We appreciate Mr. Tromp's willingness to sort the situation out. We certainly sympathise with his situation and we wish him all the best in the future. We urge Interscope Records and Lady Gaga's team to forgive him his mistakes as we have done.