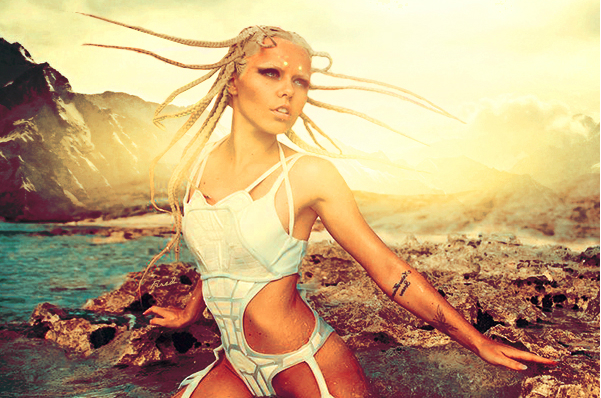 Much has been made of the reduced importance of the record label in the Internet age, a time in which artists have almost unlimited opportunity to distribute their music as they see fit. Social media websites like YouTube, Facebook and Soundcloud all have functionalities that allow musicians to release and promote their work, something used to its full advantage by YouTube stars turned major label signees such as Justin Bieber, Pentatonix and Lindsey Stirling; while other websites like IndieGoGo and Pledge Music are entirely formulated around allowing fans to essentially act as financial backers for their favourite artists - something Neon Hitch took to the furthest extreme when she set up the first crowd-funded "fan label", #WeRNeon.
But for many artists, a record label is still the most viable choice. When it's good, a label can propel its artists into superstardom, providing not only financial resources but also a multitude of industry connections and years of business advice. But when it's bad, an overbearing and controlling record label can micromanage an artists personal life, censor their artistic output, and even trigger a descent into depression, as it has with the extreme case of Kesha. It's a dichotomy that Kerli has found herself stuck between many times.
At age 29, the Estonian-born musician has finally found a method of distribution that works for her, as opposed to her for it; but Kerli's road to independence has been far from quick or easy. After faking her age to win a singing competition, Fizz Superstar, Kerli was signed to Universal Records in Europe at 14 before her mentor Rob Stevenson left the label - and left her out in the cold. Strike one. She later signed to Stevenson's own label and passion project Stolen Transmission, but was dropped from this as well when the label went bankrupt. Strike two. Finally, a frustrated Kerli took the plunge and moved to New York at the age of 18, finally gaining an audition with The X Factor USA judge L.A. Reid, who signed her to Island in 2006.
But as Kerli soon learned, a record contract did not include a clause for immediate and eternal joy. Despite the release of a well-received fan favorite project, the dark and moody twisted fairytale of a rock album Love Is Dead, Kerli faced multiple frustrations with her label. Love Is Dead spawned two singles: 'Walking on Air' and 'The Creationist', both of which were well-received and boosted by placements in multiple TV shows; but the label clearly had little faith in their artist, ignoring her success in the rock world in place of a rather misguided request for her to record R&B, likely a ploy to capitalize on the success of their other signees Bieber and Leona Lewis.
A sophomore album - originally called Weapons of Mass Creation and later I.Nimene - was teased through the singles 'Army of Love' and 'Zero Gravity', but faced multiple delays, before a poorly timed leak stopped any chance of an official release. Later reworked as an EP, Utopia, and fronted by the lead single 'The Lucky Ones', the project was the ying to Love Is Dead's yang, a joyful celebration of life and ode to happiness which was released to to positive results in the pop world. A performance on Dancing with the Stars was described as a "major milestone in the EDM community", and both 'Army of Love' and 'The Lucky Ones' peaked at #1 on Billboard's Hot Dance Club Songs chart, a feat undoubtedly helped by Kerli's high-profile writing credit on Demi Lovato's 'Skyscraper'. But despite all her hard work, Kerli's music wasn't given the promotion it deserved, and she ultimately parted ways with the label. Strike three.
It was then that Kerli decided to take matters into her own hands. Ever the resourceful creator, Kerli returned to her Estonian roots, setting up her version of a studio in a small woodland cottage with no running water and little electricity. Inspired by the beauty of the nature surrounding her, Kerli transitioned from the high-sugar dance-pop of her EP to a genre she calls 'Transcendental Electronic Music' - one which, from the sounds of singles 'Feral Hearts' and 'Blossom', is a fusion of downcast synths, earthy beats and skyscraper harmonies. It's a happy medium between the edgy, gothic vibe of Love Is Dead and the pure elation of Utopia; and one her audience seems to be responding to. A Pledge Music page set up by Kerli and her team to raise funds for the album release received thousands of donations in exchange for items such as thigh high socks, handwritten lyrics, and rings filled with seeds "gathered by Kerli under the full moon of ancient Estonia" - and all without any label backing.
Now, with third single 'Diamond Hard', Kerli has reinvented herself once again. With a harsh percussive beat, 80s strings synths, a grungy, almost dubstep breakdown and imagery that Illuminati fanatics are going to lose their minds over, it's a completely new side to the upcoming album, due out independently within the next six months.
And the intention for the song?
"I hope these vibrations teleport you into a land of uninhibited fairytales and connect you with your wildest self."
It may sound like the wildest of dreams, but knowing Kerli it may just come true.
What are your thoughts on Kerli's latest reinvention? Check out her latest single 'Diamond Hard' above and let us know your opinions in the comments section below!