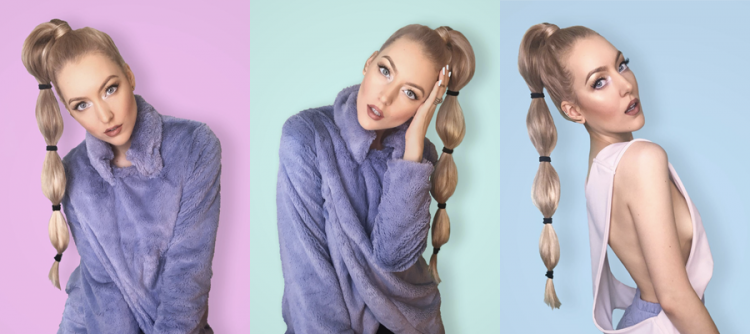 For years, musicians have been taking their high-heeled leaps into the fashion world, with style icons such as Lady Gaga, Rita Ora and Rihanna all inspiring or becoming the face of several high-profile fashion brands in recent memory. Certain singers have taken it one stiletto puncture further, with big name stars like Jessica Simpson, Kanye West, and, probably most notably, Victoria Beckham all finding huge critical (and financial) success with their designs. But it's rare to find a fashion designer at the top of their game willing to unlace their gladiator sandals in order to try and make it as a popstar.
Luckily, Kara Craig has never been one to play by the rules. The Western Australia native, now West Hollywood local Craig has worked for years in the industry communicating her trademark silhouettes through custom pieces for musicians such as Wiz Khalifa before finding the confidence to embrace her childhood dream to become a singer herself. Now, with the release of her debut single 'Cloud 18' - which has already drawn comparisons to the likes of everyone from M.I.A. to Charli XCX - and a debut EP on the way, she's one ugg booted footprint closer to reaching her goal. Earlier this week, we sat down with the insightful and humble Kara to talk about the relationship between her fashion and her music, what inspired the Lisa Vanderpump-esque music video for 'Cloud 18', and what she envisions for her future career.
Hi Kara! How are you today?
Hiiiii! I'm great!
 
Let's start at the beginning. Your initial fame came from designing fashion, which allowed you to dress celebrities like Bebe Rexha, Amber Rose and Wiz Khalifa. How did you decide to transition into music? Was it a quick decision, or something you'd been thinking about for a while?
I always wanted to be a "pop star". I started writing songs when I was seven and I remember thinking they were just as good as the songs on the radio, lol. I was obsessed with No Doubt so naturally Gwen Stefani was my idol. She started her label L.A.M.B and was releasing solo pop material so I was like, "Okay, yeah, I can do both like Gwen." In fourth grade I held auditions for a girl group I wanted to form but I was the only one taking it seriously and nobody wanted to rehearse with me. I also started designing clothes around six or seven. Once I moved to LA my fashion kind of took off so I just went with it and planned to build my name up using fashion before working on my music. Nobody gives a fuck about yet another aspiring artist but everyone wants to be friends with the fashion designer who can make them dope clothes. So I didn't talk about music at all. 
 
What's the relationship like between your fashion and your music? Do you feel that one informs or inspires the other, or are they separate entities entirely? 
They go hand in hand. The attitude of my music inspires the designs I make for the visuals and having had some success with fashion gives me confidence when it comes to writing music. It was suggested by a mentor of mine that I use a different artist name so that I could keep my fashion separate. I was going to change it but it just didn't feel right using another name. I said, "Fuck it, I'm the exception to the rule and I can make it work." Now I'm so glad I kept everything Kara Craig.
 
What inspires you when it comes to music? Do you find that the same things inspire you when it comes to your designing?
Every song on this project was inspired by my own personal experiences - mostly my life in LA and the different stages of a relationship. I usually know what I want to write about before I come into a session. On the production side of things I use other songs as references of the mood I'm after. I'll tell my producer, Jeffrey Rashad, "I wanna make an upbeat girl power-esque song today," and then we'll listen to some songs with that feeling to get in the zone real quick before we start on the beat. Jeff and I work really well together: we have our own little creative process.
 
If you could record a song with any artist you wanted, who would it be and why? Who would be your ideal person to design an outfit for?
Gwen Stefani and Gwen Stefani. She's had the biggest influence over my life since I was a little kid so that would be like everything coming full circle. That'll happen when/if it's supposed to; I'm super relaxed about it.
 
You first blew up on PHF when you dropped your debut single, 'Cloud 18'. What was it about the song that made you think it would be a good introduction to your music?
'Cloud 18' really sums up my personality; the lyrics are 100% me. I felt like people would be able to get a good glimpse of who I am as a person and as an artist with that record. That was the second song I recorded with Jeff. I played it for some music industry friends and the response was insane so I knew it was the lead single before I'd even recorded the rest of the project.
   
 
The music video for the track has a sort of Real Housewives of Tumblr aesthetic going on! What inspired the visuals for the video?
I just sat in my house listening to the song, seeing what scenarios would start playing out in my head. There's not really a storyline - it's basically a bunch of shit that represents my style and attitude in the song. Once I'd decided on the different scenes I started thinking of design ideas to accompany them. When the vanity scene with the robe came to mind I looked up some photos from the 50s and 60s to get inspiration for the table and mirrors, etc. I ended up making the table cloth, the floor rug and the chair cushion for that scene cos I couldn't find what I wanted anywhere!
 
Naturally, you designed all of the outfits for the video yourself. Can you tell us which one is your personal favourite and why?
It's too hard to pick one because I felt like a fuckin' star in each outfit, lol. Maybe the robe because I don't wear stuff like that in my day to day life. I felt so glamorous in that thing!
 
You began your career in Australia but now live in Los Angeles. As an Australian myself, I often find myself disillusioned by the state of the art scene over here. What do you feel are the major differences between working as a creative person in Australia and America? What inspired your move?
I think there's incredible talent in Australia in both fashion and music: I'm so proud to be Australian! But I always knew I wanted to move to the States for my career and the goals I had. There are so many more opportunities here for me so it was a no-brainer decision. In Australia it was super laid back and easy to get comfortable or lazy. Living in LA is motivating because almost everyone is here to chase their crazy dreams. 
 
Do you think that your Australian upbringing inspires your work in any way?
Yeah, definitely. I'm so happy I grew up in Australia; I wouldn't change that for anything. I think it gave me a unique perspective on the world and contributed to my wild imagination growing up, which ultimately fueled my creativity.
 
You've posted a few teasers of your upcoming second single on Twitter. What can you tell us about the new song?
It's called 'Full Moon'. It's sexy AF and I love it. I'm so excited to release it and show people another side of me vocally too. It's a whole different vibe than 'Cloud 18'. It was easy to write because nothing was forced or made up; it was all very real at the time, lol. 
 
You've also mentioned before that you're planning on releasing an EP. What does the EP sound like in comparison to the first single?
It's got a good mixture of moods in there. I wanted to show all the different sides of me so you'll hear me being confident, funny, sexy, vulnerable and insecure at times. I wanted everyone to be able to have a song they could relate to or just have fun to in any mood or occasion. There's feel-good songs, a sad song, a naughty song, a "fuck you" song, etc.
 
Have you considered what a live show for the EP would look like? If so, which countries or states would you like to visit the most?
I've imagined it in my head but not in detail yet. I do know I'll be making really fucking cool outfits to wear. I wanna visit so many countries. Performing back home in Perth would be so funny and weird and cool. 
 
Are there any last words you'd like to say to your fans?
Thank you soooo much for the support. You da real MVP. I hope you love the new music and stick with me on this journey. If you follow me on Twitter, talk to me...I wanna hear from you!
Thanks to Kara Craig for some great answers, and to @Tweener for helping work on this collaborative interview! To keep in touch with Kara, don't forget to follow her on Twitter, Instagram or Facebook, or visit her official website at www.kara-craig.com.