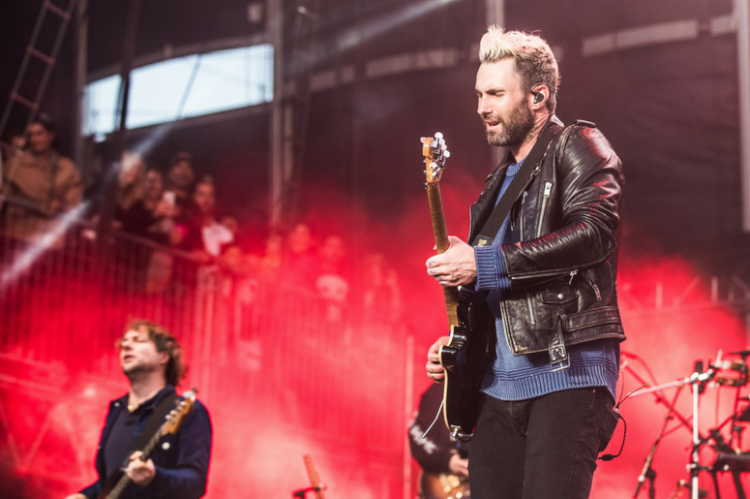 Predicting who will take the iconic stage at the Super Bowl Half Time Show has become par for the course in recent years, and predictions get more and more exciting each time the NFL ups the ante with another superstar musician. This year brought us Justin Timberlake's lukewarmly received set during the Half Time Show, and the year before brought Lady Gaga's record breaking display; and if new reports are to be trusted, it seems as though the NFL has already chosen who will take the stage this year.
According to reports from The New York Times, Maroon 5 has been confirmed to play the Super Bowl on February 3rd, 2018 in Atlanta, Georgia. The news comes three years after frontman Adam Levine told Howard Stern that the band was on a "short list" to play the show, saying, "We very actively want to play the Super Bowl."
If they do end up taking the stage, it's likely Maroon 5 will perform hits from all six of their platinum-selling albums, as well as any new material they'll undoubtedly release to capitalise on the publicity. There's plenty to choose from, ranging from early hits 'She Will Be Loved' and 'This Love' to diva collaborations like 'If I Never See Your Face Again' with Rihanna and 'Moves Like Jagger' with Christina Aguilera to later R&B tinged songs like 'Payphone' and 'Don't Wanna Know'. It's already been hinted that Cardi B, who collaborated with the band on their recent hit 'Girls Like You', will take the stage along with Travis Scott.
What are your thoughts on Maroon 5 as Super Bowl performers? Are they iconic enough to take the stage, or should Britney have been called back? Let us know your thoughts in the comments down below!