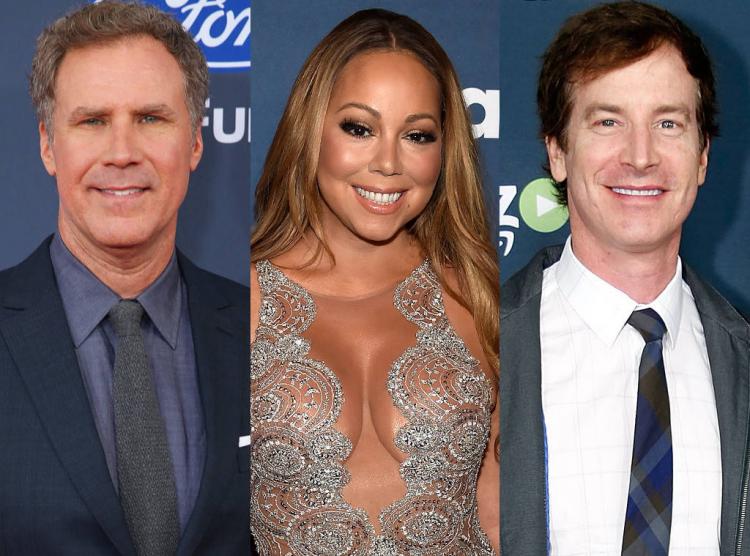 Mariah Carey is no stranger to acting, but it seems that she has yet to learn the basic principles of on-set behaviour. For if news from her recent co-stars on comedy film The House is anything to go by, Carey's on-set diva behaviour inconvenienced the crew and "ruined" her cameo, which has been cut from the final edit of the film.
The tea was first spilt by Rob Huebel, who alluded to on-set issues with Carey in an interview with Entertainment Weekly Radio. "We did some re-shoots with a pop star named Mariah Carey," he said at the time. "It did not go well. Fucking what is going on with her? It was bananas."
Next came lead Will Ferrell, who expressed in a Seth Myers interview that Carey had made very specific demands. "There were suggestions that weren't executed. She was on our set and, um, things happened. Things happened and didn't happen," he hinted. "Let's just put it this way: At about midnight, I got a knock on my trailer and said, 'You can just go home. We're not going to get to you.'"
Elaborating on Ferrell's clues, fellow co-star Cedric Yarbrough then took to Facebook to rant about Carey's diva demands in a since-deleted status update. Yarbrough's main gripes with Mariah seem to be her tardiness (which to be fair can be explained away when you're a multi-million dollar earning recording artist) and her refusal to film scenes that matched those of her previously filmed stunt double.
Quote

 

Okay since Will Ferrell is talking, I'ma talk-ing. Yeah, a real funny cameo was SUPPOSED to happen in the new film #TheHouse with the superstar Mariah Carey. But it was ruined by superstar Mariah Carey.

The film takes place in a suburban home but is made into a 'Casino'. Why not have Mariah be an act in the casino? Funny idea. It's rumored that she eventually showed up to set. This is true. But after waiting for her for 3-4 hours! While we waited the director & team had the idea of doing a stunt that Mariah's body double would do now & bring in Mariah to match it. They do the stunt. All goes well.

When Mariah finally showed up she refused to match the stunt. 'Darling, I would never do it that way…'. She then requested a large fan for her hair to be blown around and a camera that would be above her, basically a crane shot. This lady was unprofessional & borderline abusive to our director, who tried his best to appease her every wish.

 
While Yarbrough did spill a lot of tea, he also admitted that he'd excluded the "worst part" of Carey's behaviour, saying that he didn't want to "tell" on her and that he'd only tell people he deemed worthy.
While we've long been a fan of Mariah's diva antics, there does come a point where even her flamboyance can go too far. This drama is just the latest in a long line of bad publicity for Carey, whose New Years Eve performance made headlines for the worst possible reasons, and at this point we can't see things getting better anytime soon. It's a shame, but this will almost definitely affect Mariah's ability to work.
What do you think of Carey's latest scandal? Is she still the loveably over-the-top diva she always was, or has she really crossed the line this time around? Let us know your thoughts in the comments below!