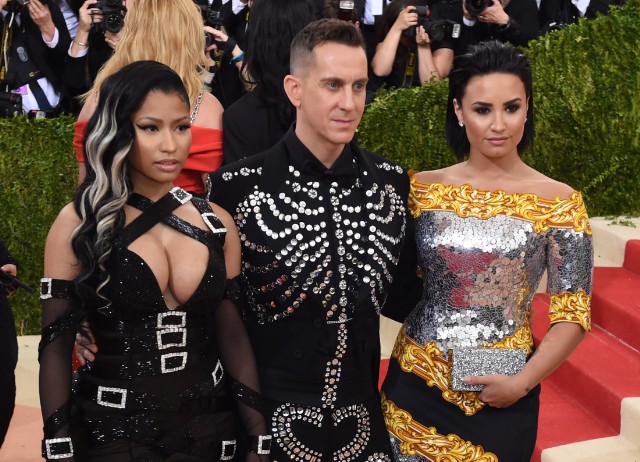 Demi Lovato has come forward about a "terrible experience" that she had at 2016's Met Gala, the annual fundraiser for the Metropolitan Museum of Art's Costume Institute: one that forced her to leave the event early and almost relapse.
Speaking to Billboard for her cover story, Lovato stated, "This one celebrity was a complete bitch and was miserable to be around. It was very cliquey. I remember being so uncomfortable that I wanted to drink." Lovato has famously been sober for five years, and has been candid about her struggles with depression, addiction, eating disorders and bipolar.
Lovato texted her manager, then left the party early to attend a 10 p.m. Alcoholics Anonymous meeting. "I changed my clothes, but I still had my diamonds on -- millions of dollars of diamonds on in an AA meeting. And I related more to the homeless people in that meeting who struggled with the same struggles that I deal with than the people at the Met Gala -- fake and sucking the fashion industry's dick."
While Lovato stayed mum on which celebrity she was talking about, it didn't take long for the Internet to put two and two together. Fans immediately remembered a post that Nicki Minaj had made on social media the night after the Met Gala, which featured herself alongside Lovato and designer Jeremy Scott. Minaj seemed to be throwing major side eye to Lovato, and conspicuously failed to tag her in the photo. Lovato later posted a similar photo, with the caption, "This picture pretty much summed up my first and probably last met [...] I'm obviously laughing at the fact that 1. I look incredibly awkward and 2. That the shade being thrown in this picture actually gives me life."
Even though she tried to play it cool, Demi seemed a little shook over the whole affair, posting some blasé emojis on Nicki's post and taking to Snapchat to post, "When you aren't mentioned in the post but didn't do shit to the person".
Demi and Nicki have both remained tight-lipped about the experience other than the social media posts in 2016 and the recent interview. For Demi fans, though, it's clear that Nicki was the celebrity being referred to.
What do you make of the situation? Is Demi right to bring it up, or is this more celebrity drama she's manufacturing for promotion? Let us know your thoughts in the comments down below!