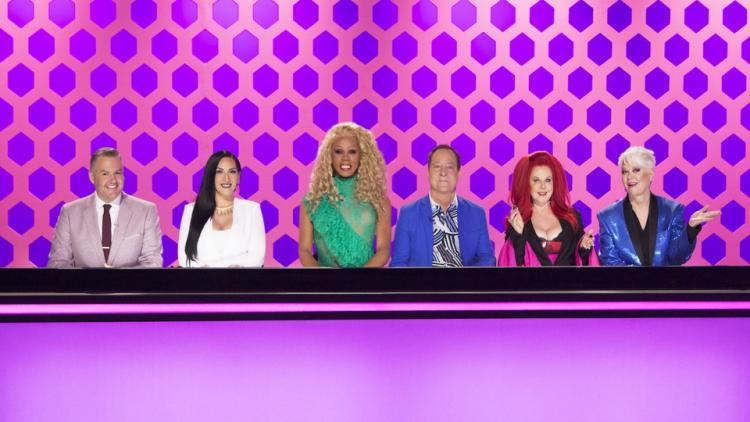 Well, did anyone expect anything different?
Episode two of Drag Race's latest season just finished airing in America, but for all the good it did we might as well have just skipped straight to episode three. Despite a fun main challenge in which the queens cheered against each other in teams, a guest spot from everyone's favourite ditzy blonde Friend Lisa Kudrow and some truly sickening runway looks, there was nothing in this episode that surprised or wowed in the way the season premiere did.
The premier gag was, of course, that a fourteenth queen would be entering the competition: and as we and Reddit predicted back last week, it turned out to be none other than Miss Cynthia Lee Fontaine, the season eight queen who hung her head in shame when she left in tenth place but who has since turned her trash into treasure with a strong online following. Cynthia is kind of like Drag Race's Sofia Vergara: a total Hispanic stereotype, but one who's completely in on the joke and who's warm and funny personality is just too winning to dislike. That said, if she said "cucu" one more time this episode I think I would have let her fall right off that cheer pyramid.
Meanwhile, Valentina continued her streak as the judges favourite by pussystunting her way to the head of the cheer pack and walking the runway in an (admittedly beautiful) wedding gown. Valentina is gorgeous for sure, but there's a certain smugmess in her beret wearing ass that rubs me the wrong way, and I'm surprised that Michelle hasn't read her for showboating like she did Bob last season.
As if anyone was surprised, Jaymes was the queen to leave this week, failing to make an impression with her sleepy, ditzy drag persona. Weirdly enough, she was actually the only queen who really made an impression on viewers, even if it was a largely negative one; and the fact that she seemed to have a lot more to give makes me sad to see her go.
Overall, it was one of the show's more predictable episodes, and not one that really served any purpose other than to reassert Cynthia's dominance over the competition. The girls noted that Cynthia already has a grasp on how the show works, as well as a large fanbase outside of it, and with the workroom overflowing with more wigs than your local Party City it's hard for any of the lesser-known girls to truly leave their mark. Fingers crossed that as the season continues the claws will come out and the queens will get to show their true personalities.
And for god's sake, give us a sewing challenge!