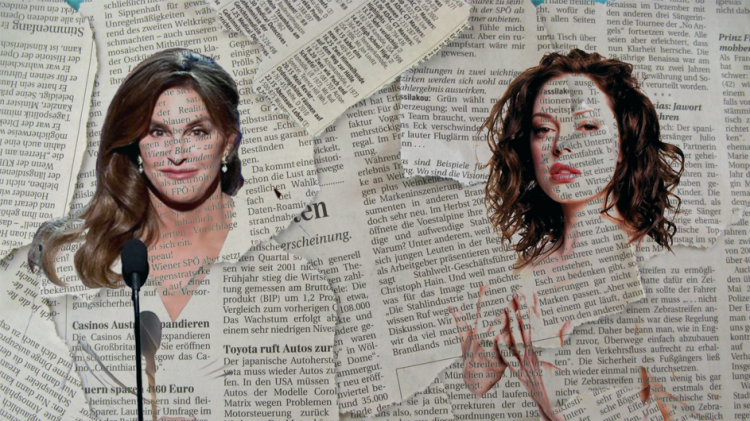 2015 has been the best year for celebrity catfights that we've had in the past decade. Between Katy and Taylor, Taylor and Nicki and Nicki and Miley, we've seen our fair share of heated debates and nasty retorts; and while Zayn Malik and Louis Tomlinson may have switched things up somewhat, most of these tabloid trashings were between females.
Caitlyn Jenner and Rose McGowan are the participants in this week's celebrity catfight, which stems this time around a controversial speech that Jenner made at the Glamour Woman of the Year Awards last week, and which McGowan responded to yesterday via a Facebook post that she later deleted.
Speaking at the awards show which celebrates powerful women, Jenner made waves when she allegedly said that "the hardest part about being a woman is figuring out what to wear". It should be noted, however, that Jenner appeared to contradict herself in the very same speech, when she stated:
Quote

It's more than that. I'm kind of at this point in my life where I'm trying to figure this womanhood thing out. It is more than hair, makeup, clothes, all that kind of stuff. There's an element here, that I'm still kind of searching for. And I think that'll take a while. Because I think as far as gender, we're all on a journey. We're all learning and growing about ourselves. And I feel the same way.
Perhaps McGowan only read the headline, or maybe she thought that Caitlyn was simply trying to backtrack - either way, the Charmed actress took to Facebook to post, and later delete, her own fiery reaction to the speech, which she found to belittle and diminish the hardships of the female experience.
Quote

Caitlyn Jenner you do not understand what being a woman is about at all. You want to be a woman and stand with us-well learn us. We are more than deciding what to wear. We are more than the stereotypes foisted upon us by people like you. You're a woman now? Well f**king learn that we have had a VERY different experience than your life of male privilege. Woman of the year? No, not until you wake up and join the fight. Being a woman comes with a lot of baggage. The weight of unequal history. You'd do well to learn it. You'd do well to wake up. Woman of the year? Not by a long f**king shot.
She later justified her comments somewhat with another post, this time on Twitter.
What's more saddening is the fact that McGowan's post sparked a string of transphobic comments online. Missy Fields stated that "All I have to say is a lot more people deserved this award than Bruce, Caitlin Jenner. He makes me sick," while Mary Dodge said "I think it's insulting to all women especially to the hero in New York. Come on he is a man not a woman and never will be...he should return the award!" Dodge was referring here to the NYPD police officer Moira Smith, who was posthumously given the same award way back in 2001 for helping evacuate people from the World Trade Center during 9/11. Her husband at the time, James Smith, returned the award to Glamour this week, saying that choosing Jenner as the latest recipient of the award was insulting to his wife's memory. "Was there no woman in America, or the rest of the world, more deserving than this man?" Smith asked in a public Facebook post alongside an image of the trophy. It's interesting that when Britney Spears earned the same award in 2003, Smith was content, even though to my knowledge Spears has never worked as a volunteer firegither.
Admittedly, Jenner's comments may have been poorly thought out or expressed badly - although without a video of the speech, we still don't really know if what she said was in jest, which sounds plausible given her later remarks. But McGowan's post it itself is hugely insensitive to the plights of Jenner and the trans community in general. Her claim that Jenner only "wants to be a woman", when the reality star has made it clear that she in fact is a woman and prefers to be referred to as such, reeks of transphobic nonsense; and her claim that Jenner, who has struggled with presenting as a different gender to the world than she truly is for several decades, is a beneficiary of "male privilege" seems in itself hugely dismissive of how difficult that must have been for Jenner. She also completely overlooks the fact that Jenner has been very open in both her public interviews and reality show about her own sexual awakening and that she is still figuring out what being a woman truly means to her; as well as that she's still learning about how to be a responsible member of the feminist and trans communities.
At this point, we really expect transphobic abuse to be hurled at public figures like Jenner when it comes to online comment sections on Entertainment Weekly. But it's disappointing to see such a high-profile entertainer like McGowan, who has claimed time and time again that she is an ally of the LGBT community, to stoop to almost the same level. That said, only a few months ago McGowan announced that she would quit acting to focus on her new music career. Maybe all this feud means is that a McGowan and Jenner-helmed sequel to 'Bad Blood' is dropping next week.