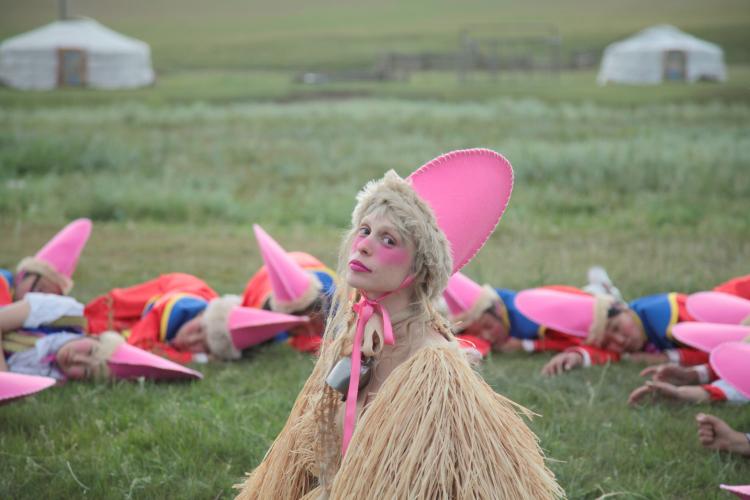 Art, philosophy, and music are engaged in a tumultuous relationship, often stretching each other to their limits. Arguably a new dawn for the pop scene, 2008 saw the introduction of fresh-faced artists like Lady Gaga who were willing to test the boundaries of the commercial music scene and its respective audiences; as well as the reintroduction of artists like Katy Perry and Rihanna, who were once known for their modesty but who were now rebranded into sexy pop icons donning outlandish latex outfits and meter-high heels. Weird and arty became the new cool, and labels capitalized on that.
When the mainstream hit a speed hump going one hundred miles per hour and began its nosedive in 2013, a new wave of more authentic young visionaries rose over the heaped corpses of neon catsuits and meat dresses. At the forefront of that charge were artists like Mykki Blanco, Banks, Jenny Hval, and the subject of this article, Parisian nuevo-jazz chanteuse Petite Meller. Artists not afraid to be themselves. Individually, up-and-coming musicians such as these are breaking down preconceptions of image and continuously diversifying the market and industry.
Beginning her musical career as the pianist and occasional vocalist for Israeli electro band Terry Poison, the ever joyful Petite Meller branched out on her own in 2012 with a cover of 'Joe La Taxi', her first release under the 'PETITE' project. After releasing several more solo tracks, such as 'PC' and 'Icebear', Meller received moderate commercial success with her single 'Backpack' after it's video, directed by A.T. Mann and Napoleon Habeica, was nominated for 'Best European Music Video' at the 2014 Cannes Film Festival. Having found a way into the spotlight, Meller featured in a seemingly endless list of magazines and fashion shoots with acclaimed photographers, before returning properly with 'Baby Love' in January 2015. The track went viral due to its vibrant and exotic video, shot in Africa and inspired by Brigitte Bardot's 1956 film And God Created Woman. Featuring Meller going from kissing giraffes in a stunning mansion to dancing with young village children, the pure joy the 'Baby Love' video radiates put Meller firmly on many radio rotation lists. A year and a half after the video had premiered, it had already amassed eight million views.
Meller's most recent visual for album-opener 'The Flute' is the last she'll be releasing from Lil Empire and sees the artist and her team venture out to rural Mongolia in the hunt for her "source" in a joyous ode to the 1923 Russian ballet piece The Rite of Spring and the iconic 1965 musical The Sound of Music. Amongst oceans of luscious grassland, Meller dances along with several Northern Nomad community members, notably a child named Tuya with naturally blushed cheeks similar to Meller's own (albeit that Meller's is the result of makeup). "I remember how as a child I saw a photo of a blushed Mongolian girl and felt a strange connection", Meller said in an interview with NME. "Filming began after a 13-hour cross-country drive and a horseback ride to reach the Northern Nomads, the girls with natural blush, the sumo guys and the reindeers. We had no Wi-Fi, no phone reception, just beautiful animals and endless grass."
Meller's signature blushed cheeks originate back to her childhood, where as a young child she suffered harsh burns on her face from exposure to the sun. Years later, Meller has reclaimed that trauma and wears the red blush as a reminder of past struggles and as an artistic statement. Meller's educational background, however, doesn't fall into art: instead, the 21 year old is a recent graduate of philosophy, drawing inspiration for her music from her philosophical idols and the subjects of her recent graduate thesis Kant and Schiller and often writing the songs for her album during lectures.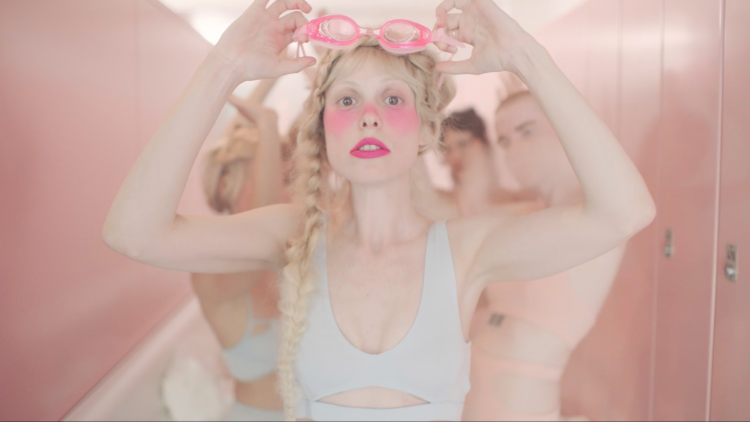 Lil Empire, affectionately named after her ever-growing global fanbase, sees the synthesis of Meller's past few years of hard work with producers such as Jocke Åhlund and Craigie Dodds, drawing in a melting pot of diverse influences spanning the globe. From the Mongolian flutes in 'The Flute' to the African bongos in 'Baby Love', Lil Empire is a continental voyage guaranteed to leave you feeling refreshed. Highlights include the aforementioned album opener 'The Flute', and the only collaboration on the album 'Lil Love', the musical lovechild of Meller and Australian duo cum Elton John protégés Pnau. 'Lil Love' sees Meller utilise a more aggressive vocal style in comparison to the usual calm yet cheeky verses gently moulded by her moderate French inflections, shouting out an empowering hook and outro. The technique, she says in an interview with the Independent, was suggested to her by Nick Littlemore of Empire of The Sun: "I had a broken foot that day and Nick Littlemore showed me a new technique of writing songs – it was to shout the pain away to the mic, I've never shouted so loud in my life then in this song. I'm a bit embarrassed when I hear it, to realise that it's me. It's about a forever connection between two people, through time space and infinity, but of a one sided love."
Lil Empire is available now on iTunes.
Photography Credits: Khasar Sandag