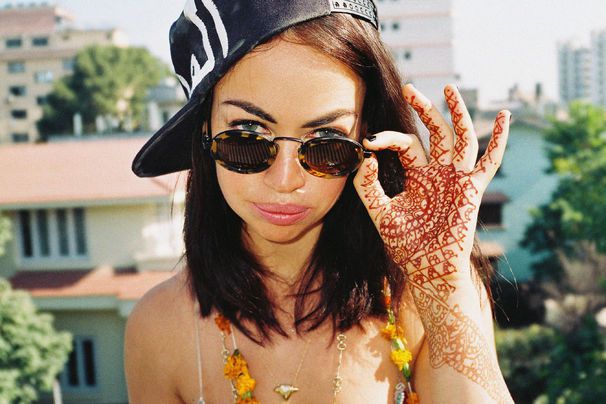 Plenty of todays European acts struggle every day to blow up outside of their mother countries. The main reasons for that are that they tend to sing in their mother tongues or are having issues with promo...or lack thereof. Many such artists follow their dreams in music contests: for singers like Loreen, Måns Zelmerlöw, Conchita Wurst, Elena Paparizou and ABBA participating in Eurovision was the best thing since sliced bread. Nevertheless, there are artists who prefer to earn their fame without cutting corners. Not many artists have been able to attract the attention of international audiences, but one Danish artist has managed to do so.
Maria Louise Joensen, better known as Aura Dione, was born in Copenhagen in 1985. Not many people know that this multi-platinum selling artist is of Faroese, Spanish, French and Danish origin. Her talent was a blessing in disguise. She debuted with the song 'Something From Nothing' in 2007. Sadly, the song didn't have a significant impact on radio stations and wasn't hugely successful. However, despite poor reception of the first single, Aura knew that every cloud has a silver lining and decided not to leave the building so quickly.
Still waiting for her breakout hit, Aura decided to keep pushing the envelope. Record label Music for Dreams released Dione's debut album
Columbine
 in 2008 in Denmark and Island Records re-released it in 2009 in other European countries. Island decided to release 'Song For Sophie' in 2008 as Aura's second single. The track peaked at #12 in Germany and at #18
in Austria. It also charted within Billboard's European Hot 100 Singles chart at #49.
However, it was her third single that gave Aura the most publicity yet: 'I Will Love You Monday'. In Germany, 'I Will Love You Monday (365)' reached #1 in its fourth week on the chart. It hit #2 in Switzerland and Austria and charted within the European Hot 100.
After the huge success of 'I Will Love You Monday', Aura started working on her sophomore album called Before The Dinosaurs. It was released in 2011 by Universal Music. The first single off it was 'Geronimo'. The banger peaked at number one in Austria, Denmark, and Germany.
The second single from this album is noteworthy. 'Friends' saw Aura working with the American producing duo Rock Mafia, known for working on such hits as Miley Cyrus's 'Who Owns My Heart' and 'Can't Be Tamed', Selena Gomez's 'Naturally', 'Love You Like a Love Song' and 'Kill 'Em With Kindness' to name just a few. 'Friends' brought Aura the most recognition and success so far.
The last single from Before The Dinosaurs was called 'In Love With The World'. The track didn't have too much impact on radio stations and quickly disappeared from charts. However, it is such an underrated bop and y'all should check it out as well.

Right now, the artist has changed her name from Aura Dione to just Aura and is cooking up her third album Can't Steal The Music which is set to drop later this year. She has already released two singles from the project: 'Love Somebody' and 'Indian Giver'. 
She has also taken to Instagram to post a mysterious photo from behind the scenes of her new music video. We still don't know which song it will be for, but we can't wait!
UPDATE!
Aura has released  a brand new single called "Can't Steal The Music" Get it on iTunes or other stores NOW!
You can find Aura on Facebook and Instagram.