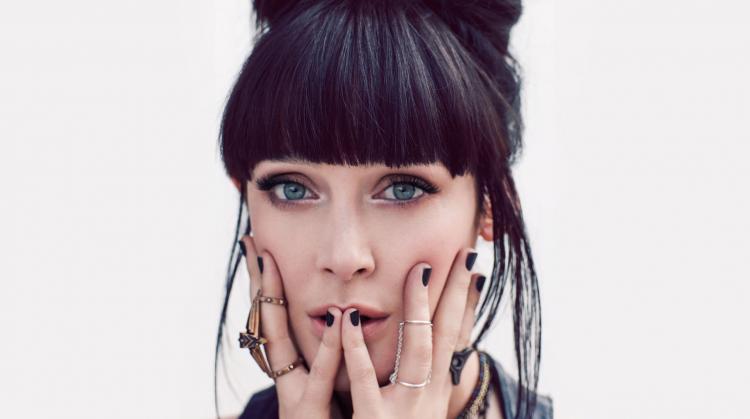 If you've ever had your wisdom teeth taken out before, you'll know how much effort goes into even the simple things while you're in recovery. Daily activities like sleeping, eating and talking become chores as you walk around with a constant throbbing in your bones and a pounding in your head. Spending half your day asleep and the other in a Panadol-infused stupor, it's easy to hide yourself away in the shadows of a darkened room, with only a tub of Ben and Jerry's and your dog for company.
Today, I had two reasons to leave the solitude of my canine confines and venture out into the big wide world. The first was the introduction of the McDonalds Loaded French Fries in Australia, which are your typical chips but sprinkled with melted cheese and bacon crumbles. They were definitely worth it. The second was the release of Ginny Blackmore's long-awaited debut album, Over the Moon.
Blackmore first hit our radar with the release of her first single 'Bones' way back in 2013, a song she co-wrote with a glass of wine during a "girly, emotional moment" one night in Los Angeles which later helped in getting her both seen and signed by the legendary L.A. Reid of Epic Records. Since then, the New Zealand born songstress has had a song recorded by Christina Aguilera, talked fantasy novels with Kanye West, and, as of today, passed her first real test on her way to pop superstardom; releasing her debut album to what so far has been an overwhelmingly positive response.
On today, the day of her album launch, Ginny was kind enough to tear herself away from celebrations with family to chat with us about how she got started making music, where she's at now in her career and everything she has planned for the future. As for whether or not Ginny's words matched the magnificence of French Fries? Read on below and find out for yourself!
Hi Ginny! Thank you so much for giving us the opportunity to chat to you! Where are you writing to us from right now?
I'm in Auckland, New Zealand! Home sweet home.
It seems like this album has been such a long time coming - excuse the pun, but you must be "over the moon" that it's finally been released! How are you celebrating today?
With mum and dad! We were watching MasterChef and drinking champagne and the advert for the album came on, and they screamed, and I ran out saying "What, what?!" And our faces were all:

And so on and so forth.
We heard our first taste of your music back in 2013, when you released your debut single 'Bones', which went on to smash the New Zealand charts and make waves internationally. Has Over the Moon changed shape since this initial release, or have you stuck to pretty much the same plan all along?
'Bones' is actually a great indicator of what's on the album. There are a couple of song on there that are even older! But 'Bones' only represented a wounded and emotional side. There are others on Over the Moon that display my joyful side!
There's a few tracks on there which I know were originally written for other artists - specifically, 'SFM' which was recorded by Christina Aguilera for 2012's Lotus under the name 'Sing For Me', and 'Love Strikes' which was released by Katherine McPhee as a single earlier this year. What inspired you to release your own versions of these songs? Were they too hard to give up?
You're exactly right - some songs are so close to me that I'd cry about not being able to sing them! Especially having written them about my own experience. But it's amazing to reach people I wouldn't have been able to had I not had those amazing artists release them. I believe that the song is more important than the voice...so I'm happy to share the songs around.
When it comes to songwriting for others, do you find that your writing style changes at all based on your subject's personal situations? Or do you write for yourself first and foremost?
Great question! If I'm asked to write for someone I try to imagine their voice and style as I do it. I'm so excited to channel these amazing artists I grew up with in anyway I can! But as a writer and as a girl who has strong convictions, I have at times had to be stubborn about what lyrics I am willing to write - no matter who it is that wants them.
As well as Christina and Katherine, you've also worked with other big names like Adam Lambert on 'By The Rules'. What was it like working with such huge stars? Did they give you any insight into the business of making music in Hollywood?
Also a great question...We are all learning together based on the little things we go through together. Whether it's a night out with Nicole Scherzinger trying to avoid the crazy paparazzi, or a night in the studio with Chris Brown listening to his new mixtape that he's so excited about, or going to Drake's house and finding out he's a gentleman, or having Christina sitting next to me singing my song into my ear, or talking to Adam about what's important to him over hotdogs on the 4th of July - we are all going through it together! I'm a little fish and they are big. I've mainly been a writer (which is epic), but I've spent time with these beautiful people and we are all learning from each other! Kanye once sat next to me and asked me all about New Zealand and The Lord of the Rings...so there you go!
I've heard you're also great friends with Stan Walker, who you collaborated with on the album for another #1 single, 'Holding You'. How did you guys meet and what lead to your first song together?
Stan is one of the greatest male vocalists in the world. I requested a duet with him because who wouldn't?! But also I had a song in mind. We met through friends and also properly through [the New Zealand version of] The X Factor. I was there performing 'Bones' and we had a legit deep encounter backstage that sparked the idea to record together. 
You also guest mentored for Stan on The X Factor, on a season which was plagued by controversy after Natalia Kills and Willy Moon's infamous blow-up during the first round of live shows. How did you react when you saw their actions on TV? Is there any possibility you might show up as a judge on the show in the future?
I felt passionate about the episode where Natalia and Willy ripped him apart - and I posted that I would gladly take over the judges seat, and I would have - but I'm probably much too sweet for that job. I'm an encourager. 
I've read that the video for 'Holding You' was inspired by traditional Maori mythology. How important is your New Zealand heritage when it comes to your music and visuals?
Very, but it depends on the song. I have lived away from New Zealand for so long and experienced the world. But make no mistake - New Zealand is the world to me. And yes, where I feel it appropriate I will express my love for my home. It inspires me daily.
The album itself seems to have much more of an international sound, ranging from traditional pop (like 'Hello World') to smooth R&B jams (such as 'Put Ya Name On It', produced by the legendary producer Tricky Stewart) to ballads (like 'Love Strikes'). What inspired the sound for the album?
I love pop, neo soul and R&B - to be honest, those are my favourite genres - and the album reflects that. I'm a 90s kid and I grew up prancing around to Michael and Destiny's Child and Usher and Erykah and Lauryn and D'angelo - but I love singing more than anything! So the album sounds like a million Ginny's singin' whatever the hell romantic idea she had goin' on at the time. The sound itself might be influenced by them.
It must be such a relief for the world to finally be able to hear what you've been working on for the past few years! Now that you've accomplished what must have been such a huge goal, what are your plans for the future? Will you be touring for the album?
Of course! My plan is to do it all. Some people discover who they are after a couple of albums and the right haircut; some after years of morphing in and out of being in a groups and being a solo singer and what not. Me? I didn't do shit until I was sure that I had something that I wanted to listen to more than I wanted to listen to Rihanna. And I finally do. So I know I've found 'me'. Let's go.
Are there any last words you'd like to say to your fans?
Dream big. Explore the world. Make a plan. Make decisions. Love yourself. And reach out to those that God gives you within reach. Try try try...And be creative! If you're trying to break into entertainment or art or music or food or architecture or graphic design or fashion or whatever, you better make sure you wake up dreaming bout that, work all day for it then fall asleep dreaming about it again - cause if you ain't then you are 99.999 steps behind the people who would die for it.
Ginny, thank you so much for chatting with us today! We're all such huge fans of you and we're so proud that someone we've supported for so long is finally getting the recognition they deserve! Have an amazing day, and we hope to chat to you again when the second album's out!
You're so welcome! Thank you for asking such beautiful questions.
And as for how the interview compared to Loaded French Fries? If you ask me, it was well worth getting out of bed for.
Our thanks to Ginny Blackmore, whose stellar debut album Over the Moon can be purchased on iTunes here. Check out her latest music video for the vibey 'Love Me Anyway' down below, and don't forget to let us know what you think in the comments section!