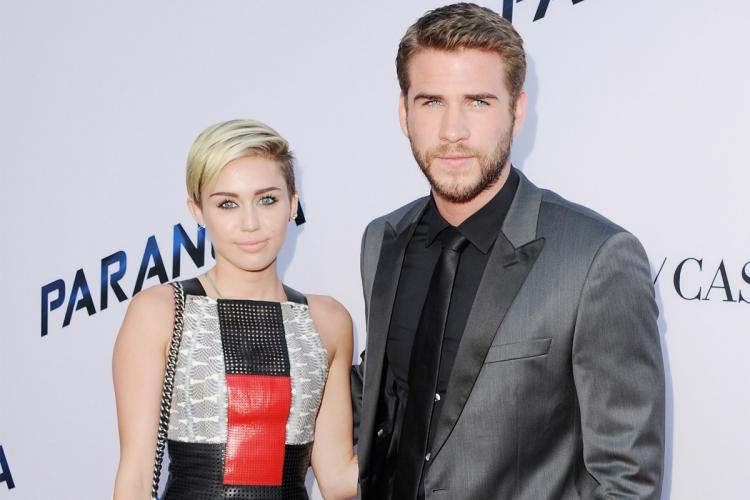 Ever since Miley Cyrus and Liam Hemsworth met on the set of dramatic romance film The Last Song in 2009, back when she still had long brown hair and he had enough money to buy a razor, their love at first sight relationship set teenage hearts ablaze all across the world as they followed in Brangelina's footsteps to become Hollywood's new young power couple. But their relationshp was cut short when, despite a proposal in 2012, the pair decided to go their seperate ways in late 2013.
But if new reports are to be believed, the two may be making a comeback after they were spotted together on one of the biggest nights of the year, New Years Eve. Photographs were taken of the two at the Australian Falls Music Festival in Hemsworth's hometown of Sydney, along with Chris and Luke Hemsworth and their respective wives. According to sources, the two were seen "cuddling and kissing" and Liam was spotted rubbing his beau's back in a VIP area as they watched the show. Security surrounded the couple to ensure people did not photograph them, but a few sneaky Instagram snaps did manage to be taken.
Cyrus and Hemsworth made their last public appearance in August, 2013, when she turned up to support him on the Paranoia red carpet, just weeks after taking her ring off to be "cleaned". Since then, neither have been saving themselves for marriage, with Hemsworth rebounding with Spanish singer and actress Eiza González and Cyrus (who last year came out as pansexual) seen with the likes of Patrick Schwarznegger and Victoria's Secret model Stella Maxwell.
This isn't the first time the two have been seen continuing their relationship. Last year, Hemsworth stated that he would always be "best friends" with his ex, and Cyrus later got an Instagram shoutout for helping him adopt a dog. If the two really are back together, it could mark a return to innocence for Cyrus, who recently debuted a more mature, classic hairstyle.
What do you think of the couple? Do you stan Liley or should the two break it off for good? Let us know in the comments below!