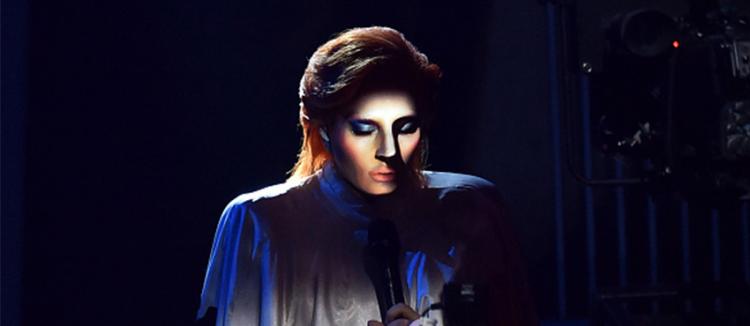 This past Monday at the 58th Grammy Awards, Lady Gaga partnered with Intel to pay tribute to the late music icon David Bowie. Gaga and Bowie fans alike praised Gaga for her incredible vocal performance and undeniable appreciation for Bowie's musical craft. Though some compared her attire to a down town L.A. Elvis impersonation, Lady Gaga, without a doubt, was the highlight of the entire show. In honor of the late rock icon, here's a look back at our 10 favorite David Bowie covers.
10. Kittie - Space Oddity
  Kittie, a Canadian heavy metal band, contributed a cover of to one of Bowie's most well known songs, Space Oddity, on the 2015 tribute album A Salute To The Thin White Duke. Lead singer Morgan Lander toned down her normally abrasive vocals to give Kittie fans a new perspective of her vocal abilities. Though the performance is lacking the emotional depth of other covers on the list, it is great to see Kittie drift away from the style they are most know for (such as fan favorites Never Again and Flower Of The Flesh & Blood) and to give non-metal fans a glimpse into the hidden vocal abilities of heavy metal singers.
9. Behemoth - Hello Spaceboy 
  While this may be the most controversial and disliked choice on this list, blackend death metal band Behemoth covered Bowie in a very unique fashion. While most artists try to keep the covers as close to the original as possible, Behemoth dared to record the most unusual Bowie cover to date. The belligerent vocals and classic black metal instrumentals are a testament to the universal appeal of Bowie's music. 
8. A Camp - Boys Keep Swimming
  A Camp, a side project of The Cardigan's lead singer Nina Persson, included this overlooked Bowie classic on their 2009 EP Covers. Persson, known for such hits as Love Fool and My Favourite Game, transformed this vocally haunting yet unapologetically upbeat hit into an anti-patriarchal anthem that Bowie himself would undeniably praise.
7. My Chemical Romance (feat. The Used) - Under Pressure
  In 2005 rock bands My Chemical Romance and The Used teamed up for this top 40 charity single to support victims of the Indian earthquake and tsunami. Originally performed by Bowie and fellow rock icon and Queen front man Freddie Mercury, this modern rock cover is a stand out song in both band's discographies. Without a doubt, the best performance comes from a MTV live duet shown below. Bert McCracker (The Used front man) and Gerad Way (My Chemical Romance front man and now solo singer) harmonized their post-hardcore and emo vocals to rejuvenate a classic song while also blessing viewers with one hell of a performance. 
6. Bruce Dickinson - All The Young Dudes
  Iron Maiden lead singer Bruce Dickinson created one of the most brilliant Bowie penned covers of all time on his first solo album Tattooed Millionaire He was able to keep all the things we love from the original while providing Iron Maiden fans with the effortless belting he is most known for. Bowie purists almost unanimously agree that though the video is a bit strange Bruce recorded one of the best Bowie covers of all time.
5. Marilyn Manson - Golden Years
  What may seem like another oddity on this list is the spooky kid himself Marilyn Manson. While his inclusion may seem odd to some, Manson has cited Bowie as one of his greatest inspirations several times over his nearly 3 decade career . Manson's version is a perfect blend of Bowie's uptempo funk and Manson's industrial rock, creating one of Manson's most accessible songs.
4. Barbra Streisand - Life On Mars
  The year was 1974 and Barbra Streisand had just finished recording ButterFly - which she described to Larry King  in 1992 as her least favorite album. Her producer and then boyfriend Jon Peters rushed an album of modern songs in an attempt to cash in on Babs' success.  Though the top 20 album is the most forgettable out of her 40+ album discography, Streisand did record the most alluring rendition of Life On Mars. The tale of a young woman seeking movie stardom is evocative of Streisand's first film role as Fanny Brice in Funny Girl as well as Streisand's own early desires for fame and celebrity. 
3. Joan Jett - Rebel Rebel
  Dubbed the 'Queen Of Rock', the better suited 'Rock Goddess' Joan Jett included her remarkable cover of her friend David Bowie's Rebel Rebel on her album of rarities Flashback. Lyrically, the song is complimentary towards the juvenile successes and androgynous appearances of both Jett and Bowie. Stylistically it fits perfectly into any album by the rock rebels. Joan Jett effortlessly possesses the rock n roll spirit this song was made for. 
2. Jessica Lange - Life On Mars
  Fans Of American Horror Story will quickly recognize this Teutonic rendition performed by freak show owner Elsa Mars. Set in 1952, nearly twenty years before Bowie's original release, Elsa Mars, played by Jessica Lange, takes the stage dressed in a tortoise suite and eye shadow, similar to the ensemble worn by Bowie in the Life On Mars music video. At first, AHS fans were a bit shocked to hear Lange's comic German accent, but by the end of the song Twitter was filled unanimous praise and admiration.
1. Amanda Palmer (feat. Jherek Bischoof & Anna Calvi) - Blackstar
  Forum favorite Amanda Palmer recently released Strung Out In Heaven: A Bowie String Quartet Tribute in honor of the late music pioneer. Palmer, who is known for her 'punk rock cabaret' style of music, beautifully crafted one of the first covers of the recently released Blackstar. The eeriness of Bowie's vocals can't compare to the unearthly chill of hearing Palmer softly chant 'something happened on the day he died', evoking a sense of despair for all fans to hear.  The narrative of the song quickly changes from a tale of a stranger to a recounting of a cultural legend. You can stream Strung Out In Heaven on Amanda Palmer's bandcamp page. 
Do you agree with this list? Were your favs snubbed? Discuss your favorite Bowie covers below.