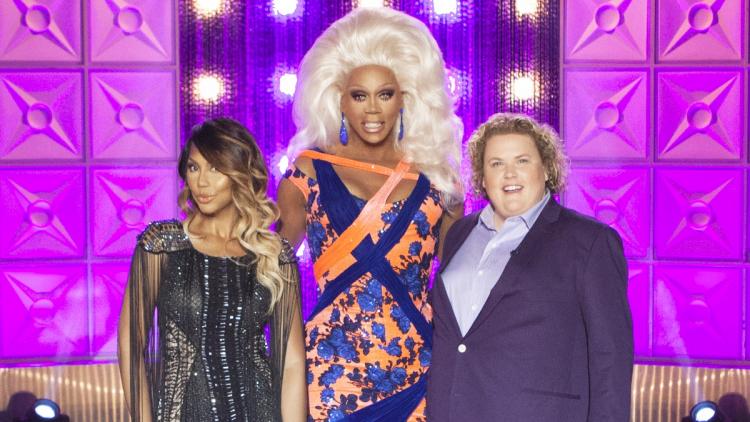 This week's episode of Drag Race recalls one of the most liked challenges in recent years - the RuPaul Roast. Debuting in season five with strong comedy queens like Jinkx Monsoon and Alaska Thunderfuck, the roast became a chance for the contestants to let out all their anger at the judges in the name of comedy, and led to some of the best watching that season.
Sadly, this year's roast wasn't quite as exciting, despite the fact that the queens were given the opportunity to roast Michelle Visage, a veritable mine of material. I have to put this one down to the queens this season, who are all perhaps a bit too sunshine and rainbows to succeed in a comedy environment. Shea Couleee and Peppermint both slayed the challenge with their quick wits and expert delivery, while Nina went for somerthing completely different (as is her style) with her charicature of her own great aunt. Sasha, too, took her own spin on things, playing the role of intellegencia turned comedian as she displayed her unique wit to the judges and proving she's more than just an arty queen. All four of the girls did a good job, but it was Peppermint who ended up taking the crown, and deservedly so.
On the other hand, Trinity floundered trying to play her hillbilly-esque character; although given how strong her start was I get the feeling that she was victim to an edit which enhanced her awkward moments. Alexis, on the other hand, tried real hard to deliver her one-liners as the She Hulk but she struggled to land her jokes, despite a quick delivery. Farrahs's set was even worse, although it had me giggling in a "so bad it's good" kinda way. Her endless exasperates6d "ooh"'s, flustered "aah"'s and exasperated coughs reminded me so much of Eeyore that I couldn't stop laughing; although they made a lot more sense when she revealed in Untucked that she'd forgotten some of her queue cards and was just buying for time.
That said, it is interesting how editing can completely change the way one of these challenges look. Valentina's set was pretty weak, relying on a bad "ghetto" accent (which Sasha surely cringed at) and a mispronouncation of the word Michelle for humour; and if the audience seemed unsure, Michelle was downright befuddled, saying to Ru, "I'm so confused". Valentina's set was most likely just as poor as Farrah's, but thanks to some clicks of the finger in the editing room, she was made to look like the star the show is clearly trying to tell us she is.
Alexis and Farrah both ended up in the bottom two, and, as we've been predicting for weeks, it was finally Farrah's turn to go. Moan actually grew on me with every episode she was in; her fake whining was kind of cute and endearing by the end, and she seemed like the most genuinely sweet girl on the show. But she had stayed long past her welcome given how poorly she'd performed in almost every single task. Maybe some Ru Girls just aren't meant for the silver screen.