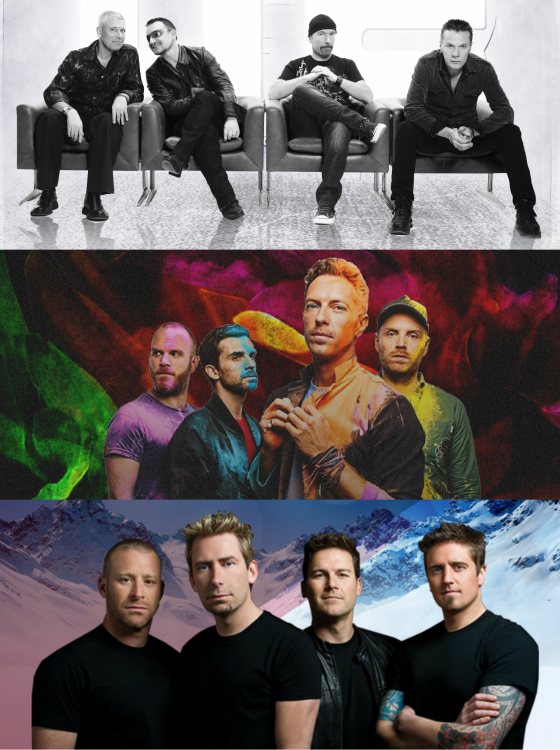 As with all pandemics, the virus started out small. In November 2011, Nickelback - the same band who has sold 50 million albums worldwide and whose single 'How You Remind Me' was listed as the fourth best selling single of the 2000s - was voted the "biggest musical turnoff" by Tastebuds.com, a music-oriented dating service. A fair enough result - the dulcet tones of 'Photograph' could hardly be considered an aphrodisiac - but the poll triggered a tidal wave of negativity that continued through the months and years to haunt the quartet. Later that month, a petition began to stop the band from performing at the Detroit Lions Thanksgiving football game half time show. Memes poking fun at lead singer Chad Kroeger's 2004 hairstyle popped up like weeds (just you try making one about Rihanna's weave - we'll see where the Navy leaves your body). And the bands Twitter became a hub of hatred for those who disliked them, with only 69% of their mentions being positive and 31% being negative in February of 2012. Even when they tried to get in on the joke themselves, making fun of the situation in a satirical Funny Or Die video, the perception of the group remained as lame dads who were trying too hard to be cool. The infection of criticism was well and truly established; but at least it was contained.
But it wasn't long before the virus began to spread. It's next target was Irish band U2, who faced scrutiny after Apple - you know, the company whose phone, tablet or computer you're probably reading this article on - added their latest album, 2014's Songs of Innocence to millions of iTunes libraries for free. Yes, people were complaining about free music. Many journalists jumped on the newly ongoing discourse of sexual abuse to vent their frustrations  - Bob Lefsetz was most straightforward said that the move was "no different from a rape or a murder, but with even less legs", but the fact that almost every article on the Internet about the release described it as a "violation of user consent" effectively painted the band as harassers who destroyed the virginal sanctity of millions of iTunes libraries. The same band who was instrumental in the organisation and promotion of the (RED) campaign, which raised over $350 million to combat the spread of AIDS; the same band who wrote 'Miss Sarajevo' to bring attention to the underreported Bosnian War in 1995; the same band who brought Mary J. Blige to international attention after collaborating with her on 'One'; was now being criticised for their presumably minuscule part in an Apple marketing campaign. The disease continued to take over.
It's latest victim has been Coldplay, whose completely passable performance at last week's Super Bowl halftime show has received predictably vitriolic reception online. Despite the fact that they were humbly willing to take a back seat for a video tribute of past performers, shared the spotlight graciously with Beyoncé and Bruno Mars (thus including both women and people of colour in what was really a celebration of their own music), and alongside Lady Gaga were the only artists to actually sing live this year, the band was universally slammed for a performance considered "dull", "lame" and "middle-aged". Commenters disregarded the bands entire history of past success in order to call for another show with Beyoncé as the headliner. Ironically, they saw no sense of that elusive "edge" in Coldplay - the same edge they felt after watching Bey sing yet another percussive song about girl power and it's accompanying formulaic dance routine. Alongside the Super Bowl itself, the disease has gone global.
Of course, online vitriol is hardly a new occurrence, and is definitely not exclusive to white male performers - look at any speech by the Dalai Lama hard enough and I'm sure you'll find a troll if you try hard enough. But the bandwagon of hate afforded to white bands is harsher and more symptomatic of a wider trend in which visibly white celebrities are regularly ridiculed for little to no reason and with no consequence whatsoever. When Zendaya is told she smells like patchouli oil for sporting dreadlocks, Giuliana Rancic loses her job; when Snoop Dogg tells Iggy Azalea that she looks like a character from White Chicks, she is told to get over it. These were artists that we once loved, enough to produce spawns of #1 hits for each (see 'Far Away', 'Still Haven't Found What I'm Looking For' and 'Viva La Vida' for just a few examples). These are artists that we shaped through our establishment of supply and demand. And yet now we shun them for failing to conform to the racially-specific standards we have introduced in just a couple of years, or sometimes just a couple of months.
When Lady Gaga tells her fans to spread online kindness, or Demi Lovato advocates against bullying, it is not simply to females or people of colour that they are referring to - it is to all people regardless of sex, race, age, class or even musical genre. In the endless search for tolerance of diversity, we have somehow lost the ability to tolerate the least diverse members of our society - white rock bands.
Let's all cross our fingers that The Beatles will reunite with Beyoncé as a lead singer - it looks like that's the only way to keep their good name untarnished.